Welcome! You have been referred to this program by your healthcare provider to get support on your journey towards better health. Food for Health is here to help you!
How does it work?  
Each month you will receive information on a new topic. (All information can be found on this website). We've broken down the information into six months to make it easy.  
What should you do? 
Look at each item for that month.

 

Use the information to try something new to improve your health.

 

Tell us what you think. (We will ask you to share with us what was helpful.)

 
Remember, each time you take a step to improve your health, no matter how small, you can start making a difference in your life and the lives of people around you.
---
Month 1 – Choosing Nutrient-Rich Foods
Portion Control
Portion control is an important part of a healthy diet. Each food you eat fits into a category that helps fuel your body. Knowing the right combination and quantity of food to eat will help you make the right choices.

When putting together a meal, it's helpful to think about the "My Plate" picture. My Plate is a visual way to understand what to eat each day to support optimal health. Try to make sure that half of your plate is full of vegetables and fruits.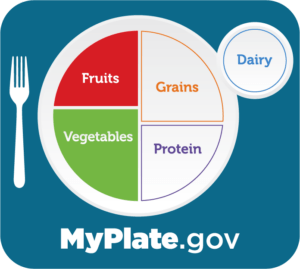 Information on nutrition labels can help you when shopping and selecting food. Focus on increasing vegetables and fruits. Look for items with a high level of fiber. Avoid foods that are high in sugar, sodium (salt), or trans or saturated fat (these are the fats that are bad for you).
Healthy Plate
The Nutrition Fact Label
Produce Guides and Recipes
NOTE: If you don't have the exact ingredients for a recipe, you can substitute. For instance, if you don't have one type of beans, try another that you do have. Kale and collards can be replaced with cabbage. Red onion can be replaced with chives or white onion. Some changes may slightly alter the flavor, but creativity may make a dish turn out even better than the original. Don't be afraid to try something new!
---
Month 2

– Goal Setting
Often, when we set goals, we aim high but then fall short of our plan. Making a realistic goal, with specific and measurable outcomes based on a certain amount of time, will help keep you focused. This is called a SMART goal. 
Sometimes, we make a lot of goals all at one time. It can be easier to focus on one small goal at a time until it becomes a habit.
Here are some next steps for you to try out:
Watch the three-minute video below on 

SMART goals

.

Fill out the goal-setting hand out.

Pick something to work on for the next week or two and see if you can make a healthy change in your life.

Then, you can set a new goal.
Produce Guides and Recipes
Additional Resources
TIP: If you are having a tough time setting your own goal, you can focus on fruits, vegetables, and exercise for one week by filling out the following worksheet.
TIP: Ideas for easy exercises can be found here.
---
Month 3

– Meal Planning, Budgeting, and Shopping
Sometimes, life gets so busy that we grab whatever food is easily available. This can lead to added expense to our budgets and extra calories consumed. By taking some time each week to plan your meals, check your cabinets to take stock of what you already have, and put together a shopping list, you can save money and eat more healthy foods. At first, this may take some time to get used to, but soon you will be able to do it easily.
SNAP (Supplemental Nutrition Assistance Program)
Stretch your food dollars even further by checking to see if you are eligible for SNAP benefits (formerly known as food stamps). This program provides a monthly subsidy that can be spent on nutritious food at the grocery store and some online retailers like Amazon. Does your favorite store accept SNAP-EBT? Check here by entering your zip code.
Some farmers markets even match SNAP dollars, which means you can get twice the amount of food for the same price. One market that has a SNAP match program is Dale City Farmers Market. For more information on additional locations, visit Virginia Fresh Match's website.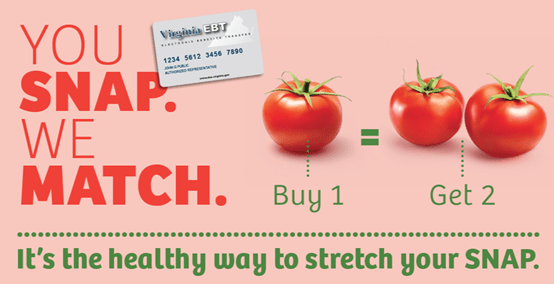 If you need additional support to apply for SNAP dollars or don't know where to start, ask a staff member when you pick up your Food for Health food. If you are not eligible for SNAP benefits, someone else in your house may be, so you should check. A special note for immigrants: Getting SNAP benefits will not hurt your immigration status.
You can also apply online through CommonHelp.
Meal Planning
Meal planning may take some time at the beginning, but in the long run, it can save time and money, as well as get you into the habit of eating more healthy foods. Try making meal planning (each week for one month) one of your SMART goals.
How to meal plan:
Pick one time each week to sit down for 20 minutes and record each meal you want to eat that week. If it's easiest, just start with dinner for the week.
Create your own meal planner or print one out.
Look at the recipes you will use and make a list of the foods needed for each meal. Make sure you include vegetables in all your dinner plans. Find recipe ideas here.
Check what you already have at home and put anything you still need on your shopping list.
If you have time, you can prepare some of the meals in advance so that weeknight meals are easier to pull together—especially when time is tight.
At the end of the week, review which meals you enjoyed most. Did some take too long? Are there ones that you loved and will try to make again? Do you want to try a new recipe next week? Is it easier for you to keep the same meal plan for a few weeks at a time, or do you prefer more variety?
Budgeting and Shopping Tips
When you go shopping, make sure to follow your shopping list to help you stick to a budget. Avoid shopping while hungry because you may be tempted to buy less healthy foods and extra items that are less affordable. Shop the outer aisles of the store where you will find fresh foods such as fruits, vegetables, eggs, dairy, and meat. This is called perimeter shopping.
Remember to check the labels of foods you are purchasing to ensure they are low (less than 5%) in sodium, added sugars, and saturated and trans fats. Look for items that are high in dietary fiber, protein, vitamins, and minerals.
You can eat nutritious foods for less: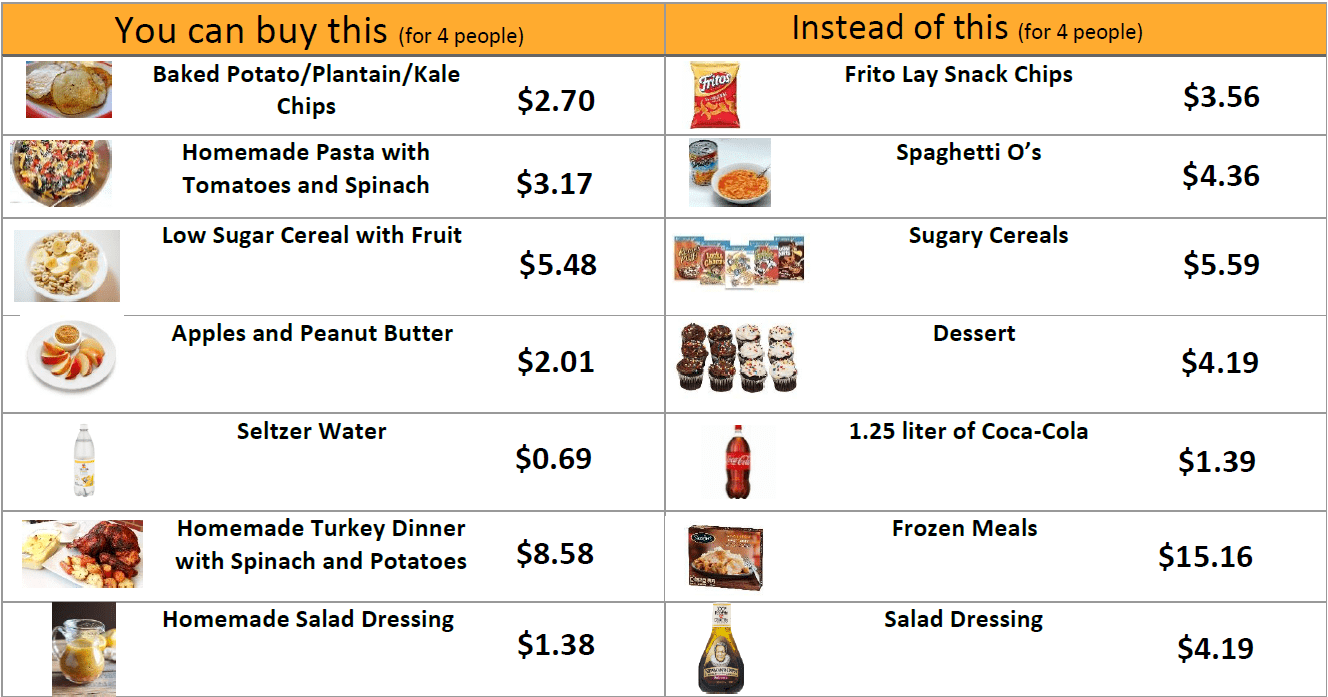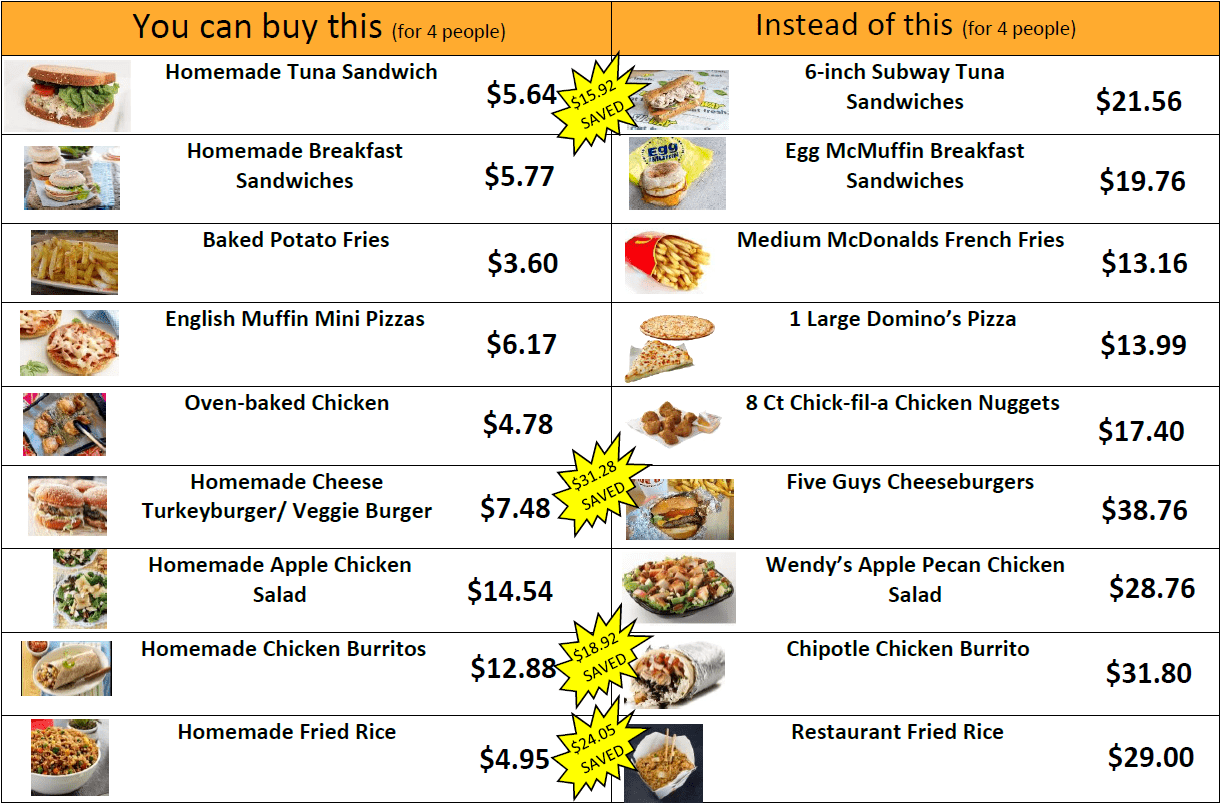 Watch this video to learn more about fresh, frozen, and canned vegetables. Save money when you buy different types of fruits and vegetables. They all count towards meeting your goal of five servings/day and help your body receive the nutrition it needs.
Recipes and Cooking Tips
Additional Resources
---
Month 4 – Cooking tips and techniques
This month, we will learn some cooking tips and techniques. These can help you make the most of the ingredients you have and save you time. If you plan and prepare ingredients on days when you have time, meals can come together more quickly on busy evenings. You can even prepare a bunch of dishes at once and store them to be heated up throughout the week.
Recipes Tips
Recipes are a great starting point for learning to cook but it is important to be flexible. If you are missing an ingredient there are lots of ways to swap with something you already have at home.
Use the recipe framework to combine ingredients you have into easy meals.
Spice things up! Have fun and add flavor to your dishes by using herbs and spices. This also can make things more flavorful without adding a lot of extra salt and sugar.
The ingredients list will tell you if the item should be sliced, diced, or chopped. Learn how to safely use a knife with the resources below.
Produce Guides and Recipes
Additional Resources
---
Month 5 – No-Cook Meals (Quick and Easy)
Sometimes we don't have the right equipment or enough time to prepare food, but there are plenty of things you can eat without any cooking at all. Lots of fruits and vegetables only need to be washed, and then you can eat them just like that! This is a quick and easy way to get your five servings of produce every day.
What are some great no-cook meals?
Cereal
For breakfast, pour a bowl of cereal or, with a little bit of planning the night before, enjoy some no-cook oats.
Overnight Oats
Overnight oats are a high-fiber treat. Mix 1 ½ cups of water or milk with 1 cup of oats in a container. Seal with lid and put in the refrigerator overnight. It will be ready to eat in the morning. Add your favorite fruit, some honey, and/or cinnamon. Overnight oats will stay fresh for 3–5 days in the refrigerator, so you can always make and store a larger batch (3 cups of water or milk with 2 cups of oats).
Smoothies
Smoothies are also a great option for breakfast, lunch, or a snack. (Check out our Frosty Fruit Smoothie recipe!)
Sandwiches
Sandwiches on whole wheat bread, low-carb tortillas, and wraps can be loaded up with fresh veggies and canned protein (chicken, tuna, or beans). Mustard is a great condiment to use because it adds flavor without adding fat. Go lightly with fats like butter or mayonnaise. If you want a bit healthier fat on your sandwich, mash an avocado into a spread. Greek yogurt is also an excellent replacement for mayonnaise and provides extra protein. If you are watching your fat intake, make sure to use no- or low-fat yogurt.
Quick and Easy with a Microwave
If you own a microwave, there are also some simple, speedy, and healthy ways to use it to prepare vegetables. This form of cooking helps maintain nutrients without adding any extra fat or salt.
Sweet Potatoes
Wash thoroughly, rubbing the potato skin with a scrub brush. The skin holds lots of vitamins, and you can eat this part, too, if it is cleaned before cooking. Poke holes in the potato on all sides with a fork. Microwave for 2 ½–4 minutes. Check if your potato is done by pushing a fork in and seeing if the inside is soft. For a sweet treat, top your potato with cinnamon!
Broccoli, String Beans, Carrots, Squash/Zucchini, and More!
Prepare your vegetables by washing them and cutting them up into smaller pieces. Place the veggies in a bowl while they are still wet and cover the bowl with plastic wrap. Microwave for a minute and check to see if they are done cooking. Some vegetables take longer than others to cook through, and some people like their vegetables crisper or softer than others. Just keep adding 30 seconds onto the cooking time—and checking your vegetables in between—to get them the way you like them. Sprinkle some spices onto your vegetables when they are done to add flavor.
Handout
Produce Guides
7 Way Cards
Recipes
*You can substitute black-eyed peas for other beans such as black, cannellini, kidney, etc.
The Food for Health program is generously funded by the Potomac Health Foundation.