Service Insights is the collection of basic demographic data gathered from the people we serve.
You may have received a card that looks like this: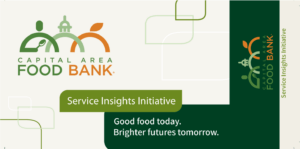 This Service Insights card is like your "membership card" to your local food pantry. It has no cash value and is not a gift card. It allows the Capital Area Food Bank to more easily compile data on who is seeking food assistance through our network of partner organizations in order to bust myths, advocate for clients, and fill gaps in services.
By taking part in this process and answering a few questions, you will help us reduce wait times and help us to make smarter decisions on how to serve your community. If you bring your card back every time you visit, the volunteers will use a scanner to quickly check you in. (But it's OK if you forget your card!)
Participation in Service Insights is NOT required to receive food, but we encourage all of our clients to participate. Participants will only have to register once in Service Insights.
It's important to the food bank that client data is kept private and secure. The information gathered will only be used to improve the services offered to the community.
Click here for our Your Data Your Rights fact sheet, explaining how we will protect your personal information.
Your Data Your Rights in other languages:
Service Insights / Feeding America from Credo Nonfiction on Vimeo.
If you have questions, your food pantry's volunteers can help. You can also email us at serviceinsights@capitalareafoodbank.org.