Fresh produce is a staple of a healthy diets. In our on-site urban garden, community members can learn how to grow fresh fruits and vegetables, even with limited space.
Sharing the joy of gardening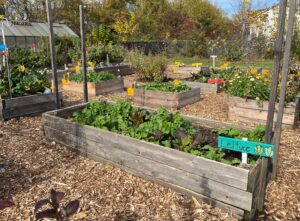 You don't have to live outside the city to grow a garden. Our half-acre Urban Demonstration Garden offers an outdoor "learning laboratory" where community members can learn how to grow good, nutritious food with just a small piece of land, or even a container on a windowsill. From planting to nurturing to harvesting, our garden allows community members to experience the joy of growing delicious food while gaining a new appreciation for produce and the important role it plays in our health. Gardening not only offers a chance to connect with the soil no matter where you live; it empowers people to grow the healthy food they need to thrive.
Work in our garden
We would love to show you our urban garden and tell you all about the produce we grow and our mission created hunger solutions for the Washington, DC, region. You can even help us with the planting, harvesting, and daily care of our many fruits and vegetables. Groups of coworkers, friends, and/or family are welcome!
Bring your middle school group on a garden field trip
The food bank offers special garden programming for middle school groups. Students can enjoy a day of learning, cooking, and tasting outdoors while educators fulfill a variety of curriculum standards. Click below to learn more!
Learn more about garden field trips
Questions? Reach out to our garden team at 202-644-9854 or email garden@capitalareafoodbank.org.