Based on recent temperatures, summer is here! At the Food Bank, this means growing season in our 8,000 square foot urban garden is in full swing.
Urban gardening is an easy way to grow vegetables in your own backyard or even on a windowsill. If you've had a chance to follow along on the blog in the last couple of months, you may have already learned how to create your very own urban container garden and what you can plant in it. This month, if your garden is reaching full bloom, the next question is: "What can I do with all this food?"
To help you out (or give you inspiration for getting started), we've gathered some of our favorite budget-friendly recipes below, along with some of our Produce Guides (which we pair with the fruits and vegetables we distribute to the families we serve in our community). Take a look below and you'll find all the info you'll need for your own container garden harvest!
Produce Guides
Recipes
Tomato & Bean Salad
Serves 4 for $3.72
Did you know tomatoes are great sources of Vitamin C? Protect your immune system while also munching on protein with this fiber-filled recipe.
Ingredients: 1 cup cherry or grape tomatoes; 2 sprigs basil, optional; 1 clove garlic; 1 can no-salt-added kidney beans (15-oz); 1 can no-salt-added green beans (15-oz.); 1 tablespoon red wine vinegar; 2 tablespoons olive oil; ¼ teaspoon black pepper; ¼ teaspoon salt
Directions: Prepare your ingredients: wash and chop the cherry tomatoes; finely chop the garlic and basil, if using; drain and rinse the kidney beans and green beans. In a large bowl, toss all the ingredients together.
Fresh Tomato Sauce
Makes 4 cups for $3.34
Fresh tomato sauce is the perfect spread to put on chicken or fish or mix in with pasta. Also important: it's a simple recipe!
Ingredients: 4 large tomatoes, core removed and chopped; 2 cloves garlic, minced; ¼ cup fresh basil, chopped; ¼ teaspoon salt; Pepper
Directions: Combine ingredients together and mix well. Allow to sit 15 minutes or up to an hour to allow flavors to come together.
Spicy Eggplant
Serves 4 for $4.00
This healthy recipe comes with a bit of a kick, but that's part of the fun!
Ingredients: 1 medium eggplant (1 lb.); 5 cloves garlic; 1 can no-salt-added tomatoes (15 oz.); ¼ cup olive oil; ½ teaspoon red pepper flakes; ½ teaspoon salt
Directions: Prepare your ingredients: chop the eggplant into 1-inch pieces, finely chop the garlic, drain and chop the tomatoes reserving the juices. In a large pot or skillet, heat the oil over medium heat until hot. Sauté the eggplant until lightly browned. Stir in the garlic and red pepper flakes and cook for 30 seconds. Stir in the tomatoes with the tomato juices and cook until the eggplant is very tender. Season with salt.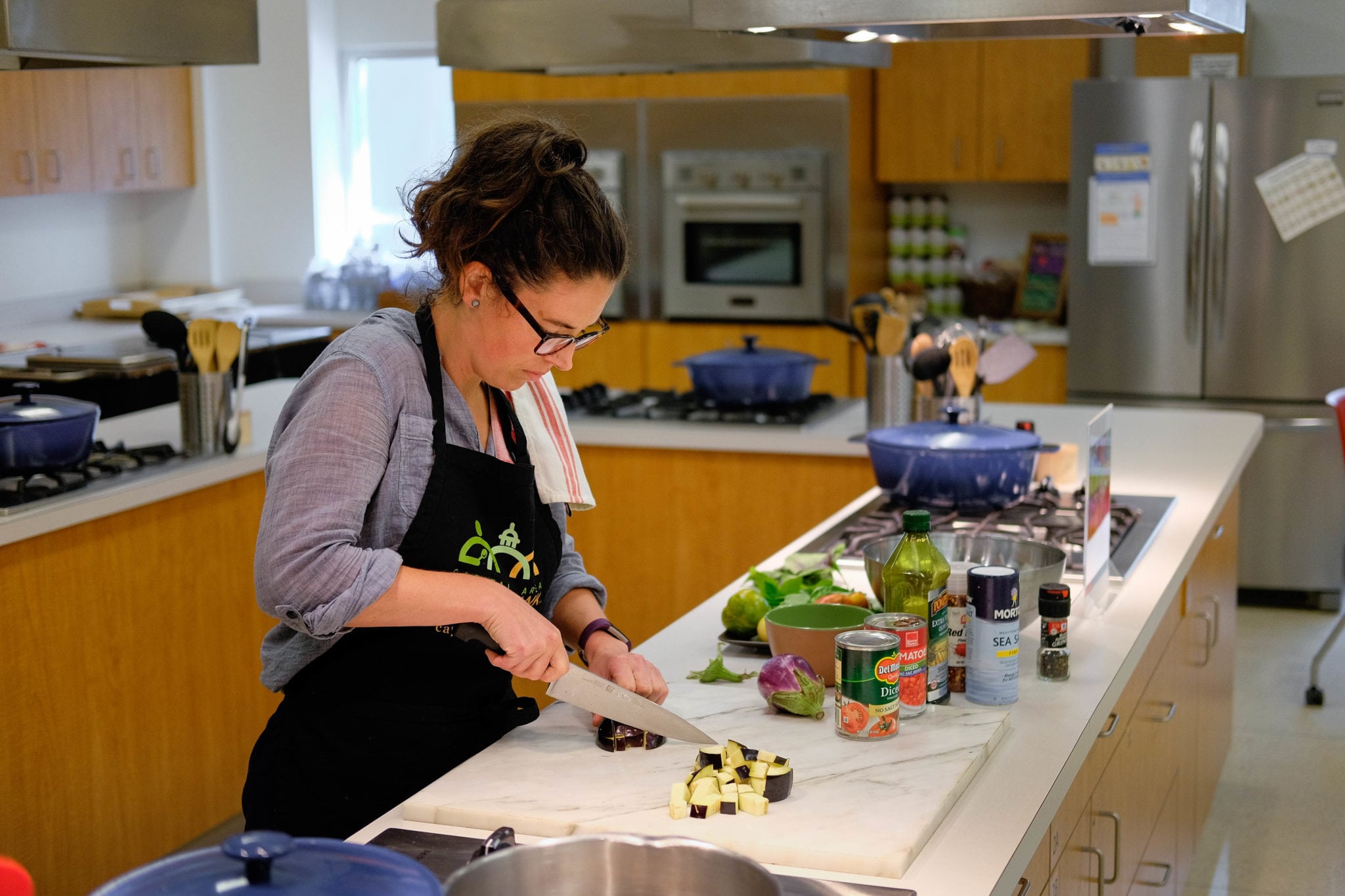 Learn More!
Take a peek at all our CAFB recipes here. And if you're interested in learning more about gardening, our Urban Garden holds demonstrations throughout the year. You can also spend time volunteering in our garden. By learning about the growing process, nutrition, and food waste, you can become an advocate for sustainable growing and help us take hunger off the map in the Capital Area!­