For too many college students, hunger can make it difficult to successfully pursue the diploma that can lead to a brighter future. But at schools across our region, the Capital Area Food Bank is partnering with campus leaders to offer students the support that can help them achieve their full potential.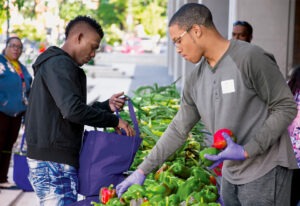 Since beginning this work, we have established food-assistance pilot programs at six campuses: Northern Virginia Community College, Prince George's Community College, Montgomery College, Bowie State University, George Mason University, and the University of the District of Columbia. Our partnerships with the latter three schools launched this fall.
These programs are tailored to each campus: at Montgomery College, we've partnered with their administration to identify students with financial need, who then receive gift cards to local grocery stores every other week. This program offers students flexibility to choose the foods they need, in a setting that reduces stigma. Students also have benefited from the work of our Nutrition Education team, which hosted food budgeting and cooking workshops.
At each of Montgomery College's three campuses, we're also starting to work with the school to support existing food pantries, where students can stop every weekday from 9 a.m. to 5 p.m. and pick up the nutritious food they need to thrive. We also partner with the college on monthly Mobile Markets, which offer free produce and other perishable food.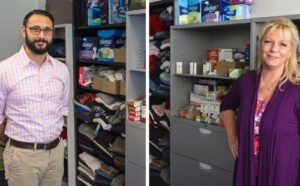 According to Dr. Carmen Poston-Farmer Travis, director of student affairs at Montgomery College, food assistance can play a "key part" of a students' "toolkit for success" — and we've seen that in the data. More than 90% of the participants in the grocery gift card program at Montgomery College say the program increased their access to nutritious food and reduced their financial burden. And 71% say they were able to work fewer hours due to the program.
The food bank's support has been a "game changer…the consistency has been incredible," says Dr. Poston-Farmer Travis. Working together, we have been able to create a landscape of support for the overall well-being of students.
At other colleges, we're also exploring additional program models, like grocery delivery and credits for student dining locations. Grocery delivery can be especially useful for college campuses with low grocery access, as transportation is often an obstacle for students and paid grocery delivery can be expensive.
Through partnerships like these, we're building a coordinated approach to addressing hunger across our region's campuses, which ultimately will support greater achievement in the classroom and beyond for all of our area's students.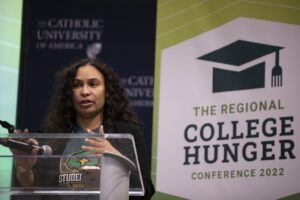 Part of that work last year included hosting the inaugural Regional College Hunger Conference, which brought together college leaders, researchers, students, and advocates to share ideas on broad-scale strategies for addressing campus hunger in the long term. That conference, which is co-sponsored by the Consortium of Universities of the Washington Metropolitan Area, will return again later this month — learn more here.
We are so grateful for our partners at Montgomery College and at campuses across our region – and we are eager to continue the conversation around how to support students and create paths to greater opportunity and brighter futures.