Volunteers are the beating heart of the Capital Area Food Bank. They provide one of the essential first steps in getting food to the men, women, and children we serve, doing everything from sorting and packing food, to bagging apples, greens, potatoes, and other produce; to going into the community and distributing food directly through our programs. In honor of National Volunteer Month, here are five amazing things our volunteers helped accomplish this past year!
1. Packed 25 million total pounds of food food – enough for 20 million meals – for those in need.
This past year, more than 20,000 volunteers streamed through our doors to help pack bags, sort food, and pack produce for the community, allowing us to save millions of dollars in labor costs that can instead be used to source and procure more food for those in need. Our volunteers contributed over 50,000 volunteer hours throughout the year and helped pack 25 million total pounds of food, which translates to 20 million healthy meals for the community.
2. Helped the food bank operate 10 direct distribution programs.
While the food bank works with a network over 450 other nonprofit partners, we also bring food directly into the community through several direct distribution programs. Operating these programs means that we need to pack and distribute food ourselves, and volunteers help us do that.
Volunteers packed bags and boxes of monthly supplemental groceries for the over 10,000 seniors served by our Grocery Plus and Senior Brown Bag programs, as well as bags of food for the 2,500 children who receive food through our Weekend Bag program, which ensures they won't be hungry when school meals aren't available.
3. Packaged 30,000 pounds of fresh produce a week for furloughed federal employees and contractors during the government shutdown.
When the government shut down for a record 34 days in December and January, hundreds of thousands of federal employees and government contractors were left without paychecks for two pay periods, forcing many to worry how they'd be able to pay bills and still afford groceries. To meet the unexpected need, the food bank launched free markets across the region each Saturday of the shutdown. In order to move quickly, the food bank needed help, so it put the call out for extra volunteers.
That call was answered as 80 volunteers a week converged on the food bank's distribution center, rolled up their sleeves, and got to work. They packaged 30,000 pounds of produce for the markets each Thursday, and their efforts helped 4,200 federal employees and their families get support during the shutdown.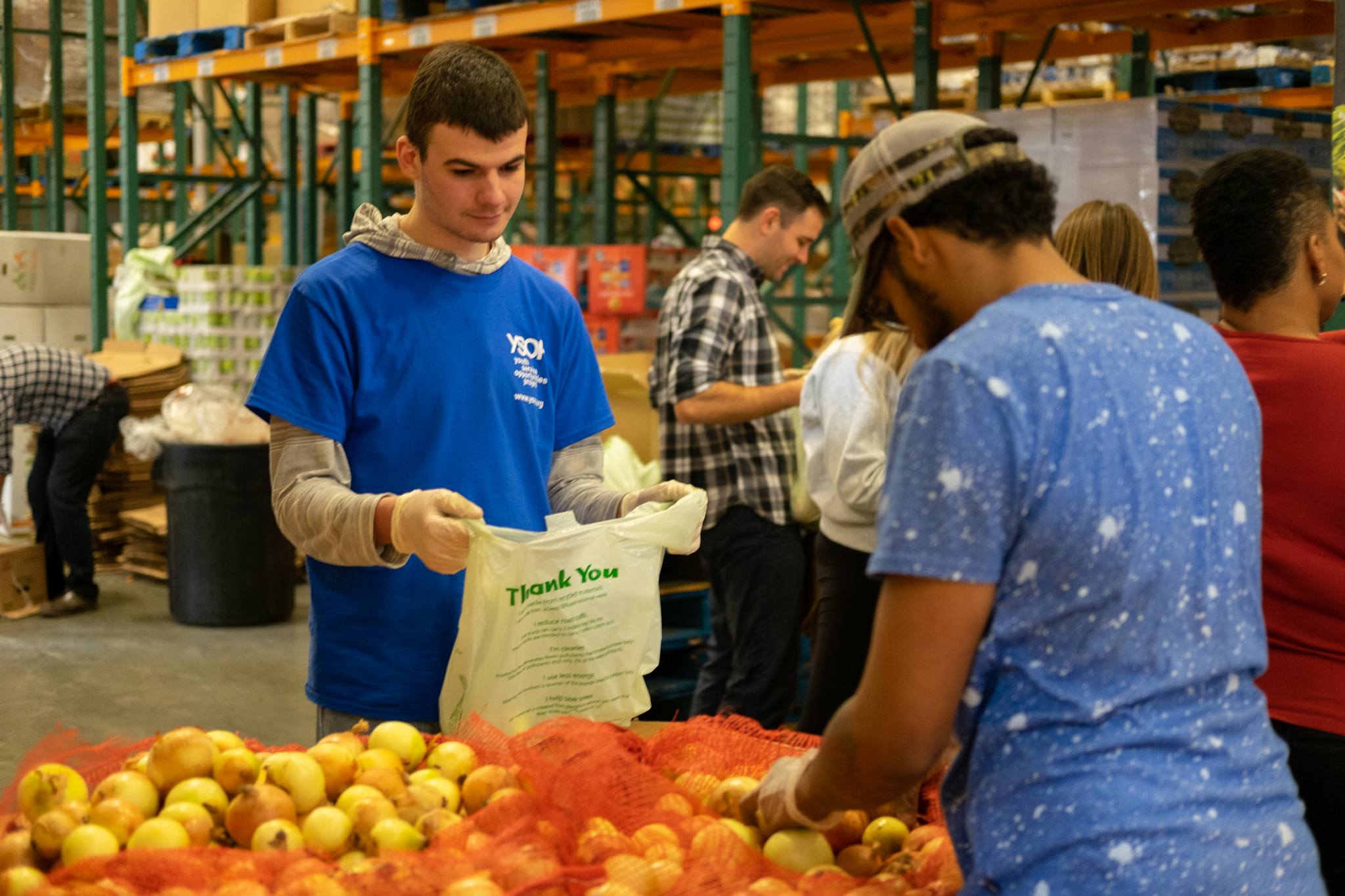 4. Staffed our Community Marketplaces, rain or shine.
Community Marketplaces are monthly farmer's market-inspired food distributions, located in high-density areas with high rates of food insecurity. The food bank operates three per month, and each one requires a minimum of 40 volunteers to set up and break down tables and tents, operate produce stands, and staff cooking demonstrations.
As the markets are outdoors, volunteers have had to deal with all sorts of weather conditions—95-degree heat in the high summer months, brisk temperatures in the winter months, and sometimes rainy or windy conditions. Yet no matter the weather, volunteers showed up every time—choosing to spend a day of their weekend helping others.
5. Further supported a culture of giving and a knowledge of the issue of hunger among corporations.
Impact Day. Give-Back Day. Day of Service. The days that corporations, schools, and other large groups spend with the Capital Area Food Bank go by many names, but they all have one thing in common: they make a difference.
This past year, nearly 600 companies spent time volunteering with the food bank. Employees of these companies invested valuable staff time to come to the food bank and learn more about the issue of hunger, and to help their neighbors in need.