A lake where a highway once stood. Parents slowly pushing children down the street in a pool float, looking for dry ground. Seniors waist-deep in water at a nursing home as they await rescue. The pictures emerging from Houston are heart-wrenching. And for many people, they're also a call to action.
With thousands in our local community eager to help those whose lives were upended by wind and water last week, the Capital Area Food Bank and Giant Food are partnering up to offer an easy way to do that.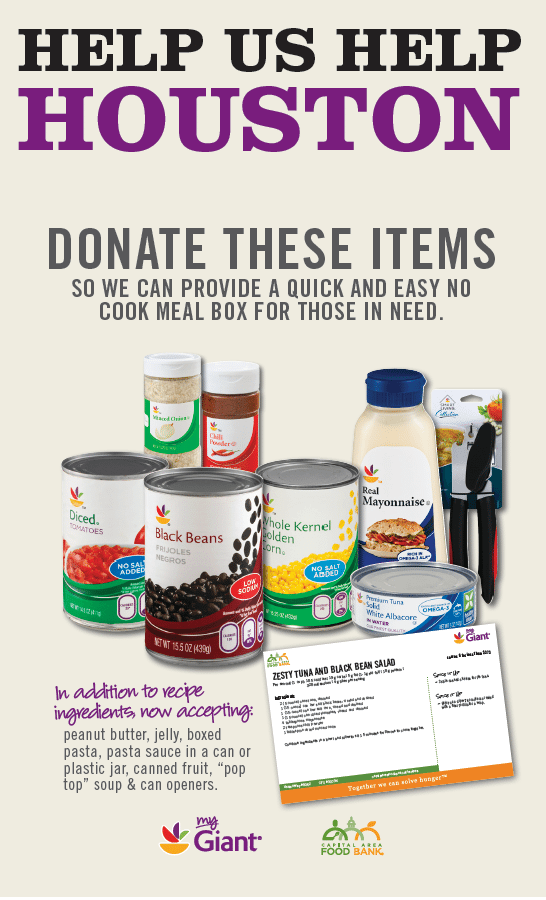 BRING: Between Tuesday, September 5 through Tuesday, September 12, you can bring food donations for Harvey victims to any local Giant store. You can also bring them directly to the food bank – we have extended hours for our donation acceptance area this week, starting at 8 AM and going until 7 PM.   Most-wanted donation items include the items below, including ingredients for a special no-cook recipe that we've created to enable those without electricity to make a nutritious meal with no heat.
Peanut butter
Jelly
Boxed pasta
Pasta sauce in a can or plastic jar
Canned fruit
"Pop top" soup
Can openers
Canned tuna*
Canned corn*
Canned black beans*
Canned diced tomatoes*
Dried minced onion*
Mayonnaise*
Chili powder*
*recipe ingredient
PACK: During the week of 9/18, the food bank will have special volunteer shifts for community members who want to help us pack up donated food (along with recipe cards for a no-cook meal, and notes of encouragement) into boxes for transport.
SEND: We'll be sending multiple truckloads of donations to Houston – this week, to help with the immediate need, and later this month when we've packed up the donations.
As the region's largest hunger relief organization, the Capital Area Food Bank has the broad regional infrastructure to help the community mobilize a response in times of crisis, whether locally for those impacted by a snow storm, or nationally for those impacted by a drinking water shortage or a hurricane. This moment is no exception. And with the help of those across our region and our amazing partner Giant, we're all able to be there for our neighbors across the country in Houston.