Learn. Care. Act.
Thank you for your interest in volunteering at the Capital Area Food Bank. Help us sort and pack thousands of pounds of food that will be distributed to our partners and neighbors by giving your time at our DC or NOVA warehouses. Sign up here to nourish the community.
People just like you donated more than 2.2 million dollars worth of time to helping the Capital Area Food Bank take hunger off the map.
In addition to individuals, we welcome groups:
Families
Corporate groups
Religious groups
School groups (children must be 12 or older)
Civic groups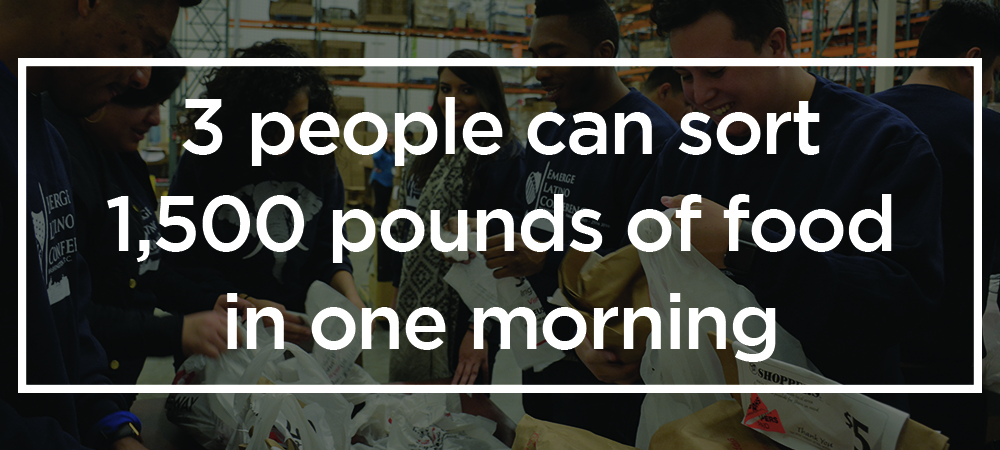 ---
---
Shuttle Service
The Capital Area Food Bank provides shuttle service for volunteers working at our DC warehouse during the 9:00am -12:00pm and 1:00pm – 4:00pm shifts, Monday-Saturday.
We pick up from the Brookland/CUA Metro stop, which is accessible on the red line. The shuttle arrives on the 10th Street side near the Metro elevator where other shuttle buses/vans are servicing the Metro station and will have a Capital Area Food Bank logo on the vehicle. The shuttle picks up at 8:15am and 8:45am for the morning volunteer shift, and at 12:45pm for the afternoon volunteer shift. If you do not see the shuttle van upon arrival or if you are running late, please call 202-327-1929 to request a ride. Return shuttle service is also provided at the end of each shift.