"The kitchen was not my forte," admits Julian Argoti.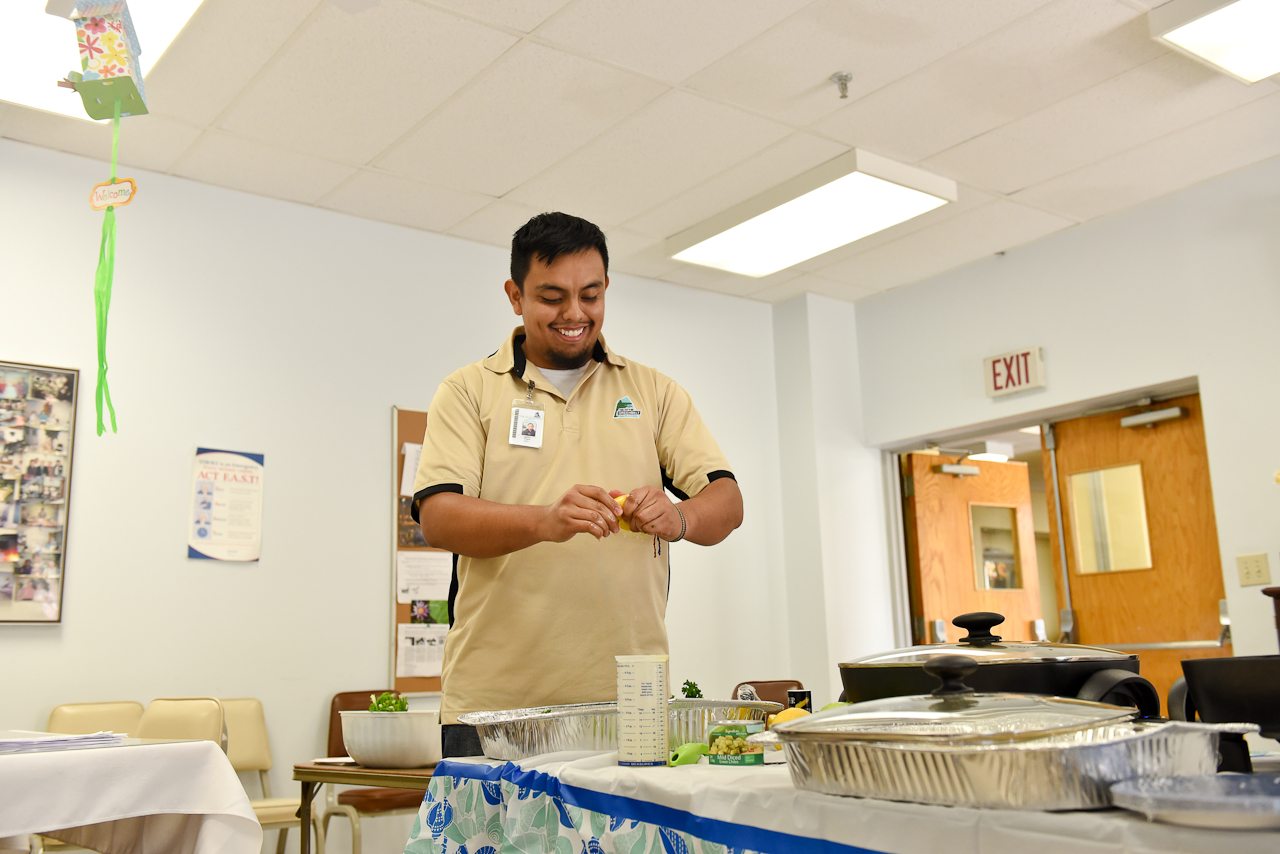 These days, however, that's changing.
As a public health intern with food bank partner City of Greenbelt Food Pantry, one of Julian's primary responsibilities is conducting health assessments of the senior residents at the Green Ridge House Apartments, another food bank partner in Greenbelt, MD.
Through his work, Julian quickly discovered that a majority of the apartment's residents, all of whom are low income, are dealing with diabetes and high blood pressure – diet-related diseases that are increasingly common in those who struggle to afford nutritious food. Inspired to help Green Ridge's residents increase their wellness, he took part in the food bank's Health Ambassador Program, which we started to help our partners learn to cook healthy meals on a budget, connect them with resources like Recipe Cards and Produce Guides, and share that knowledge with others.
Julian started the day off by observing a breakfast cooking demo of the CAFB's Sweet Potato Hash. While preparing lunch with the group, he got hands-on experience chopping, dicing, and baking. And he finished the day by creating his own cooking demonstration plan, using homemade granola, yogurt, and canned pineapple. In between, he learned about the fundamentals of nutrition, and how to encourage healthier cooking and eating.
"Before the program, I had zero cooking skills or knowledge," said Julian. Now, he says, he can cook meals easily and finds the food bank's recipe cards easy to follow.
And it shows.

Shortly after taking the training, Julian hosted a cooking demonstration for residents of food bank partner City of Greenbelt Apartment. Bunny, one of the participants, sampled the Mexican Rice Skillet, noting that she "was impressed by the quality and flavors." Ray, another resident, said "The Kale Salad was a real surprise."
Pairing access to healthy food, and information about how to use it, is one of the many ways that the Capital Area Food Bank is empowering the community and building wellness among those we serve.
Join the movement.
Our free train-the-trainer educational workshops are geared to support the continued growth of our network of Food Assistance Partners. Our next Health Ambassadors session will be held on Thursday, August 18th at the Bedford Falls Distribution Center. Click here to register for this workshop, and to learn more about other workshops, check out our Agency Achievement Academy page.