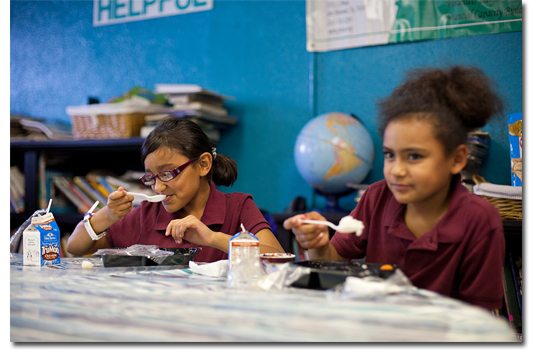 The boys and girls of summer in the greater Washington area will find plentiful lunches, snacks and suppers on their plates during the Summer Food Service Program thanks largely to longtime Capital Area Food Bank partner, Giant Food of Landover, Maryland, which continues to hit donor records out of the park.  Through their Fighting Child Hunger grant program, Giant's Our Family Foundation, supported by parent company Ahold USA, has been the single largest donor to child hunger programs at the CAFB in each of the last two years, providing $600,000 in grant funds to food bank programs benefiting low-income children in our community.
This means not just summer meals, but year-round. Our Family Foundation has contributed to meals for more than 3,220 children enrolled in four main food bank childhood feeding programs; Kids Cafe, Weekend Bag, Weekend Bag Fresh Produce and the Summer Food Service Program. Grants from Giant/Landover and ur Family Foundation have also provided age-appropriate nutrition education and special holiday meals.
But now that summer is here, this support is even more important, because many children are deprived of the federally subsidized breakfasts and lunches they come to count on when school is in session. Thanks to Giant and Our Family Foundation's two years of grant awards for year-round child hunger programs, the food bank's participation in the Summer Food Service Program (SFSP) as a sponsor can go forward, reaching over 2,500 children all summer long.
During this same time, Giant Food donated a 26-foot refrigerated tractor-trailer in 2013, a $94,000 donation resulting from Giant's Checkout Hunger Giving Campaign, and many outright donations of food to the CAFB. These include 1,000 turkeys for the holidays this past November, 1,838 pounds of premium hams, 9,679 pounds of apples just in the last three months, and a burgeoning store donation program providing 88,000 pounds of frozen meat to the food bank since September, 2013. This program will only grow as more Giant Food stores in the metro area join the food bank's store donation or retail pick-up program, and as the CAFB's capacity to collect in the area continues to grow.
Giant Food at Landover has been there for the CAFB and for the children and families we serve for most of the food bank's 34 year history.  Our Family Foundation's Fighting Child Hunger is just one example of a partnership that continues to make better the lives of those most vulnerable, our children, at risk of hunger in our community.