Cooking Up a Fun, Fresh, and Kid-Friendly Snack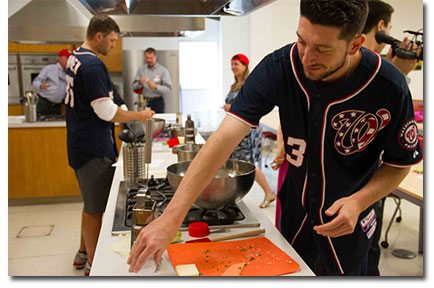 The Nationals geared up for the the Harris Teeter Food Drive in the Capital Area Food Bank Teaching Kitchen today with a cooking event.
Nats pitchers Jerry Blevins and Craig Stammen and their families teamed up with kids from the The Early Start Center of Jubilee  to prepare 1-2-3 Salsa, a healthy snack that has (1) Fresh Ingredients, (2) Protein, and (3) Fruit and Veggies.
1-2-3 Salsa highlights how to use common food drive ingredients in a healthy and budget-friendly way, while also spotlighting canned peaches and canned corn, two ingredients that are part of Harris Teeter's generous food donation program that runs from June-October.
So what makes the 1-2-3 Salsa healthy, fun for kids, AND budget friendly? The food bank offers up some coaching tips:
The Salsa Strategy:
Freshen Up Food Drive Ingredients – Combine Items from the CAFB Most Wanted List with fresh herbs and flavors
Kick Up the Nutrition – Pack in protein with beans and cheese; add canned peaches and corn for fruit and veggie flair
Stretch it Farther – Stretch store bought salsa and your budget by adding non-perishable ingredients to the bowl
Make it Versatile – 1-2-3 Salsa can be a dip and a topper for chicken, fish, or veggies
1-2-3 Salsa
Serves 10 as a snack
2 24 ounce jars salsa
1 15 oz. can corn, drained and rinsed
1 15 oz can black beans, drained and rinsed
1 15 oz can peaches in natural juices, drained and mashed
1 ½ cups shredded cheddar cheese
Juice of 1/2 lime
2 Tablespoons cilantro, chopped
Combine ingredients in a large bowl. Enjoy with baked tortilla chips or whole grain crackers.
Download autographed recipe.