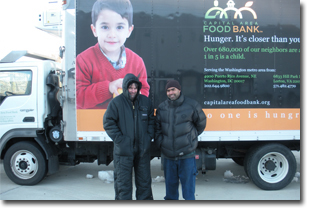 As the "polar vortex" makes its way across the Washington Metro area, commuters are bundling up during record cold temperatures.
The wind chill advisory has led to school cancellations and delayed openings and temperatures  are lower than they have been in more than 20 years.
At 5am, the first shift of Capital Area Food Bank drivers arrive to begin their day, battling the freezing temperatures. But 5°F at 5am won't slow our drivers down. After all, there are thousands of members of our community counting on us, now more than ever.
With added layers and the occasional face mask, our drivers hit the road to ensure that the nearly 700,000 individuals at risk of hunger have access to the food they need.
Before the sun could rise, CAFB drivers began picking-up food from our local donors and delivering meals to our Partner Agencies.
Efforts were hampered at first by the trucks that simply wouldn't start in the cold, cold air. But persistence and patience paid off for drivers like Joseph Dunbar and David Maldonado (pictured here).
It hadn't warmed up much at all by the time the second shift of drivers arrive at our Food Distribution Center — shortly before 6am.
It is well known that hunger doesn't take a holiday. But it is easy to forget that hunger also doesn't stop for extreme weather.
…for some reason I can't stop thinking that we should quote Miley Cyrus: "and we can't stop, and we won't stop!"