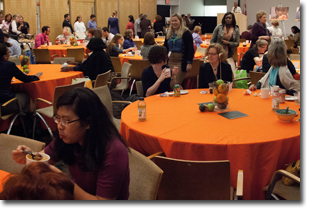 The head chef at the British Embassy in Washington, DC is preparing a meal for one of the biggest crowds in his career.
Chef Craig serves up fabulous dishes for Ambassador Sir Peter Westmacott and his wife Lady Susan Westmacott almost every day as the Embassy's live- in chef, but on October 23, he will master both culinary quality and quantity: he is making a meal for a 300-person event!
At the Capital Area Food Bank's annual Empty Bowls event, chef Craig will create the quintessential British dish: Oxtail Soup with Herb Dumplings. (I asked him for a copy of the recipe, and he obliged!)
Craig knows all about cooking for discerning tastes; he has worked in some of the world's top restaurants. However, the Dupont Circle event is definitely one that is near and dear to his heart because it is all to benefit those in the DC region suffering from hunger.
"I am very grateful for where I live and work , it is indeed a huge  privilege to cook here at the Embassy.  However, I am very aware that DC is not all about Embassies and fine dining.  When I was asked to produce this soup for the Capital Area Food Bank's Empty Bowls Event, it was really not a question I needed to think about, and I feel very  honored to help out this cause," says Craig.
The event is unique in that it brings together those who enjoy delicious soups, in one-of-a-kind bowls to take home. It's a fall tradition growing in popularity.
"We live in a world of artisan breads, slow food, and hipster hamburgers, yet there are people that can't even afford a basic healthy meal," says the Dupont Circle Neighborhood Captain for the CAFB, Sharon McCarthy, who will be volunteering at the event.
"It's the perfect recipe for bringing the community together to fight hunger: artisan soups from local chefs, hand-made ceramic bowls, fresh crusty bread from local bakers — all for just a $25 donation," says McCarthy.
All 450 Embassy staff have been invited to attend, and Charlotte Doyle of the Embassy's UK Trade and Investment Department says she hopes to follow-up with a day of service, where employees will volunteer at the food bank in the near future.
"We have worked with several charities in the past, and the work done by the Capital Area Food Bank is impressive, and makes us want to play a role," Doyle says.
Empty Bowls takes place Wednesday, October 23, from 11:30am – 2:30pm at the FHI Conference Center, at 1825 Connecticut in Dupont Circle. You can register now.