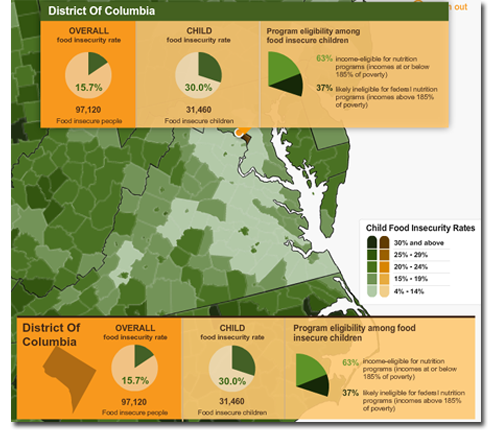 This just in: Washington, DC, the capital city of the wealthiest country in the world, is home to more hungry children than any state in the union except one.
(I hesitate to name that one state. . . It's New Mexico.)
According to Feeding America's Map the Meal Gap study, at least 31,000 children live in families who are food insecure, which means their families lack the resources to provide their kids basic food that provides enough nutrition and kilocalories.
This is outrageous, unimaginable, intolerable. Choose the most explosive adjective you can . . .
I offer three things you can do about it:
1. Inform yourself.
Understand that hunger in our city looks different from hunger in some of the places around the world like Haiti, Darfur, Bangladesh and other hard places where I traveled as a diplomat with the United Nations World Food Programme. Many of our children are getting enough calories, but not enough nutrition. They can eat packaged fried donuts for breakfast (a Glazed Honey Bun that one can get with a bright red sticker on sale for 50 cents and has 440 calories) and large bags of chips on special for 99 cents for lunch for another 600 calories. A meal of chicken nuggets, small fries and a Coke from the dollar menu packs another 800 calories.
These children have gotten all the calories they need – in fact more than enough. But, they aren't getting vitamins A, B, and C; riboflavin, fiber and other minerals needed to nourish the body. Not surprising that these kids' brains keep screaming "feed me" even as their bodies store excess calories as fat. Understand hunger in your hometown.
2. Help the Capital Area Food bank get the word out about the relationship between health and overall wellness.
We are working diligently to distribute nutritious fruits and vegetables. But, we also want to help teach our partners working to relieve hunger how to convey lifetime skills through simple recipes and basic knowledge about lower cost items that provide maximum nutrition.
3. Skip Lunch!
You read it right. Not every day, but once, to help Joey and other kids like him get a meal, donate to Skip Lunch what you would spend on your lunch. As we inform ourselves and get the word out – and work steadfastly and well toward improving the food eco system in the Greater Washington area, we need to make sure Joey has a meal.
Now through the end of July, you can give what you spend on lunch to help a child by making an online donation or by simply texting the word "SKIP" to 85944 to make a quick $10.00 donation. And please let your friends know about Joey and other children within the Washington metro area. Please share this post on Facebook and/or Tweet it with the hashtag #SkipLunch.