How many meals can you make for $16?
This is a question that may cause many of us to scratch our heads and think.  But for our clients who use SNAP benefits to stretch their food dollars, the answer might just mean their next meal.
This is why the food bank's Nutrition Education Department created The $16 Bag, a signature meal planning and teaching tool at the Capital Area Food Bank.  As the minimum food stamp allotment for an individual or family is $16 in one month, the $16 bag teaches how to stretch food dollars.  
The basics of the $16 bag:
Purchase value ingredients (ingredients that are versatile, store well and are nutritious) and coordinate them into meals to stretch food dollars.
The latest $16 bag (hot of the press) consists of ingredients to make 8 Black Bean Quesadilla and 8 BBQ Corn Pizzas.  In short, with this $16 bag, you can feed yourself 16 times!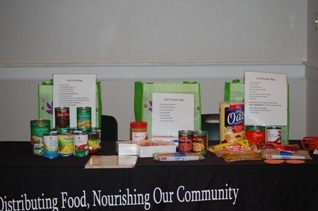 $16 Bag ingredients:
Whole Wheat tortillas
12 ounce bag frozen corn
28 ounce can stewed tomatoes
1 pound dried black beans
12 ounce block of cheddar cheese
Last week, I prepared this dish with a group of 13 women.  While they were food budget savvy, many never tasted a quesadilla or would have never considered using these combinations of ingredients.
Whether you are budgeting $16 or $60, stretching food dollars comes down to meal planning, smart shopping and cooking know-how.  With the $16 bag, we hope to teach just that.
Black Bean Quesadilla
Serves 8 half moon quesadillas
–  *3 Tablespoons oil (canola or olive oil)
–   3 cups COOKED black beans, drained, rinsed, and mashed
–   28 ounce can stewed tomatoes, juice reserved
–   1 1/2 cups frozen corn
–   2 cups shredded cheddar cheese
–   *2 Tablespoons chili powder
*kitchen staple, not part of $16 bag
Heat oil in a large sauté pan over medium high heat.
In a large bowl, combine mashed beans, tomatoes, corn, cheese and chili powder.  Add reserved juice from stewed tomatoes to loosen black bean filling as desired.  Do not make too runny
Lay one tortilla on a cutting board.  Scoop  ½ cup filling on one side of tortilla.
Fold over the other side of tortilla and close into a half moon shape.  Do the same with remaining tortillas (or reserve filling for later).
Cook tortilla until golden and flip with a spatula.