Our 2021 Policy Agenda highlights the role that government at every level can play in reducing hunger and poverty in our region.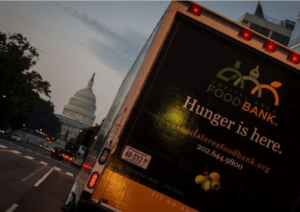 Although we're on track to distribute the food for nearly 50 million meals in fiscal year 2021, we cannot address hunger alone. Governments play a critical role in reducing hunger and poverty at the broadest scale, and we are seeking the support of policymakers to enact change that will advance these goals.
Our policy agenda has been informed by hundreds of conversations with elected leaders, academic researchers, community members, and the insights of our clients and partner nonprofits. We have put forth requests that speak to ways that governmental leaders in each jurisdiction can take steps to reduce the burdens of hunger and poverty over the coming year. Our requests are mindful of the structural and fiscal limitations that policymakers are faced with, but also challenge leaders to ensure that underserved and marginalized communities are not left behind, or left without a seat at the table. Together, we can holistically support the needs of the most vulnerable individuals in our communities.
Download the 2021 Policy Agenda
for a one-page look our priorities by level of government across our region.
Download the 2021 Policy Agenda Snapshot
for an "at a glance" view of CAFB's policy priorities.