It's a brisk fall afternoon, and the food bank's Urban Demonstration Garden is filled with curiosity and middle schoolers. These Center City PCS students are on a field trip to our garden, where they will spend the day learning about how fresh vegetables get from the garden to their plate.
This field trip is the 7th of the year. In the words of Avery Cross, our Food Growing Education Specialist, these trips are designed to "start building a relationship between the students and produce. To help them love healthy food and understand where it comes from."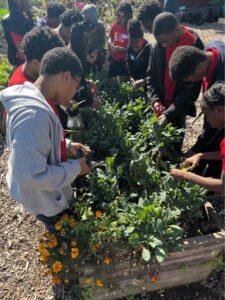 And it works, too – "I don't like kale," one student tells us, "but this salad changed my mind."
Avery kicks off every school visit with an introduction to the food bank and to the practice of urban gardening. Her message to students: there are many ways to garden, and it can be an excellent source of healthy food.
For students, the visit is a chance to get hands-on with plants and gardening.  An herb identification game teaches that different plants smell and look different, and how to distinguish different herbs.
Next up: harvesting food from the garden, which was a favorite part of the day for many students. One student said they "loved harvesting and seeing the peppers and other fruits and vegetables around the garden." This comes through in how they interact with the plants, as they look at the produce in front of them with wonder. Many of them are giggling at the opportunity to harvest food for themselves.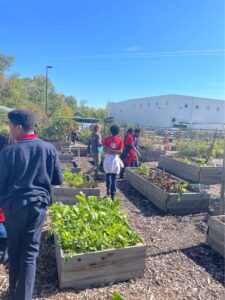 What do you do after harvesting veggies? Eat them!  The menu for this visit included preparing a kale salad, mostly using ingredients that had just been harvested. The students have been engaged so far, but their energy ramps up as everyone gets a turn using the salad spinner.
The students work together to combine the ingredients, resulting in three large bowls of delicious kale salad to share.
At the end of every field trip, we distribute a survey asking the students what they learned and how they enjoyed the field trip. Six in 10 said they were likely to seek out the food they explored on the field trip! And every student said they enjoyed the visit. We host these field trips from April to November every year — if you're interested in making one of these field trips happen at your school, reach out to Avery Cross at across@capitalareafoodbank.org.