"Where's the bus?"
"Who's seen the bus?"
The WhatsApp group chat for residents of Audubon Estates in Alexandria lights up with messages like this many evenings during the summer. The bus in question is the Capital Area Food Bank's summer meals bus, and when it rolls through every weekday at 6 p.m., it brings the whole community together.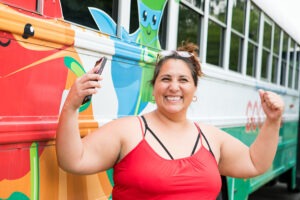 The mobile summer meals service has been a lifeline for Carla Claure, who struggled with steady employment amid the pandemic. Carla had worked as a housecleaner, and her husband as a construction worker – two industries that were deeply affected by the economic upheaval. She has three children, two of whom she still needs to feed. But how do you feed your kids without a job?
Even last summer, she was only able to find work three to four days a week. During that time, the summer meals offered her a "guarantee that my daughters eat something in the day," Carla says. No matter how tenuous her employment felt, she knew her daughters would be fed.
That guarantee came in the form of the food bank's summer meals bus. It's a long, green-and-white vehicle that looks like a school bus from the outside. On the inside, it's been modified to act as a full-service mobile food serving station, with refrigerators, warming closets, and a surprising amount of storage space.
At every site, children who need something to eat that evening receive dietitian-approved meals.
When the bus arrives at Audubon, the neighborhood children quickly gather around it. "The most fun is the bus coming and staying here … everybody runs all the way through the community to get to the bus," Carla says.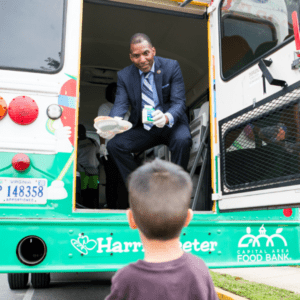 This summer, Carla has full-time employment. But she still worries about her children getting the food they need as she and her juggle the competing demands of working and caregiving. But every weekday at 6 p.m., she feels the relief of knowing that they have a healthy dinner available to eat.
Those healthy dinners won't end as the summer draws to a close. Starting this fall, the mobile meals bus will be providing afterschool meals for families in the Audubon neighborhood and several other neighborhoods in Northern Virginia! Expanding the mobile meal service will help to ensure kids across the region are getting the food they need to thrive.
Photos by Les Talusan