In the space between 8 and 9 a.m., anticipation hovers. A light April breeze washes across the parking lot outside New Craig Memorial Church, where volunteers gather to prep their morning's work. A handful of clients stake out their places in a line of cars.
Once the Capital Area Food Bank's truck rounds the corner for its fourth delivery of the morning, the Mobile Market in Maryland's Capitol Heights can officially spring into action.
Clients, as well as volunteers from the Community Ministry of Prince George's County, visit this spot monthly. Most attendees stocking up on groceries are repeat clients. "We're like the mailman: here no matter what," says one volunteer.
On this mild morning, roughly 20 to 25 vehicles pass through the market, motoring up to pallets stacked with bags of food. Volunteers load the goods, offered at no cost, into open trunks.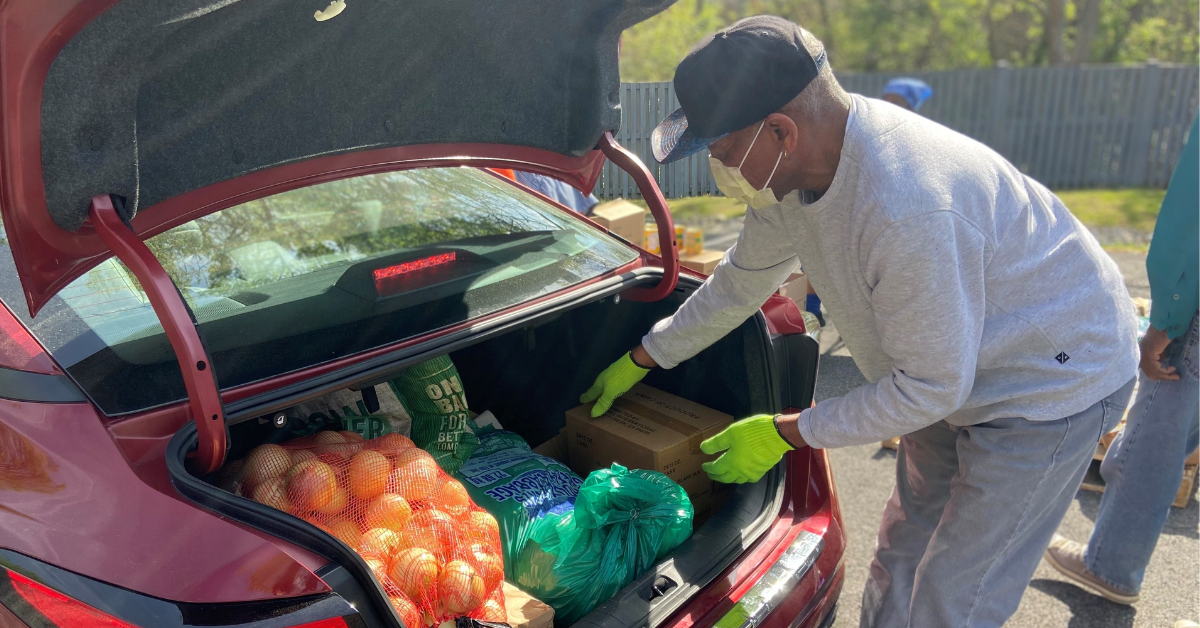 On this particular morning, the menu includes mixed-fruit packs, tomato sauce, and elbow pasta, among other items. Produce is a priority, and cabbage and onions are among the offerings.
The University of Maryland Medical System (UMMS) has invested $200,000 to support Mobile Markets operated by CAFB in Prince George's County, which has one of the highest food-insecurity rates across the nonprofit's service region. The food bank's UMMS-funded markets are providing roughly 350,000 meals across the seven market locations in Bladensburg, Capitol Heights, and Oxon Hill.
Hunger is a key factor contributing to adverse health outcomes. By donating funds and providing volunteer power, UMMS seeks to target social determinants of health and reduce food insecurity — both in the immediate future and in the long run.
Learn more about the impact of these community distributions by hearing from two Mobile Market attendees.
Virginia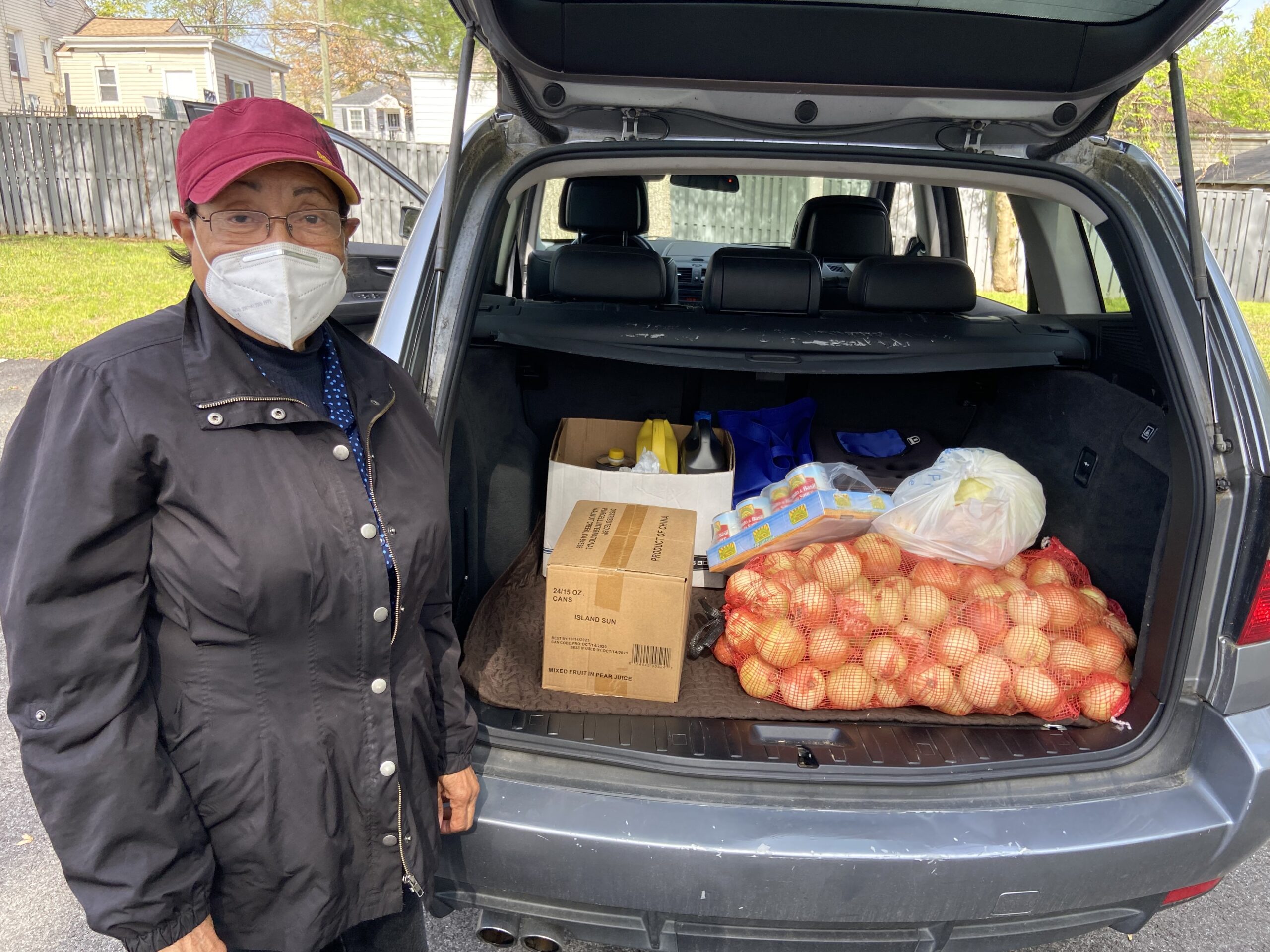 Virginia is a true smoothie lover. She provides a verbal sketch of her process, discussing how she works fruit and veggies into her own irresistible blends. It's only natural that she appreciates the produce at each Mobile Market.
"It's amazing," Virginia says of attending the distribution. "[I'm] grateful for what they give me."
It's been years since she started coming here: news of the market's existence initially reached her through word of mouth. Now a recurring client, she expresses appreciation for the flexibility the Mobile Market affords her. As an older woman whose disabled husband now lives in a nursing home, she's grateful not to need to hit the grocery store as often as before. "I'm so thankful for the food bank," she says. "I really am."
Virginia is focused on making the most of the day's menu. It's common for her to freeze food, prolonging its freshness. Sometimes, she'll whip up a soup. Still, she knows that there will be a surplus among the items she brings home. So she shares the bounty, offering up goods to three to four older neighbors. In her words: "It's very helpful to help each other."
What would Virginia tell the individuals who helped supply these groceries? Standing next to her open trunk, she considers this and says, "I'm glad we have someone who cares about other people—to show that there's kindness."
Louise (and Tinkerbell)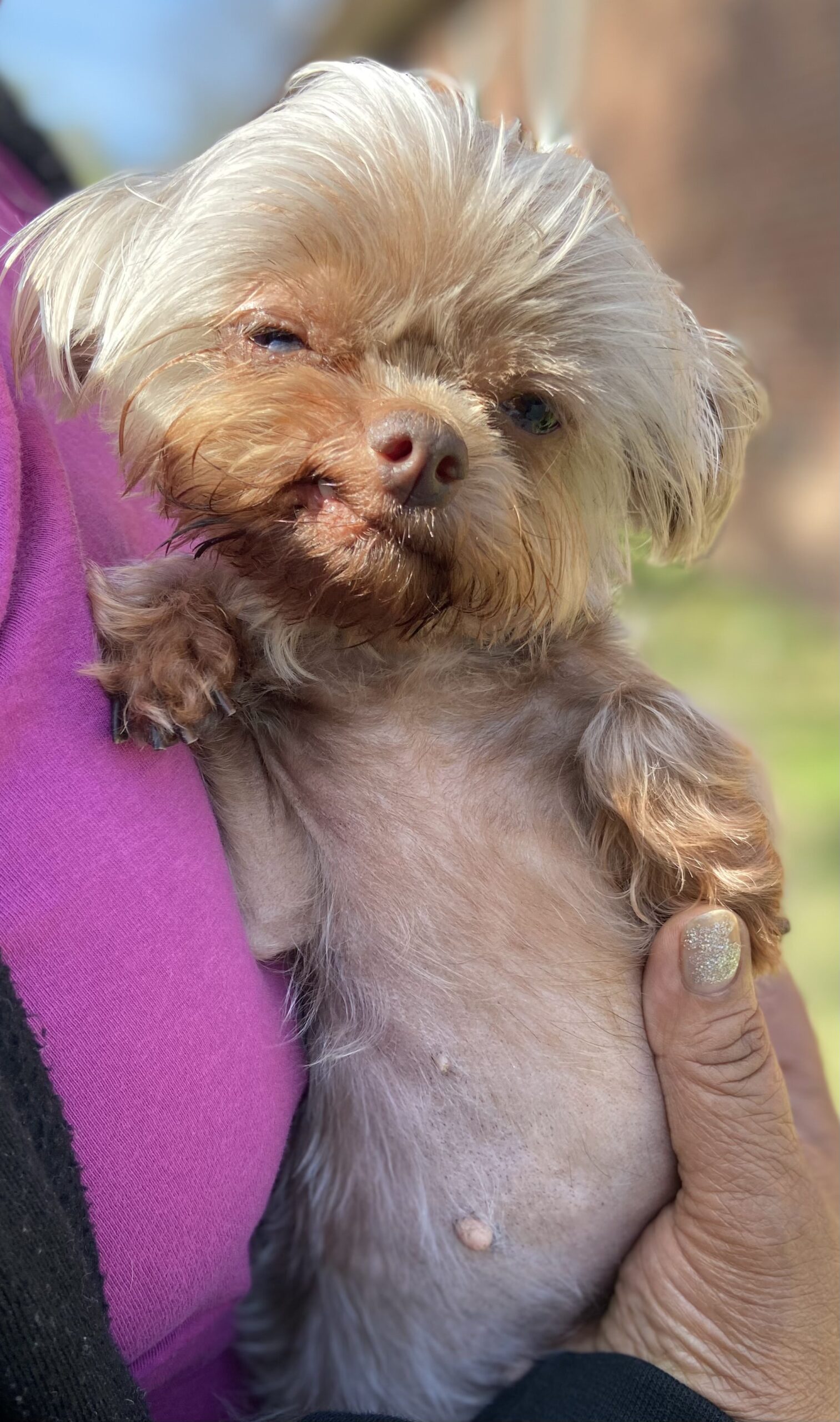 While waiting in line, Louise speaks through her rolled-down car window. "It's a big help," she says of the market. Her tiny dog and travel companion, Tinkerbell, wriggles and yips, bouncing between the front and back seats.
"It's actually food on the table," adds Louise, who resides in neighboring Montgomery County.
To the people helping provide the food, she "would say thank you" and "I appreciate 'em." She also lauds the "really nice" volunteers who manage the distribution.
She acknowledges how many folks are enduring difficult days: "Some people may not get much more" than what they receive through charitable means. Fortunately, visitors receive a substantial amount of food at the Mobile Market. Louise recalls a morning, months ago, when she transported 50 pounds of produce home.
Louise is someone who likes to share. Whether spreading the word about resources she finds online or dishing out food for stray critters, she prioritizes giving. She mentions the region's population of disabled seniors and explains how she often grabs food for them to help lighten their loads. That includes delivering groceries to an elderly neighbor who has cancer and survived a COVID-19 infection.
When asked what she'd say to someone nervous to ask for help, Louise responds, "C'mon—I'll go with you."