Conversations about nutrition between the dietitians and young patients with diabetes at Children's National Hospital often have led to the same obstacle: the foods that those patients need to stay healthy just aren't accessible options for too many families across the region.
While foods like whole grains, fresh produce, and lean proteins will help patients feel full longer and keep their blood sugar in check, they may not be on the shelf at the nearest store.
Or those items may be so expensive that families on a budget are unable to add them to the cart, especially if they may need to try those several times before a child who is skeptical of unfamiliar foods becomes willing to eat whole-wheat pasta.
That conversation is now changing, thanks to the new food pharmacy pilot program created in collaboration between the Capital Area Food Bank and Children's National Hospital.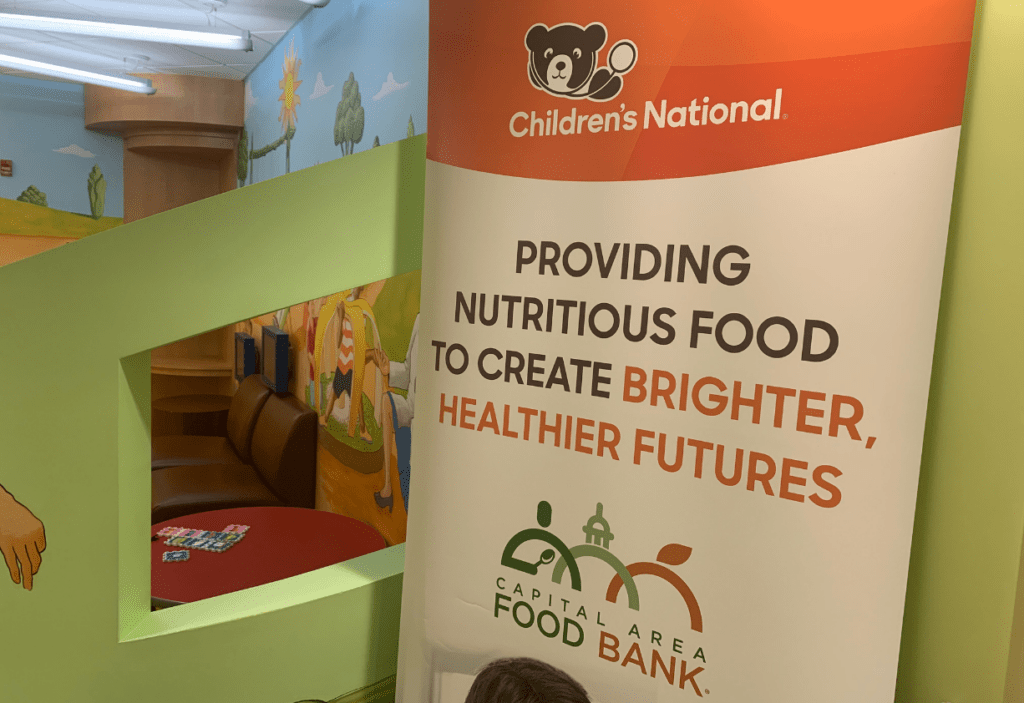 The food pharmacy program brings groceries from the food bank directly to the hospital's diabetes clinic. Instead of receiving a list of food pantries where they could seek out nutritious foods, families visiting the clinic who screen positive for food insecurity can take a bag of groceries tailored for their child's health needs with them as they leave a medical appointment.
That one-stop approach makes it easier for families to access foods essential to a child's overall health. In addition to the groceries, families also receive recipe cards and tips from the dietitians to provide ideas on how to use those foods.
"We know that good food and good health are deeply interconnected, especially for young people," said Radha Muthiah, president and CEO of the Capital Area Food Bank. "For children whose families may not always have the resources to get a nutritious meal on the table, all kinds of health challenges can emerge, including diabetes. We're proud to be partnering with Children's National on an initiative that will enable brighter futures for kids by making healthy groceries available right at the point of care."
'I was not expecting that much'
According to the dietitians who work in the clinic, the initial reaction from families introduced to the program has been overwhelmingly positive.
"We bring the food out, and they tell us, 'I was not expecting that much,'" said Bailey Goggin, one of the clinic's dietitians.
The reusable grocery bags for families are filled with roughly 35 pounds of food at each visit. The contents will fluctuate based on the needs of the patient and their family. While the foods are intended to be shared throughout the household, the items are selected to ensure the patients with diabetes are receiving a mix of foods that are aligned with their health needs.
That may include grains like rice, spaghetti or oatmeal; proteins like canned salmon, peanut butter and beans; and a range of produce, like butternut squash, broccoli and oranges.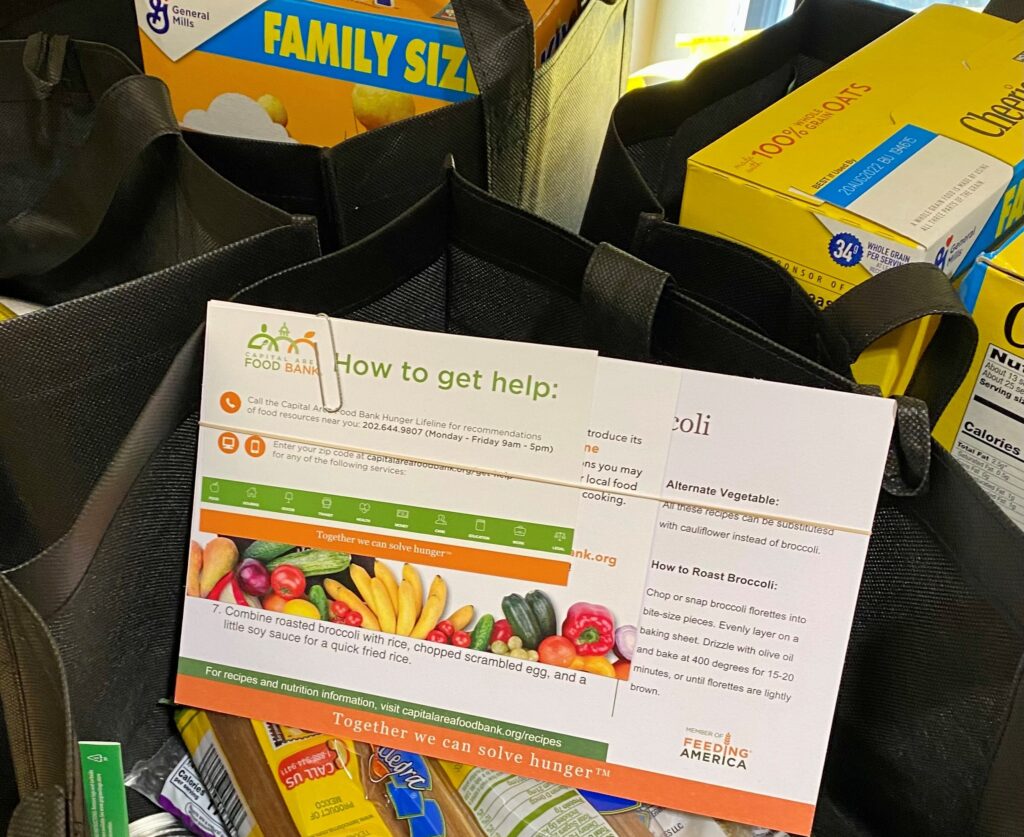 Those foods are now available to a population of patients who have a high level of food insecurity, according to a needs-assessment survey conducted by the hospital. Two-thirds of the English-speaking patients treated at the diabetes clinic are food insecure, according to dietitians, and that figure doesn't reflect unmet need among Spanish-speaking patients.
The rates of type 2 diabetes and prediabetes in children also have been rapidly increasing in recent years, partly as a consequence of the epidemic of childhood obesity.
"Healthy eating is crucial in the treatment and prevention of these conditions, but many of our families lack access to nutritious food," said Dr. Elizabeth Estrada, director of the Type 2 Diabetes Program at Children's National Hospital.
Beyond the nutrition conversation in the clinic, patients also receive nutrition education materials, like recipe cards and information on the food bank's hotline, where bilingual staffers field questions about specific foods, nutrition and cooking.
Those resources help to ensure families can use the foods today. For those who may need help getting their groceries home, the food bank also has provided metal carts to aid those leaving the clinic on foot.
Using food to connect
The groceries not only supplement their current foods with more nutrition, but they also provide a new point of connection for dietitians to have critical conversations about food and healthy eating.
With teenagers who may be embarrassed that  their family may not be able to put nutritious foods on the table, or who generally don't want to talk to a medical provider, the bag of new foods they can take home serves as a conversation starter about what they'd like to eat that evening.
"That really gets them talking," said Hadley Stevens, a dietitian at the clinic. "They break down that wall and then it can be a more effective appointment."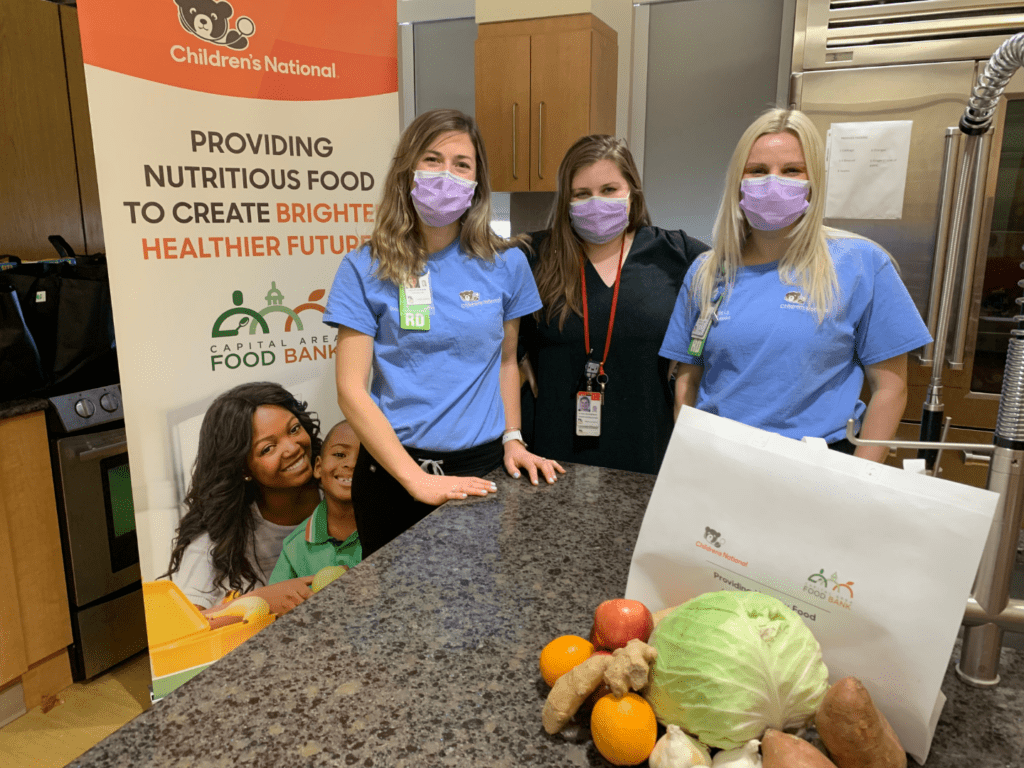 As the pilot program ramps up, it is expected to reach up to 120 families each month through the diabetes clinic.
The model is intended to serve as a template for similar food-pharmacy programs in other venues, bringing that support and connection to other families seeking to access the nutritious foods needed to stay healthy.
The food pharmacy pilot program at Children's National is made possible through the generous support of the A. James & Alice B. Clark Foundation.