In addition to providing food, advocating for programs and policies that reduce hunger and poverty is an essential part of our work at the Capital Area Food Bank.
In 2022, we will be urging federal, state, and local policymakers across the greater Washington region to adopt a numbers of initiatives with significant potential to improve the lives of our clients.
Those priorities are detailed in our new annual policy agenda and include:
Enhancing the Supplemental Nutrition Assistance Program (SNAP), so it can better meet the needs of those excluded from participating and better ensure that those who are eligible can access the program
Increasing the role of local agriculture in efforts to boost food security
Urging grocery-store access in DC's food deserts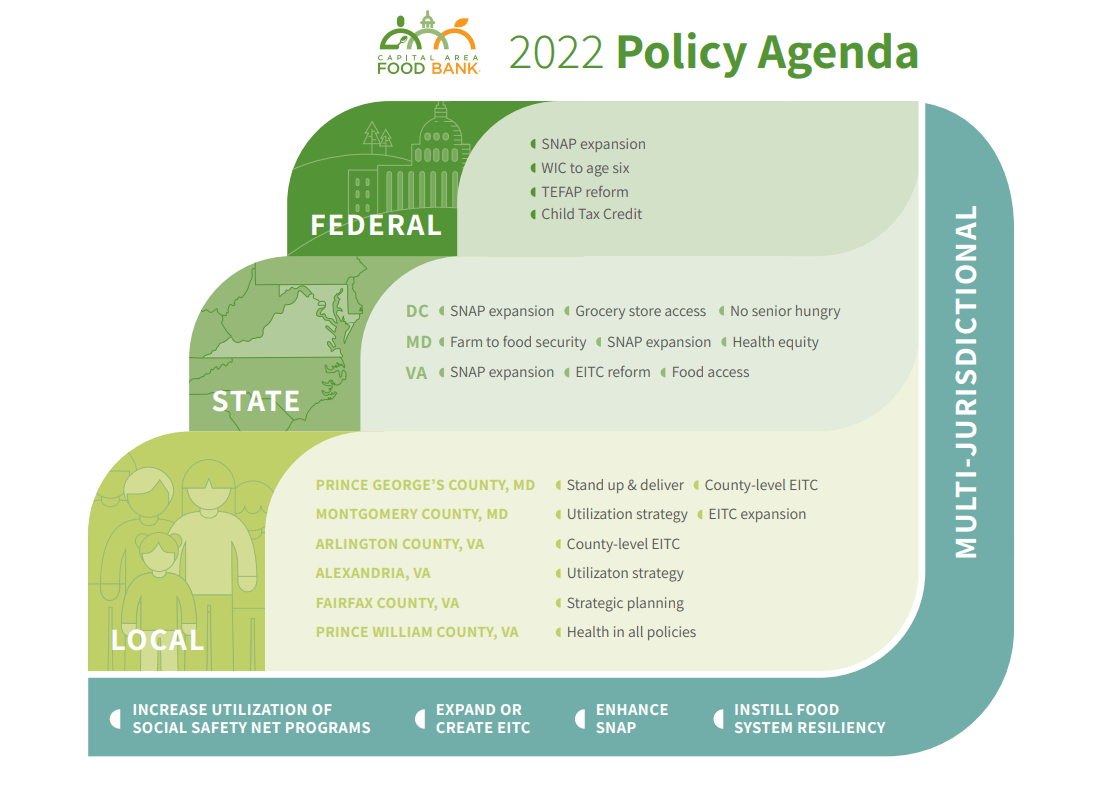 Some policy initiatives are specific to a certain state: a pending bill in the Maryland Legislature would expand a program that provides matching funding when federal nutrition benefits are spent at farmers markets, as well as incentivize schools to serve local foods and make it easier for emergency food providers, like the Capital Area Food Bank, to offer local food.
Others are priorities across several jurisdictions, such as urging local officials to adopt Earned Income Tax Credit programs in Prince George's County and counties in northern Virginia.
When it comes to the federal government, long-overdue policy changes last year resulted in the most significant benefit increase in the history of SNAP. This year, we will be urging federal officials to modernize eligibility standards to better respond to the needs of college students and working adults who do not have dependents.
Another policy effort for 2022 involves crafting recommendations to make The Emergency Food Assistance Program (TEFAP) — a federal program that provides food to states, and in turn, to food banks and pantries for distribution — more streamlined and accessible. States have latitude in how they carry out that federal program, and creating a more uniform set of standards for eligibility and reporting requirements would be beneficial to food banks, non-profit partners like food pantries, and the clients they serve.
Collectively, these policies would help the people we serve to gain access to the food they need today while also empowering them to build paths out of food insecurity in the long term.
From the federal government to local elected leaders, public officials play a critical role in reducing hunger and poverty at the broadest scale, and we are seeking the support of policymakers to enact changes that will advance these goals.
For more on these proposals, download an overview of our 2022 policy agenda or check out summaries of the initiatives proposed by jurisdiction.
Want real-time policy updates and information about ways to get involved? Sign up to receive the food bank's Advocacy Alerts.