When it comes to solving complex issues like hunger, sourcing and distributing meals is only the first step. A core part of our work at the Capital Area Food Bank involves addressing not only food insecurity, but also the root causes of hunger and inequity. To break down barriers to access and connect neighbors to a range of resources, we partner with local organizations and help bundle social services.
But this approach is not unique to the food bank: This model of collaborative community care—of providing more than just today's meal—is one that's been embraced for decades by one of our largest partners, Bread for the City. In the 1970s, the eponymous coalition of D.C. churches that founded Bread for the City honed in on hunger relief and clothing access. In 1995, that mission expanded when Bread for the City joined forces with another anti-poverty group: the all-volunteer medical team at Zacchaeus Free Clinic.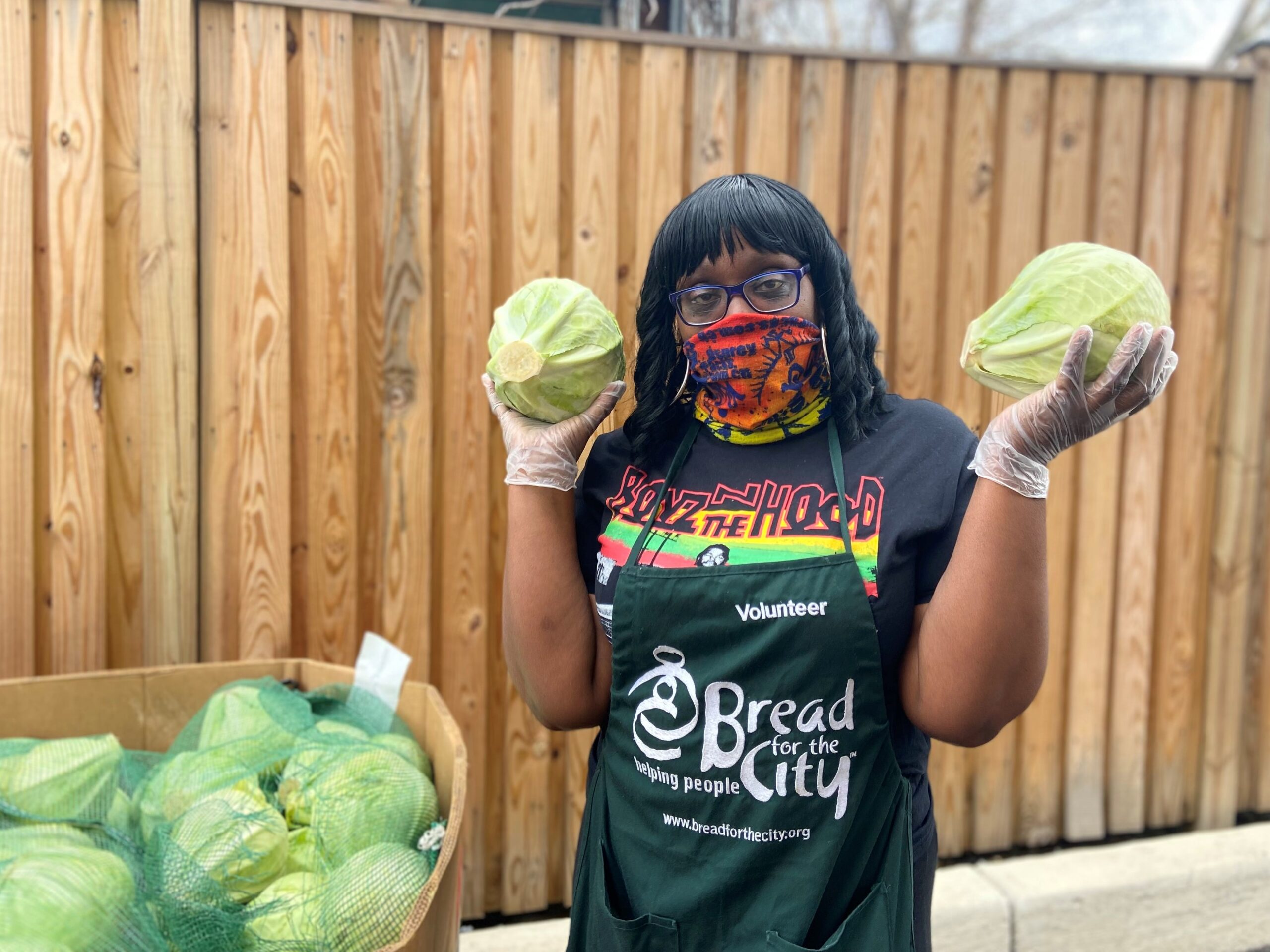 Nearly three decades since the merger, Bread for the City remains committed to anti-poverty action and prioritizes advocacy. Though its name suggests a primary focus on food, the organization also offers free employment counseling, medical care, legal aid, clothing support, and more. Such services are offered out of their two D.C. facilities, including one in Northwest D.C. and one in Southeast D.C.
The latter location, The Michelle Obama Southeast Center for Bread for the City, was renovated in 2020. The result? A 28,000 square-foot facility that can serve 20,000 neighbors, complete with a medical clinic (also housing optometry and dental services), fitness room, career center, clothing closet, market-style food pantry, and more. According to CEO George Jones, the new building "exceeded [their] fantasy of what [they] could build."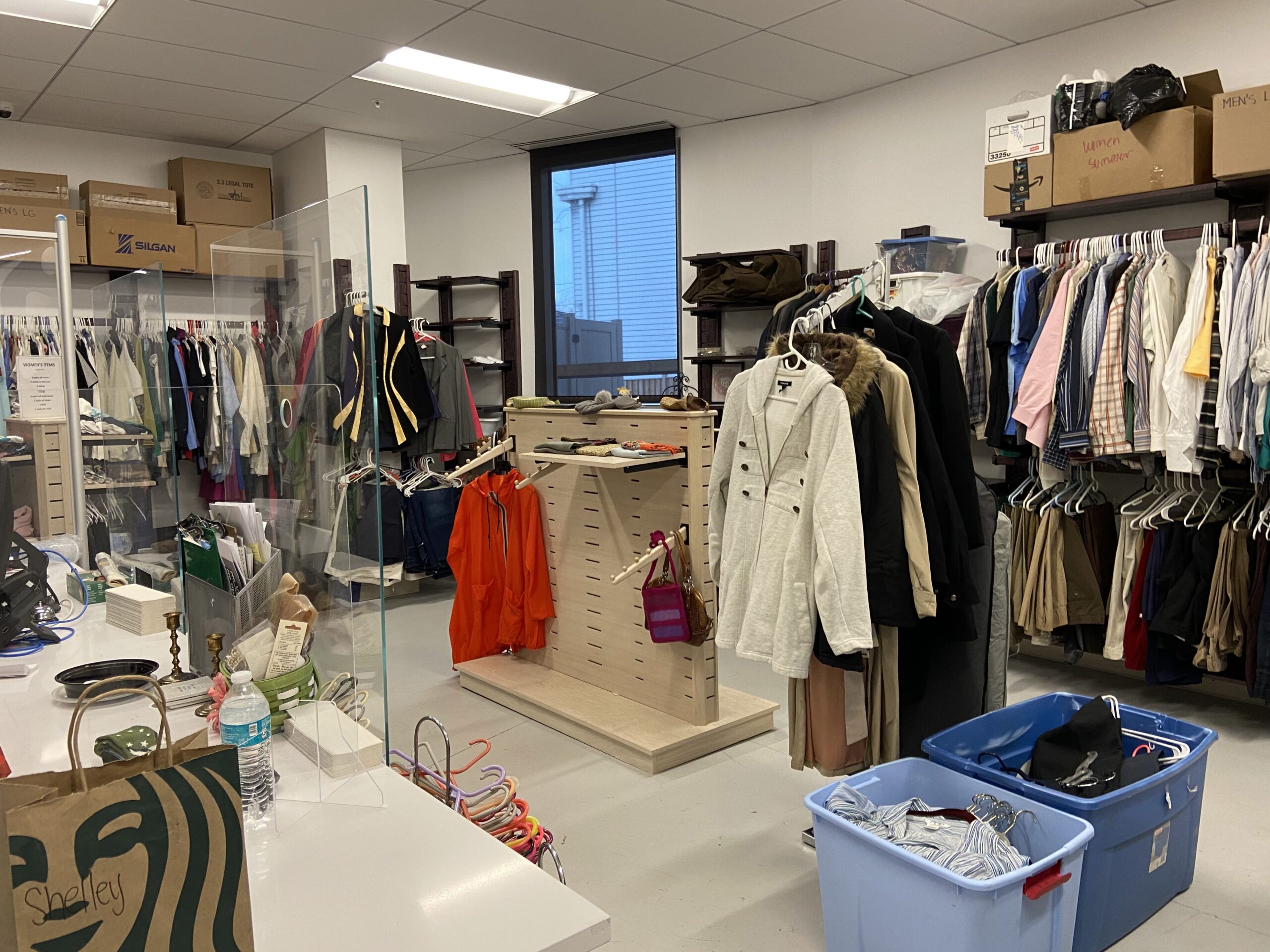 What's more, many of the staff and volunteers based out of the Southeast facility grew up in the same community they serve, lending a sense of neighborly spirit to the space and the services offered out of it. Get to know Bread for the City better by meeting three community members—including a volunteer, staff member, and client—who shared their stories during a recent Mobile Market event.
Bobby: Client and Volunteer Turned Staff
Surrounded by a fortress of bagged potatoes, Bobby sums up his feelings about volunteering at Bread for the City's Mobile Market: "I wouldn't change this for nothin' in the world."
The 75-year-old D.C. native has a heart for this place and its people, and warmth shines through in his work and demeanor. He makes conversation with neighbors who've progressed through the line, eventually pausing at his station to pick up spuds. "I love doing what I'm doing," he says, adding that he especially enjoys "seeing the expressions on other people's faces" upon receiving handfuls of fresh food. And when it comes to helping kids? Their joy brings tears to his eyes.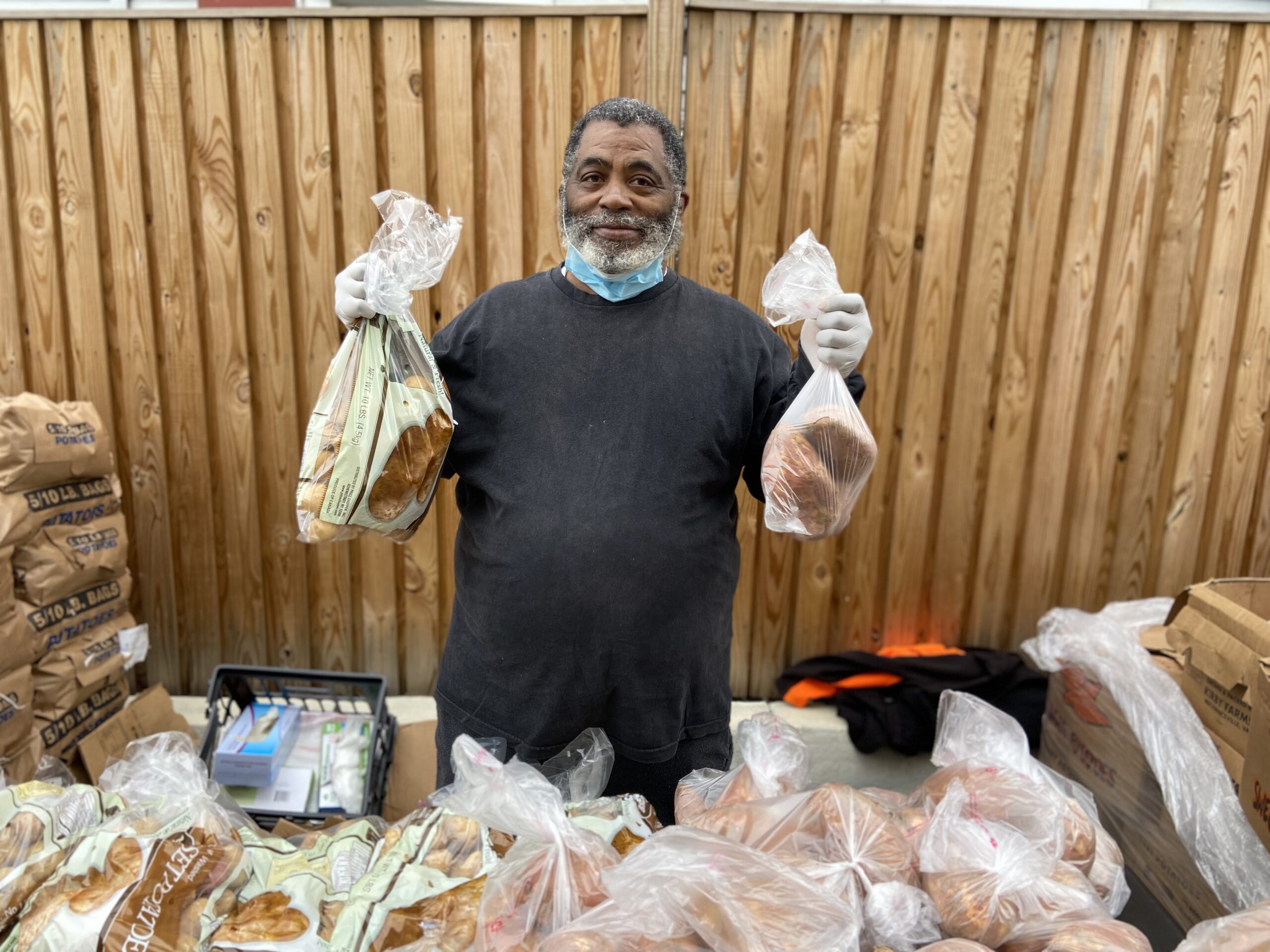 In the paved lot behind the Southeast Center, upbeat music pumps from a speaker, its rhythms weaving between tables stacked with produce—including mangoes, cabbages, and carrots supplied by the food bank. Bobby first saw the benefit of such community food distribution when visiting his late mother's home. Finding fresh food there, he asked, "Where'd you get it?" She mentioned Bread for the City, and eventually, he sought out the organization himself. The groceries he received "helped me a lot," he says.
People passing through the market offer their thanks. "I really see how much community means to this place here," Bobby says. It's a big part of the reason why he's become a Bread for the City regular, transitioning from a community-service volunteer to a staffer within the span of two years. There's pleasure in "really doing something," in "mak[ing] a difference"— especially in your own neighborhood.
Bobby acts as a community ambassador of sorts, pointing his uninsured neighbors to Bread for the City's own Dr. Randi. He encourages them to schedule free dentistry appointments. Above all, he shares love, offering up sustenance and friendly words to people visiting the market.
Keith Lemons: Staff
At this food-distribution event off Good Hope Road, an estimated 50 to 100 families headed home with cloth bags in tow, stashed with fresh produce. But none of this morning's work would be possible without the guidance of Keith Lemons, food program supervisor and senior driver for Bread for the City.
Clad in a neon sweatshirt and yellow Crocs decked out with colorful charms, Keith is determined to catch the attention of people passing by. (Dancy songs throbbing in the background also help draw eyes.) He waves to neighbors, asking if they'd like some produce and, if so, encouraging them to drop by.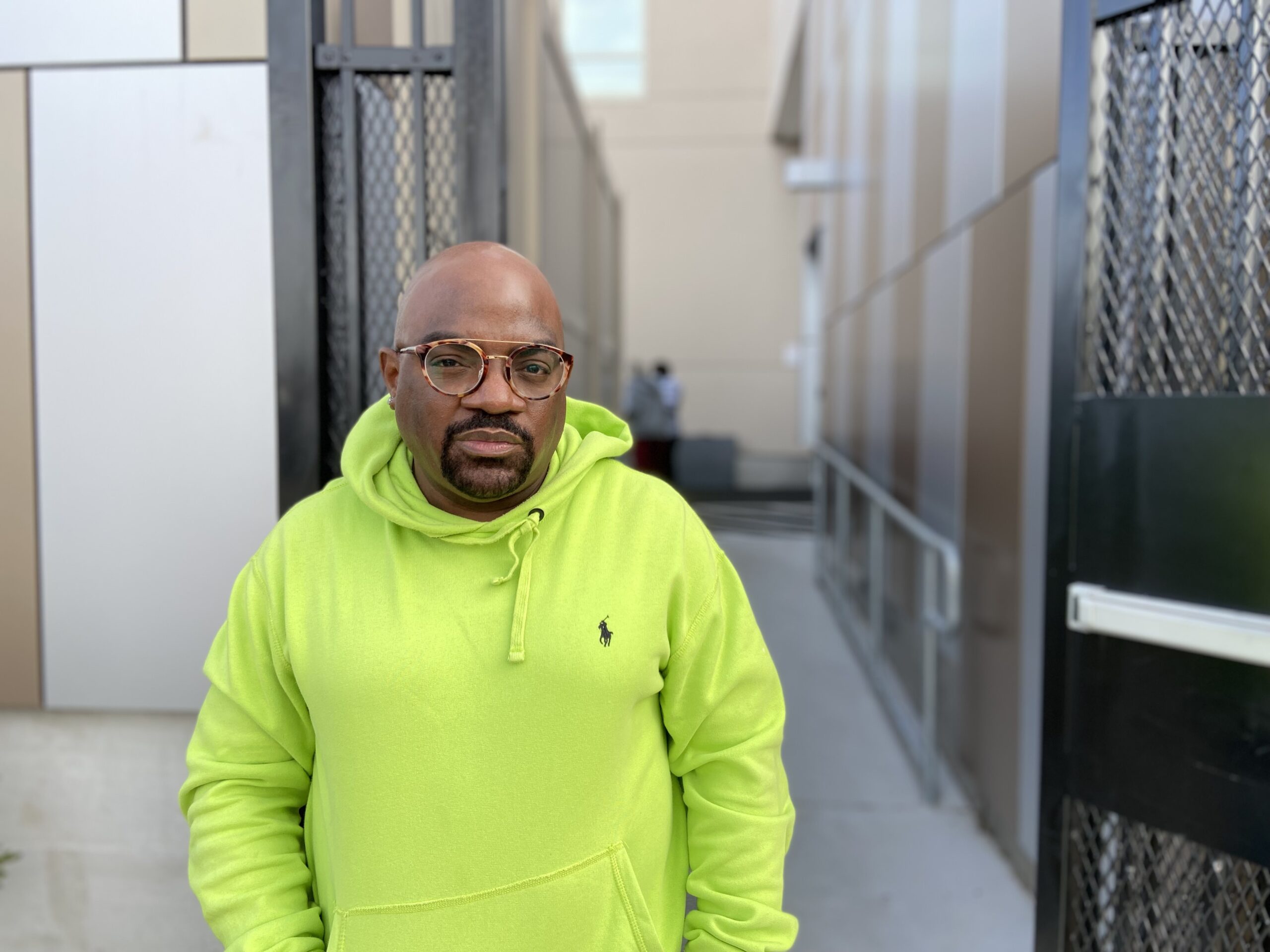 This is a community he's quite familiar with: In fact, he grew up a matter of blocks away from where he stands at the market. After years working as a Metrobus driver, he took a position with Bread for the City, where he could help get good food onto community members' plates.
Keith is responsible for acquiring the food, which hands scoop up from the tables behind him. The day's menu was rounded up with help from the food bank and fellow D.C.-based hunger-relief organization, Dreaming Out Loud. "Food is our main department," Keith says, mentioning various programs he oversees, like the Farmers Market and Grocery Plus (a Bread for the City delivery service, benefitting seniors).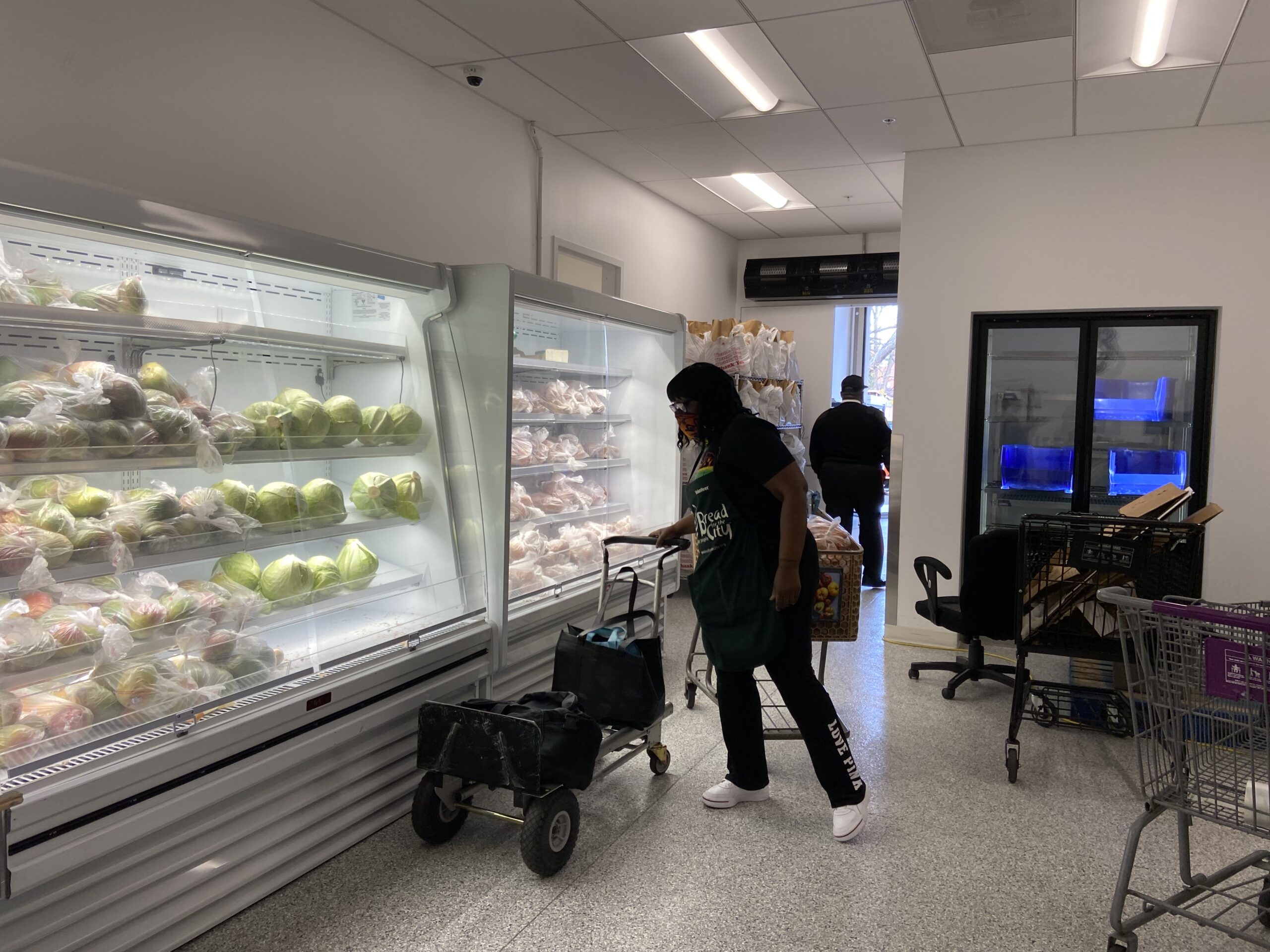 There's a focus on bringing in and giving out nutritious food, as well as encouraging people to experiment with less-familiar options (Keith lists venison and eggplants as examples) via recipes. But their mission doesn't end there: "[We] want to be a one-stop shop," he says, touching on Bread for the City's aim to link people with helpful, tailored resources.
Come July, Keith will celebrate his 10th work anniversary (or "Breadaversary") with the nonprofit. And what better way is there to celebrate a decade of service than by continuing to nourish your home community?
Gary: Client
On his way out of the distribution, Gary stops to talk and pose for a photo with Clothing Room Supervisor, Sharlene Blount. A Bread for the City employee for 29 years, Sharlene is active in multiple layers of their work. She and Gary have been in community together for years, and their familiarity shows.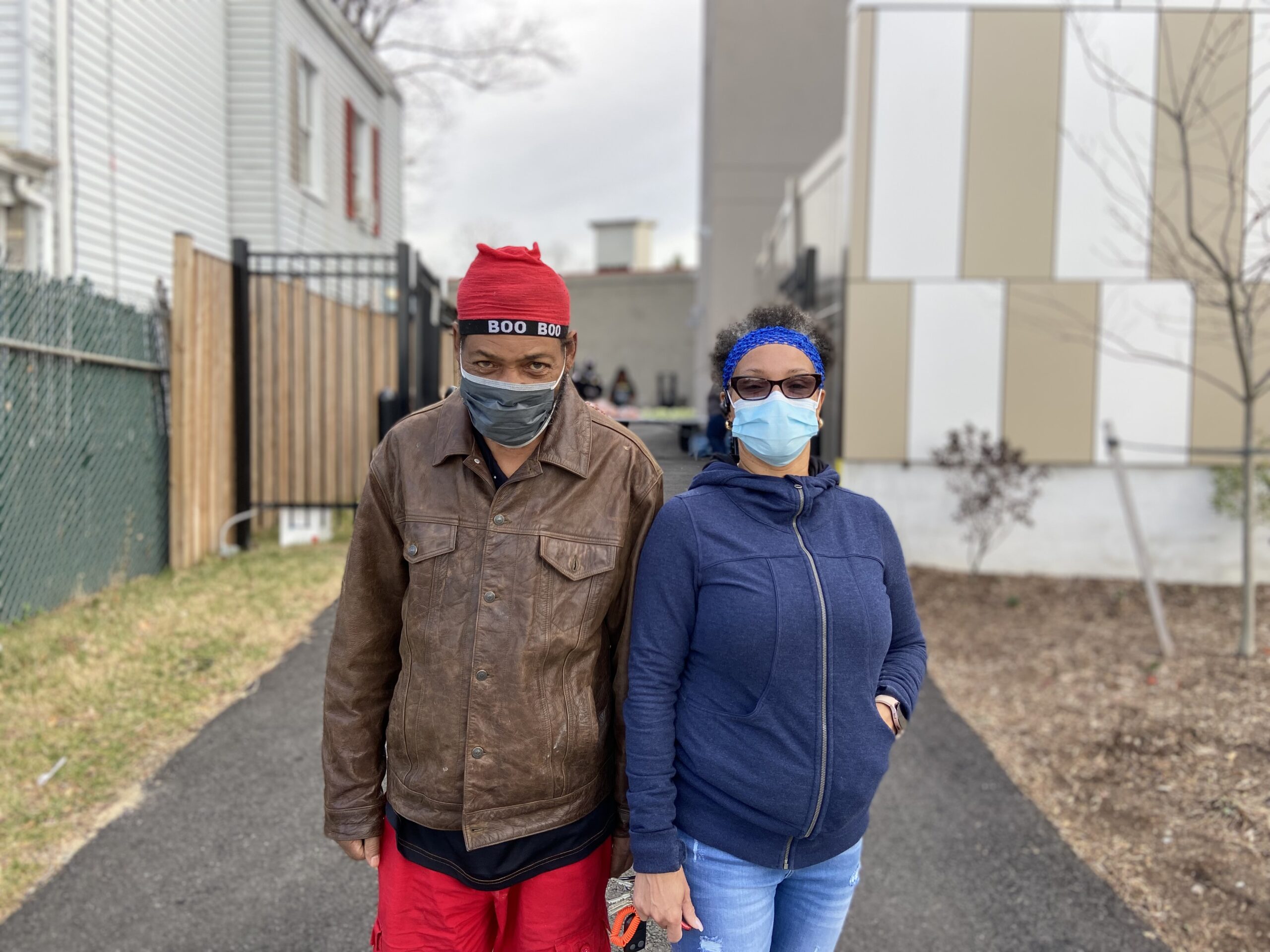 Gary, a D.C. native, calls Bread for the City a "good place," mentioning that he's been plugged into its community "ever since it started." He recalls when the Southeast D.C. branch mainly operated from the building right across the street, a stone's throw from its new spot
Although he usually receives his groceries via delivery, Gary stops by the center in person on this particular Friday, complete with a mask and buttoned-up coat.
A light-blue cloth bag — donated to Bread for the City by the Department of Education — is slung over his shoulder, encasing a supply of potatoes and cabbage. Gary and Sharlene discuss information about his vaccination card, then she points him to details about a future appointment, already set.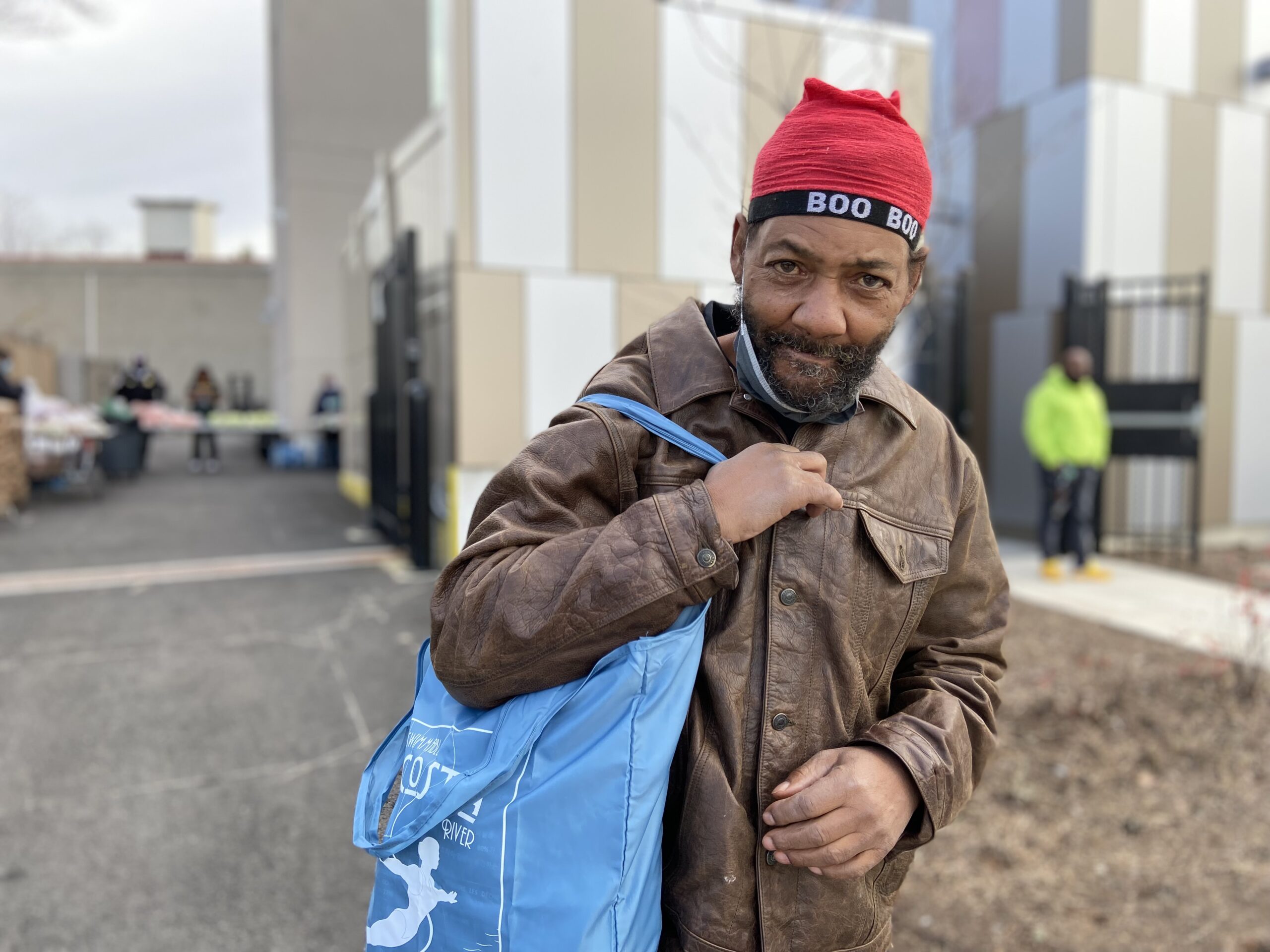 By the time he takes off down the block, he's equipped with nutritious food and a key to receiving important medical care. In a world made more challenging by an ever-changing pandemic, food–supply chain shortages, and — now — cold weather, such supports can make a big difference.