In the living room of an upper-level apartment, baby Sophia smiles from the comfort of a pink rocker, decorated with unicorn-and-flower-print fabric. A calm child with her hands tucked into mittens and her head bristling with dark hair, she is about to turn three months old.
Sophia is daughter to Lisbeth, a Silver Springs, MD resident and participant in the food bank's Healthy Mom, Healthy Baby (HMHB) program. The initiative connects pregnant women and new mothers with various health risks to nutritious food and other beneficial resources. Launched in summer 2021 in partnership with Mary's Center, a local community-health organization, the program will support 75 Maryland women and their families as part of its pilot run. Lisbeth, her partner, and the pair's three children were among the first community members to get involved.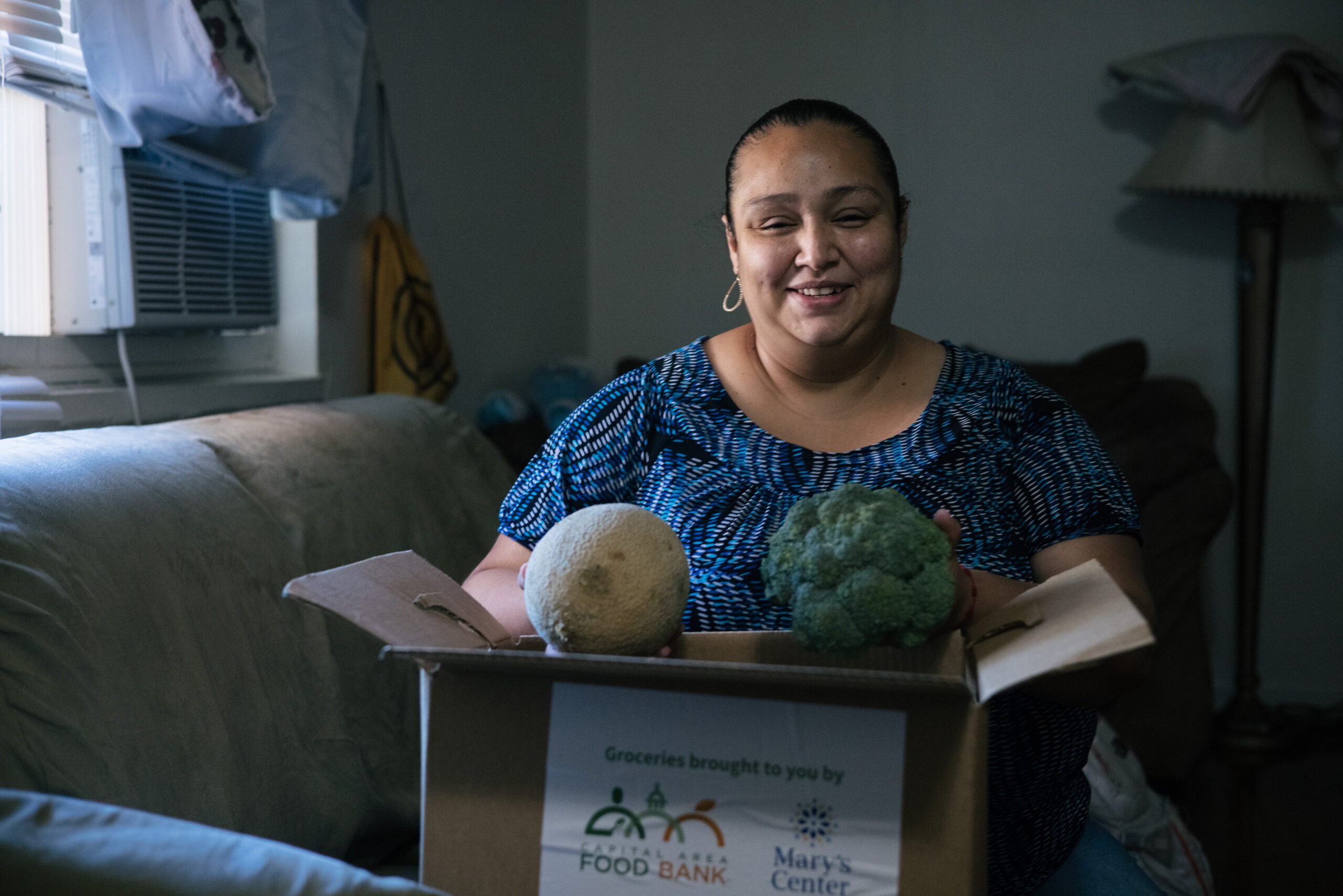 Both Lisbeth and her partner hold jobs at a local fish-packing warehouse. She feels fortunate the plant didn't shut down during the COVID-19 pandemic, mentioning that many people she knows were laid off when a wave of closures impacted restaurants. On her doctor's advice, Lisbeth needed to take time off work to prioritize her health during pregnancy. Her missed wages, however, started to weigh on the family. Lisbeth had never sought food assistance before—in fact, she hadn't known the resources even existed—but when her OBGYN recommended her participation in HMHB, she seized the opportunity.
To Lisbeth and her family, food is the root of everything. The El Salvador native sums it up simply: "Without food, there's nothing."
Good nutrition, delivered
Like all program participants, Lisbeth is a client of Mary's Center: the food bank's main partner in operating HMHB. Mary's Center's team of health specialists works closely with participating women throughout their pregnancies. Moms-to-be whose medical histories signal that they are high risk (which can be caused by a variety of health complications, like diabetes and hypertension) are asked questions to screen for food insecurity. Patients who indicate they can't always access the food they need are offered the choice to join the pilot program.
Upon opting in, Lisbeth started having groceries dropped off at her home every two weeks—nutritious items provided by the food bank in collaboration with local delivery service HUNGRY. Program boxes and bags include fresh produce, protein, and whole grains, along with recipe cards and nutrition-education resources translated into Spanish.
For Lisbeth, the delivery of resources to her doorstep has been critical. Her doctor advised her to avoid strenuous activity (including lifting) and to prioritize rest during her pregnancy. Without a car or family member at home during the day to assist her, picking up food simply wasn't an option. Neither was lugging heavy food items into the kitchen.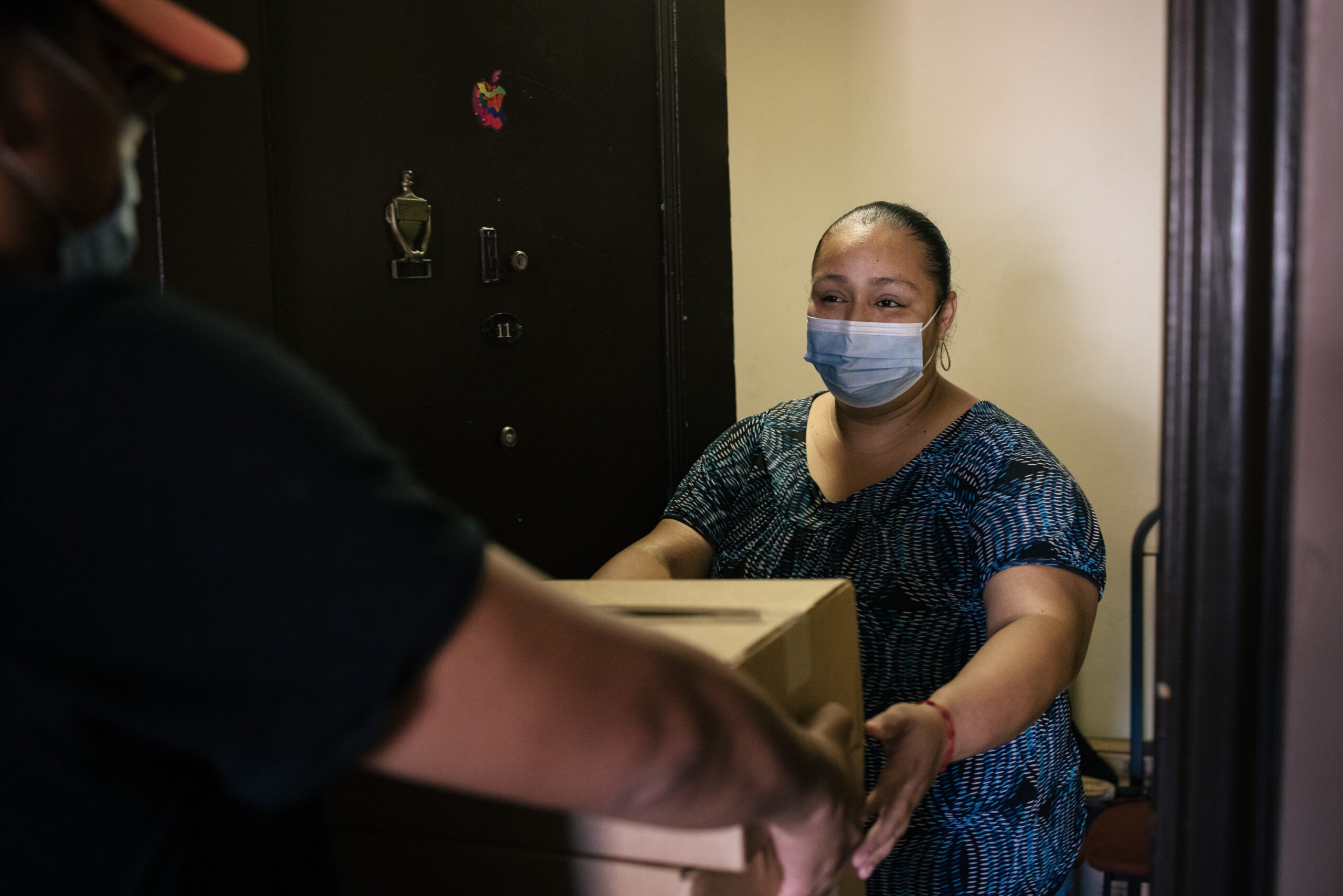 Lisbeth also appreciates the kinds of food she receives, identifying fresh fruit—including apples and melons—as a particular favorite. The day she welcomes CAFB and Mary's Center representatives into her home for a visit, her box of produce is supplemented with a cloth bag stuffed with beans, long-grain brown rice, masa harina (or "dough flour"), and tuna.
Nutrition is carefully considered when the program's food boxes are assembled. A food bank dietician ensures the HMHB menu always includes critical nutrients for pregnant mothers: calcium, folate, iron, vitamin D, and more. Across both organizations, team members understand the complex relationships between various medical conditions and resultant nutritional considerations. For example, individuals with gestational diabetes benefit from limiting added sugars and consuming diets high in fiber and lean protein, so menus are developed accordingly.
The program also seeks to honor cultural traditions and regional preferences through the food it supplies to participants. Building effective menus requires research and an openness to learning and adapting on the part of the food bank. For example, kale—a nutrient-rich leafy green considered ideal for the population at hand—was swapped out for cabbage and broccoli, two items participants identified as more in line with their needs. This kind of learning and fine-tuning is ongoing.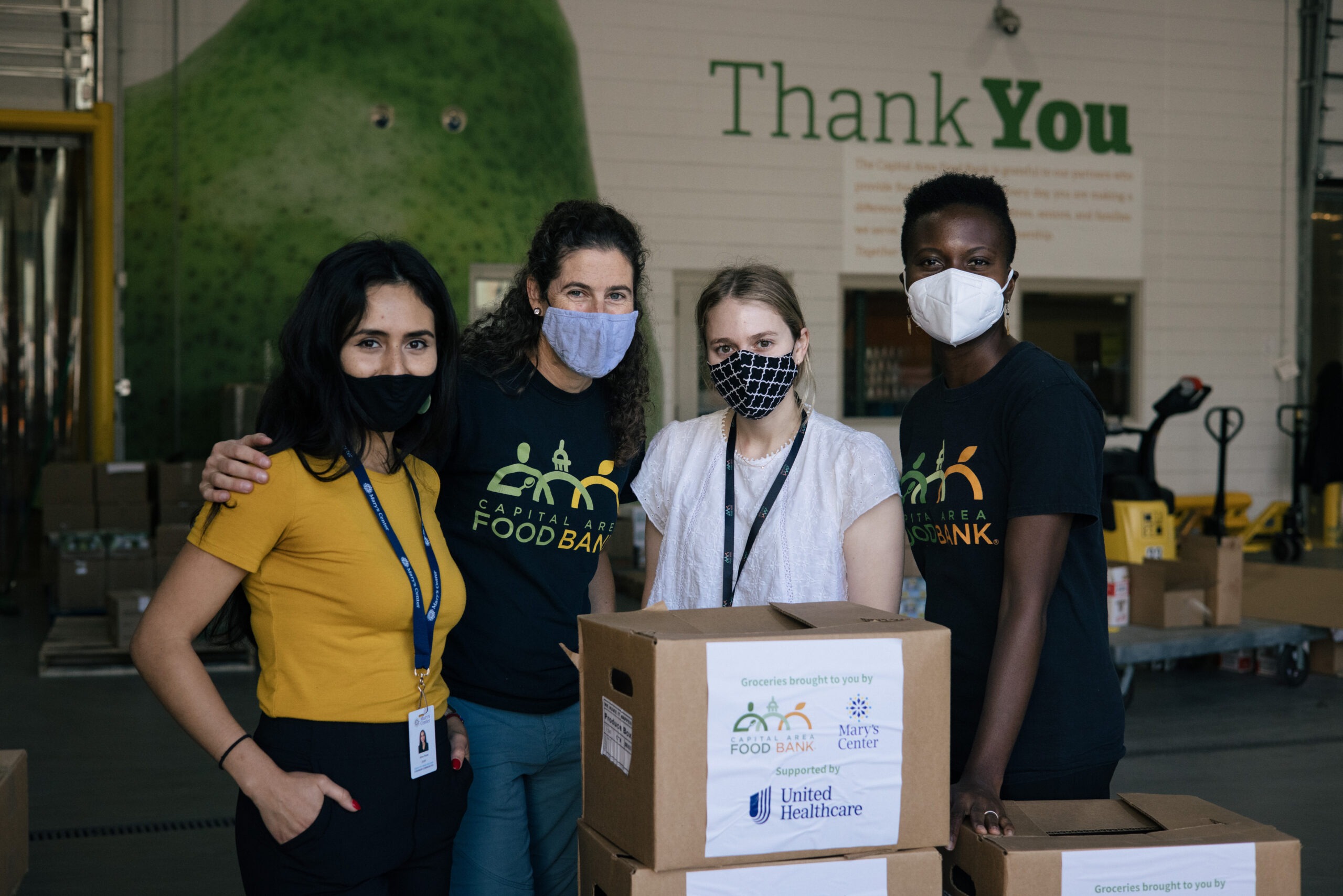 From strategy to action to insight
HMHB was created to test the hypothesis that good food, when paired with healthcare access, can help produce better health outcomes. It's one of several CAFB pilot programs running under a model known as "Food+," in which food is paired with other services (including health care, education, and/or job training) provided by partners. The goal is to get people the food they need today while also addressing some of food insecurity's root causes.
To measure the efficacy of the HMHB pilot, collaborators at Mary's Center administer pre- and post-program surveys and collect medical data, including blood-pressure levels and infant birthweights. The intent is to identify effective, tailored food-assistance strategies that can be replicated at scale and inform future programs. 
By breaking down walls standing in the way of food access and supplying adequate building blocks for nutritious meals, the program seeks to boost the health of both mother and baby. While the program lasts 12 weeks postpartum, its aim is to have an impact that will ripple out into the future by giving infants a healthy start and connecting families to good food, nutrition resources, and additional community supports.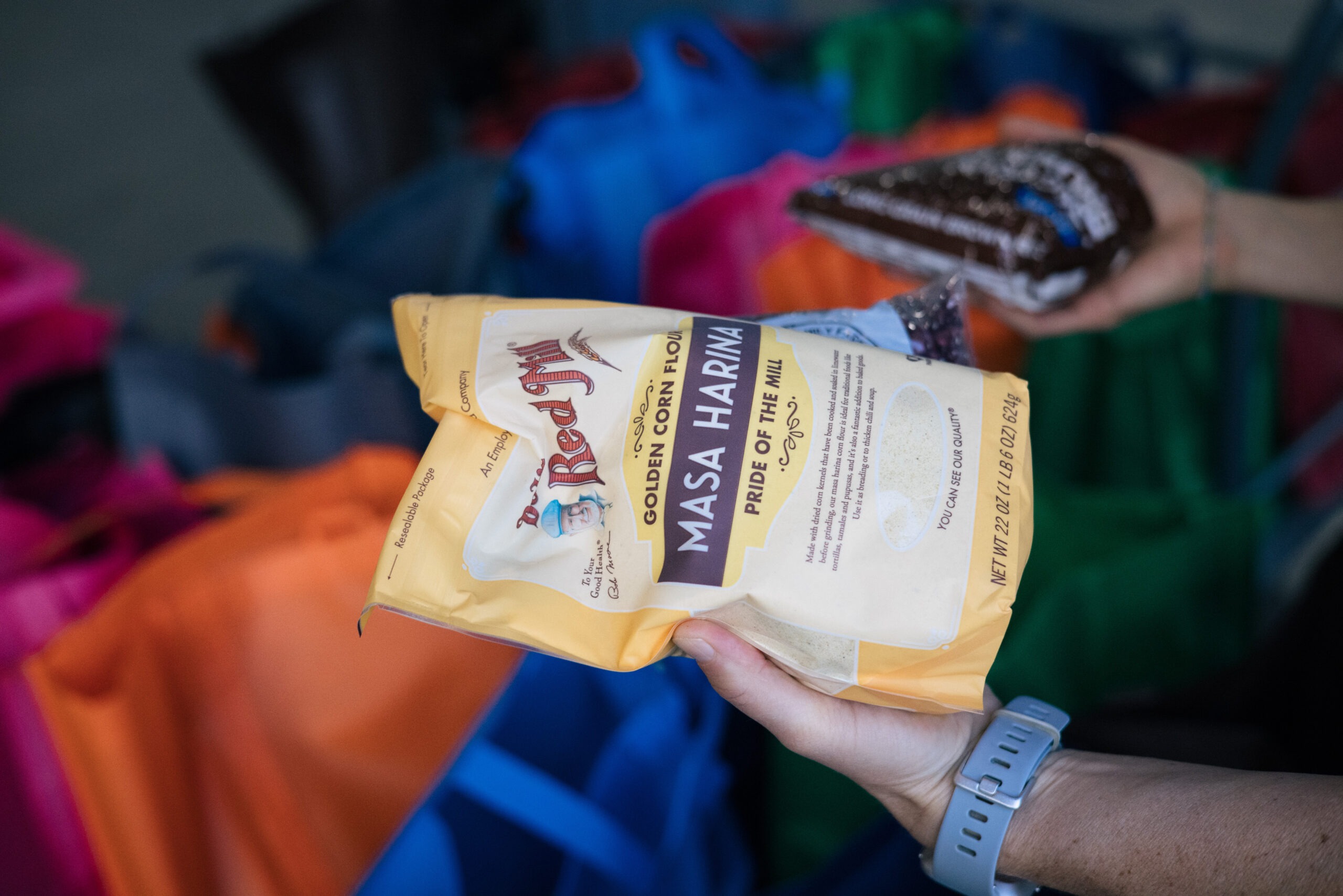 Feeding dreams through physical and financial health
Lisbeth wants her family to live well, which means teaching her kids to eat well, too. She says that they have a strong appetite for fruit, but getting her son to eat vegetables has been tougher. "My daughter…eats everything," says Lisbeth, but her "boy has a little more of an issue with vegetables." She adds, "I have to wrestle a bit with him so he'll eat." Encouraging her family to take in a well-rounded diet has involved experimenting with and preparing the vegetables she receives through the program in different forms. So far, this strategy has helped open up her son's mind (and taste buds) to new foods. "He was a little bit pickier at a younger age," she says, but over time, "he's [become] more open." 
Lisbeth is grateful for the nutritional benefits of the program, but its economic impact is not lost on her, either. "The truth is that [the program] helped us a lot," she says. Having food available through HMHB meant more of her budget was available for other necessities. By allowing participants to reallocate resources in meaningful ways, programs like HMHB can help alleviate financial stressors, break down barriers separating people from fulfilling their basic needs, and put participants on a path toward healthier futures.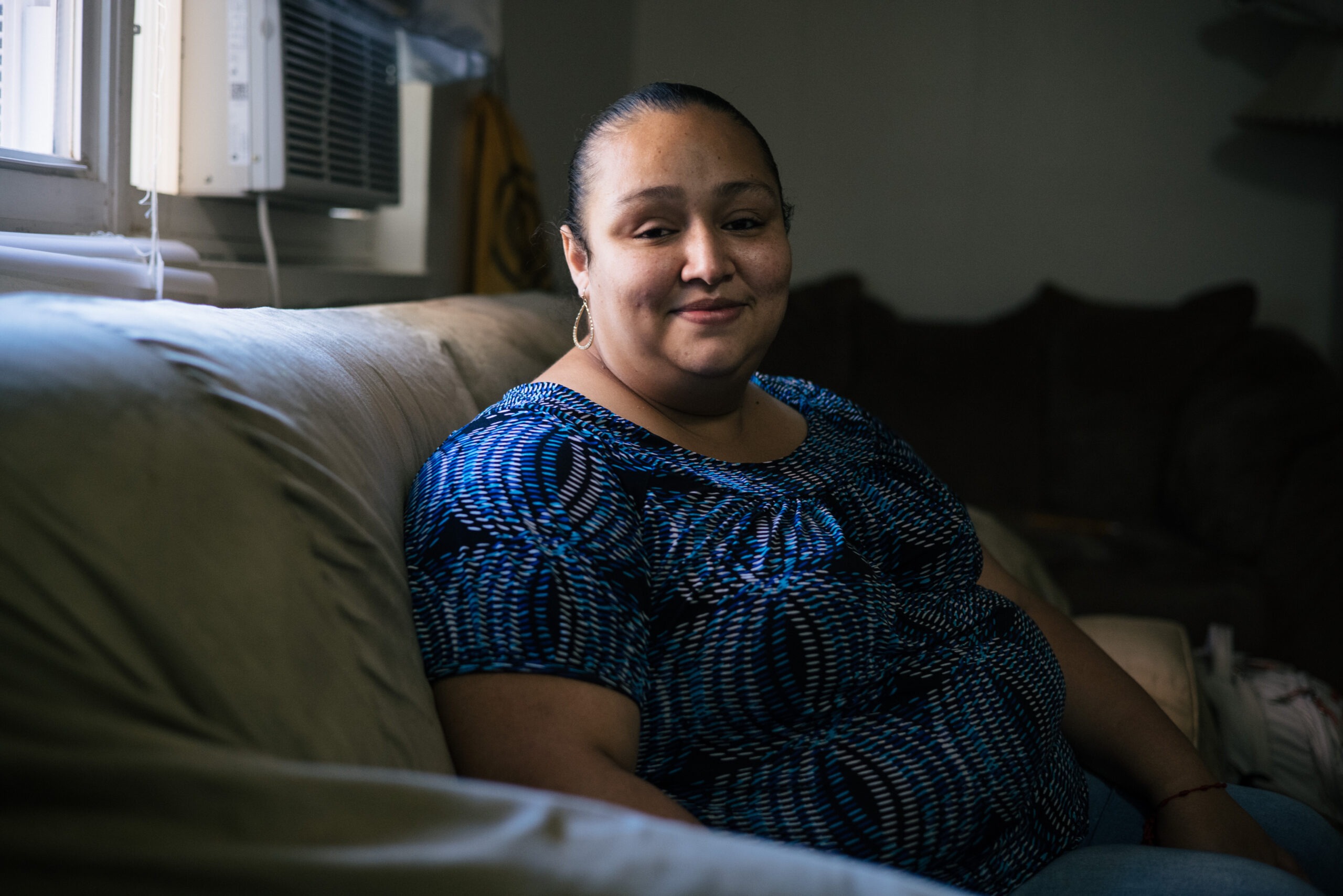 When asked what hopes she has for her children, Lisbeth says she wants each of them "to grow on the right path, to be a good person." She adds that she also wants "to teach them a lot, [and] to always help them." 
Through her love and care today—and with a little extra support from the food bank—Lisbeth is helping her children get a strong and healthy start that will nourish those hopes, now and into the future. 
The Healthy Mom, Healthy Baby pilot program is made possible through the generous support of UnitedHealthcare.
Photo Credits: Alyssa Schukar