A new option for affordable groceries has arrived in Maryland! The food bank is thrilled to announce the expansion of its Curbside Groceries initiative into Prince George's County. 
Curbside Groceries is a mobile grocery truck that visits at least three unique locations each week. Its goal is to create equitable access to nutritious food at affordable prices. As "the food store that comes to you", Curbside serves residents in areas with few retail grocery options and provides a full market basket of items that include high-quality produce, meat, dairy, and fish, as well as shelf stable foods and personal care items.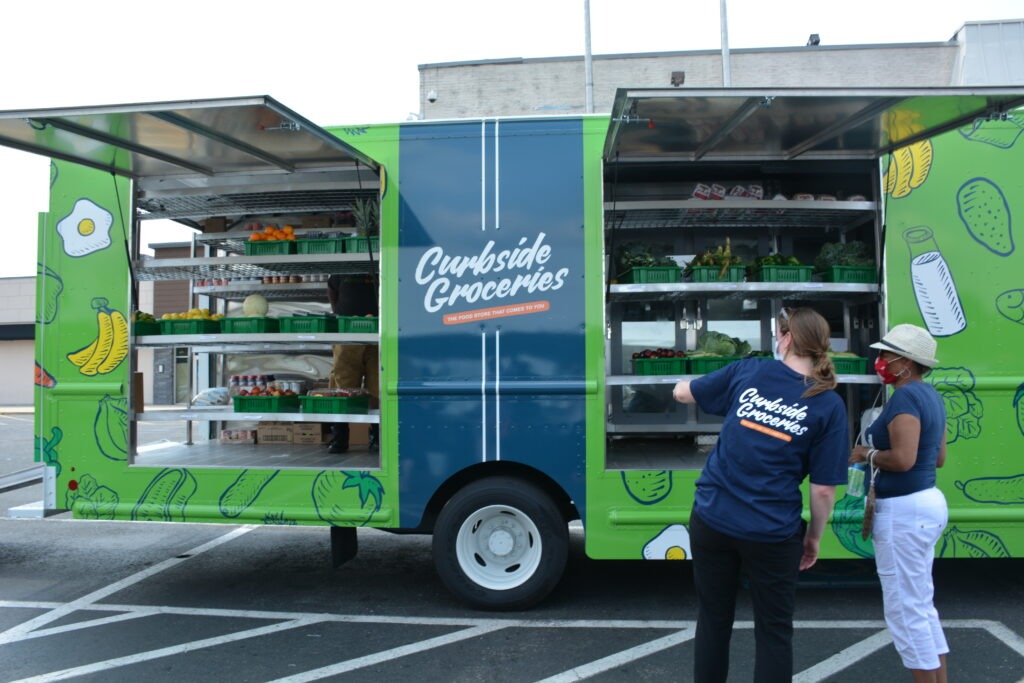 Curbside Groceries first began its operations in DC's Ward 8 in January of 2020. Despite some temporary service interruptions due to the pandemic, Curbside DC has served more than 1,250 customers. 
After over a year on the road and lots of learnings, Curbside was ready to expand into Prince George's County, another area in our region where many residents are without easy access to a retail option that supplies nutritious and affordable food. Before the truck could get out on the road, the food bank worked with Prince George's County Executive and the City Council to pass CB-028-2021, legislation that would allow the mobile grocery truck to operate in the county. After successful passage of the bill, Curbside Groceries in Prince George's County was on its way to launch.  
On July 29th, 2021, the food bank marked the initiative's expansion by gathering with several of the partners who have helped to make Curbside Prince George's possible at the truck's first confirmed stop in the county – The Shops at Iverson in Temple Hills.   
Equitable access to food is fundamental to equity and opportunity, and creating that access requires innovation. The food bank is grateful to the partners in innovation who made the expansion of Curbside Groceries a reality, including Giant Food, UnitedHealthcare, Washingtonian Magazine, County Executive Angela Alsobrooks, and councilmembers Todd Turner and Rodney Streeter.  
The full Curbside Groceries Prince's George's County schedule is coming soon! Check out curbsidegroceries.org for updates.