On the first Saturday of each month on L Street NW between New Jersey Avenue and First Street you'll find the food bank's DC Community Marketplace, where we provide fresh, seasonal produce and other grocery items at no cost to all residents in need of food assistance. Here's an inside look at a morning at the marketplace:  
7:30 AM: The Set Up
By 7:30 am on Saturday morning, the parking lot on the corner of L Street and New Jersey Avenue is anything but empty. A large food bank truck parks alongside the fence and staff and volunteers unload folding tables, tents, and thousands of pounds of food. Need and anxiety has climbed significantly higher for many during the pandemic, and a handful of community members are already lined up.  
8:00 AM: Getting Organized
As 8:00 AM comes around, the food bank staff and marketplace volunteers huddle to divvy up tasks for the rest of the morning. The market serves people from a wide variety of cultures and countries, and several volunteers speak multiple language to help clients navigate the marketplace. Two of these volunteers, CJ and Chin-Lan, head to the line across the parking lot and begin to help people check in. A few volunteers join them to pass out cold water to community members in line.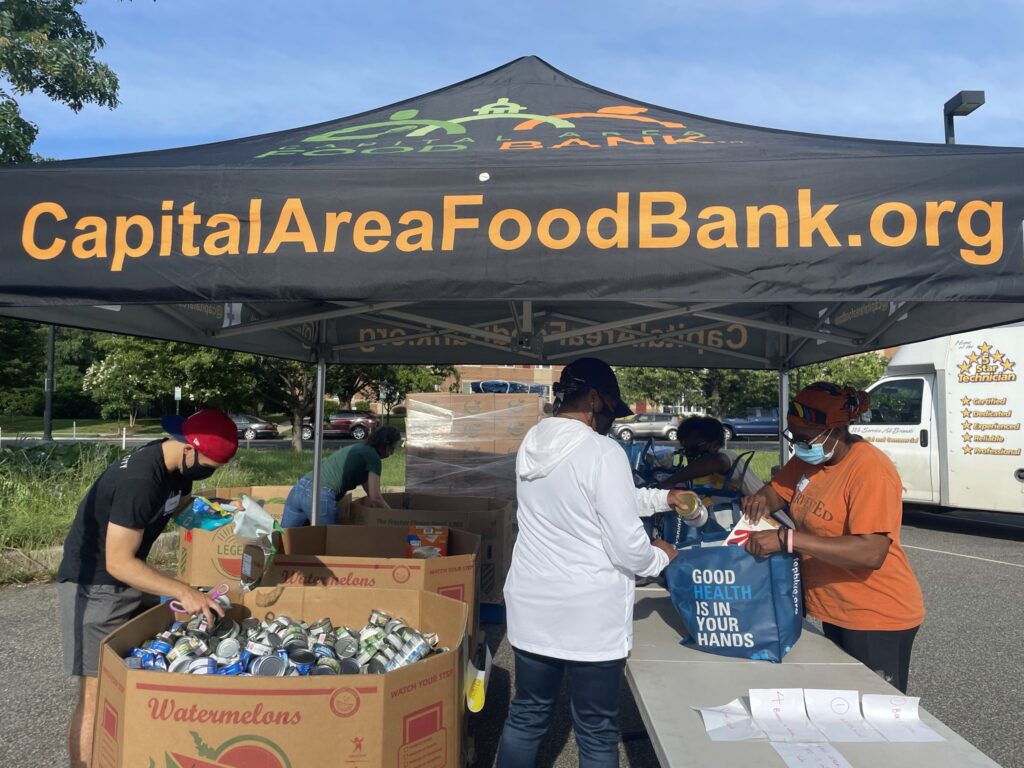 The rest of the group sets up tents and tables and begins to organize and sort the food going out that day. Veteran volunteer Jimmy is the food director, and shows the other volunteers what will be distributed to each person: a produce box (including carrots, cabbage, potatoes, eggplant, romaine lettuce, etc.), and a reusable grocery bag packed with watermelon, several cans of tuna, bottles of water, and cereal.  
Prior to the pandemic, the market operated as what's known as a "client choice model," where visitors select their own food and produce as they would in a store or farmer's market. With health risks now lower in the region, DC's Community Marketplaces will transition back to this model at future markets.  
9:00 AM: Food, Food, Food
At 9 AM, the marketplace opens and one by one, community members pick up their produce and other food. A heavy box and bag can be a lot to carry alone, so family and friends help each other out, lending a hand to unbox the produce and carry it back home.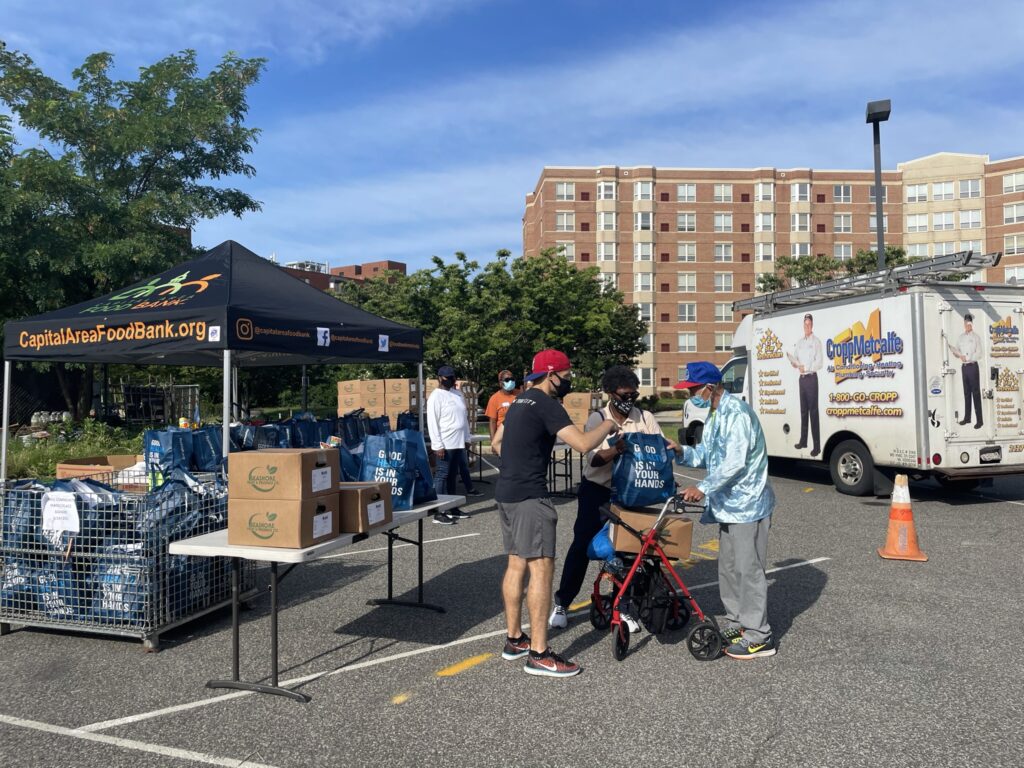 After they retrieve their food, community members can stop by informational tables to learn about other programs and resources that can help support them, in addition the monthly marketplaces. Food bank staff set up a table about Grocery Plus (the Commodity Supplemental Food Program), a free food and produce program for seniors living in DC. A representative from the Mayor's Office on Asian and Pacific Islanders Affairs also joins to share information and resources with community members after they pick up their food.  As the pandemic winds down, the food bank hopes to coordinate even more social services and resources on site, like nutrition experts and cooking demos, to enhance the experience for clients at the market.   
11:00 AM: The Wrap Up
After every produce box is handed out, every can of tuna is distributed, and the tents and other items are packed up, the staff and volunteers come together for one last huddle to debrief and total the morning's numbers.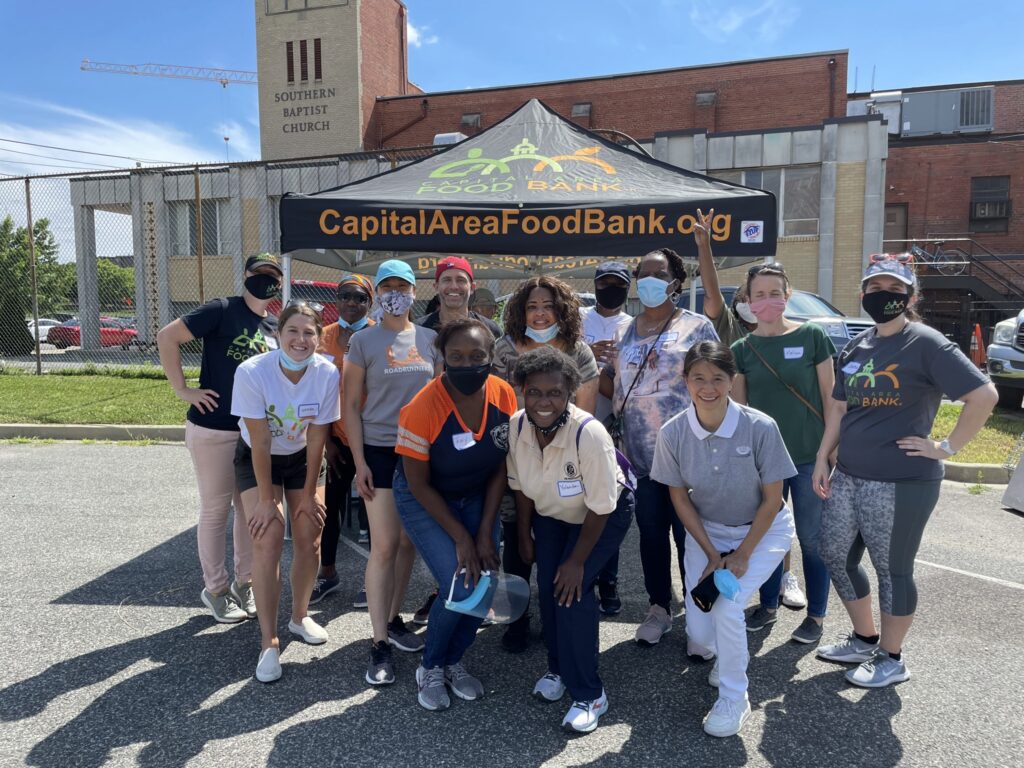 On this particular day, they have served 156 households and 259 individuals, including 16 children and 173 seniors with the food for 6,407 meals – big numbers for just a few hours' work. 
Following a round of "thank yous," the volunteers get ready to head out. Many are reflective of the day's work. 
"At any given moment, this could be any one of us," says one. "And that's why I am here to give back."  
The DC Community Marketplace is open to all residents in need of food assistance. It is located on L St. NW between New Jersey Ave. NW and First St. NW, Washington, DC 20001. DC Community Marketplaces will take place on August 7th (8/7), September 11th (9/11), October 2nd (10/2), November 6th (11/6), and December 4th (12/4) all beginning at 9AM. Find more information here.