The food first bank's first Hunger Report, released in July of 2020, sounded the alarm on a growing hunger crisis in our region as COVID-19 sent shockwaves through our economy and some areas saw food insecurity rates increase by 50% or more. Almost one year later, the food bank has issued a second report, this time diving more deeply into the faces behind those staggering numbers.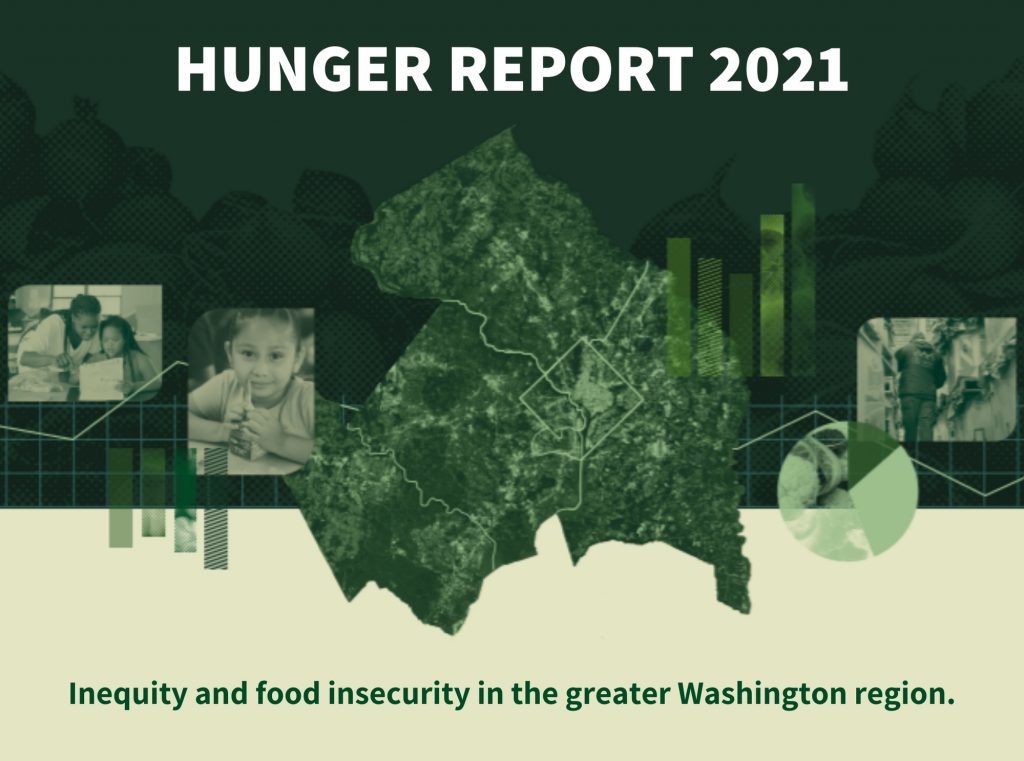 Hunger Report 2021 contains essential new insights – gathered from a recent survey of nearly 2,000 people served by the food bank – about the impact of the pandemic on people facing food insecurity in greater Washington. It reveals dramatic shifts in the face of hunger during the course of the pandemic that could impact our region for years to come.
Below is a recap of the report's key findings, as well as its topline recommendations for ways that every sector can work to create greater economic stability, food security, and opportunity for more people as our region rebuilds. 
Key Insights
COVID-19 has taken a dramatic toll on the food security of children and Latino families. Compared with survey respondents who were attending free food distributions before the pandemic, those who began attending them after March of 2020 were:
More likely to be Hispanic: Over 50% of newly food insecure respondents are Hispanic.
More likely to have children in the household: Newly food insecure are 60% more likely to live in households with children.
More likely to have a job: Newly food insecure are 69% more likely to be working.
Less likely to speak English: Newly food insecure are over two times less likely to speak English as their primary language at home.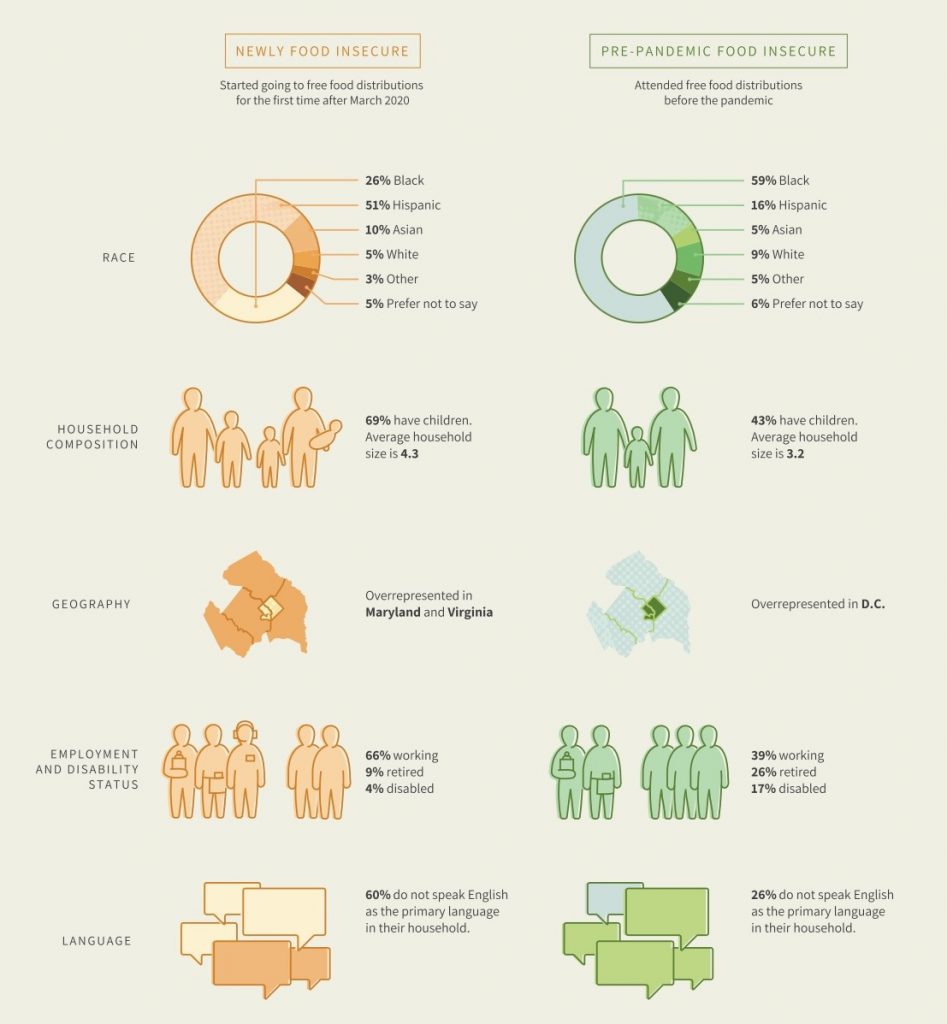 The greatest barriers to food security in the region are the cost of housing, opportunities to earn a living wage, and awareness of benefits.
39% said the ability to earn a living wage was their greatest barrier to food security.
29% of respondents said the cost of housing was the greatest barrier to food security.
Only 1 in 4 are receiving SNAP or know of more than one location to access free food.

Several indicators suggest that need is still significantly elevated and will remain high after the pandemic subsides.
The food bank's nonprofit partners continue to see increases in numbers of individuals coming through their doors – some between 30% – 400% of pre-pandemic numbers.
The food bank's own distribution is 2.5 times higher than the same time frame pre-pandemic.
Lower income workers saw the steepest decline in employment rates early in the pandemic and have continued to see the slowest recovery rates.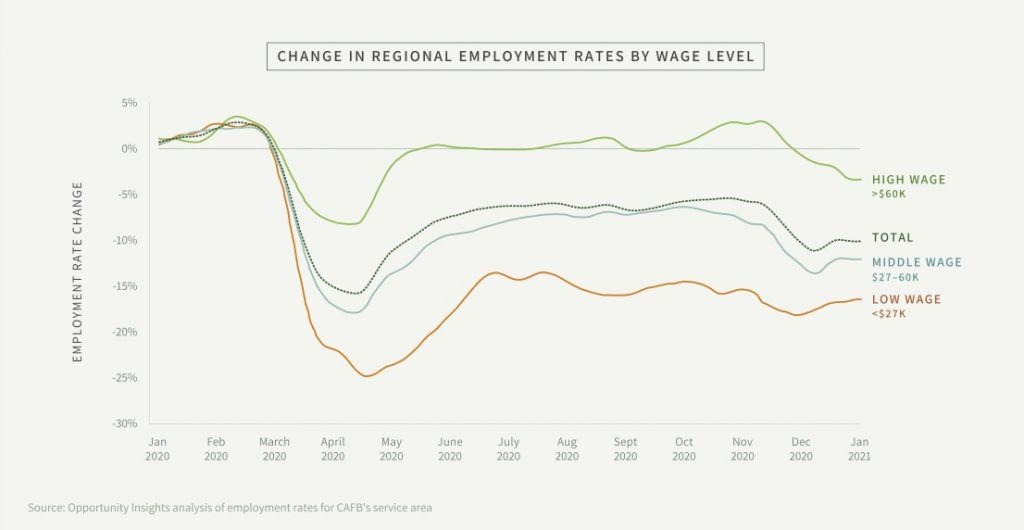 Every sector in our region has an opportunity to build back from the pandemic in ways that create greater economic stability, food security, and opportunity for more people.
The public sector can help close gaps between eligible and enrolled populations for key government programs like SNAP.
The private sector can provide more onramps for entering the workforce through education and skills development, offer greater benefits and flexibility for employees and cultivate talent to foster upward mobility.
The social sector must integrate disparate services into a seamless network of support reducing the burdens of navigating the social services landscape for those in need.
Well over a year on, COVID-19 has continued to expose and magnify the often-profound inequities that exist in our country and region. During the pandemic, these inequities have contributed to significant negative impacts on the health, economic stability, and food security of people who were already vulnerable. In the longer term, current trends show that they also threaten to drive even more individuals into a new cycle of economic hardship and food insecurity that could last for generations.
While the past fifteen months have presented unprecedented challenges for people across the globe, they have also generated countless examples of what can be accomplished when individuals and communities work together to address them. In a moment when the imperative for change is clear, the potential to create it has also never been greater.