For Audrey Walker, the Director of Youth Services at Jubilee Housing, summer isn't just for vacation – it's for community. Her summer is packed full of cohorts of kids and their families. Jubilee's youth programs provide kids with experiential learning like field trips, practice in science, technology, engineering, art, and math (STEAM), and opportunities for community service and civic engagement. But even more importantly, it provides hot meals and snacks to keep kids healthy and energized throughout the summer and beyond.
Located in the Adams Morgan neighborhood of Washington D.C., Jubilee Housing is a community-based organization that strives to create justice by providing deeply affordable housing in thriving and resource-rich communities and offering on site resources such as after school and summer programs for kids.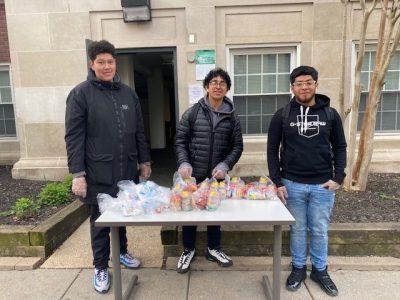 The food bank provides food for Jubilee's after school and summer programs, which feeds kids ages 5 to 18. During school year programs, Jubilee provides snacks and dinner, while in the summer, they serve breakfast, lunch, and snacks each day.
Audrey says that the year-round availability of nutritious meals is important for the children they serve. "The meals are really beneficial for our kids. They don't have to worry when they are going to get their next meal."
Carrots, sun butter, and pineapple are crowd favorite snacks with the kids.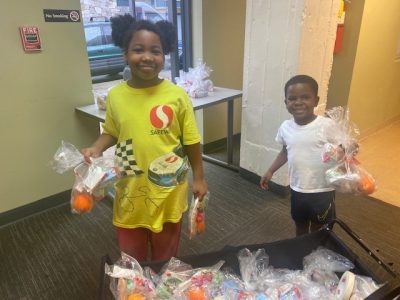 Over this past year, the pandemic prompted shifts in some of Jubilee's traditional programming and their methods of food distribution, but still, they continued to serve meals throughout the pandemic. Jubilee's meal service allowed their organization to remain both a reliable source of food and center of community as families gathered safely to eat.
"As front-line workers, we were putting ourselves at risk too," says Audrey. "But that paid a lot of dividends, creating more trust and bond with our community."
She adds, "Every time our kids came to get meals, they seemed happy. They didn't really understand what was going on [in the world] at the moment, but they wanted to come every day."
Jubilee continues to provide food to families twice per week. Audrey notes that following a spike in food insecurity at the start of the pandemic, the families she works with have had to navigate new resources for assistance, including public schools, food pantries, and other programs. Despite the challenges, it's been an opportunity for families to help each other in new ways. "Our community is resilient," Audrey says. She's seen "families and community come together in an effort to support each other more than ever before."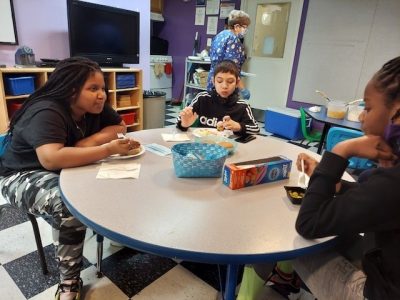 Although this year's Jubilee summer program is a hybrid version of their traditional five-day per week camp, hot meals will still be served twice weekly to the kids on site. During the school year, the food bank delivers food in the late morning to provide meals for the afternoon and evening. In the summertime, deliveries arrive the day before, so staff and volunteers can prepare hot breakfast for the kids first thing in the morning when they arrive.
Despite certain logistical challenges that come with organizing cohorts of kids for activities, field trips, academic lessons, and meals, Audrey emphasizes how important meals are for the kids and the community to stay connected. Breakfast, lunch, and snacks are opportunities for kids to fuel their bodies with energy to continue learning and growing. These mealtimes also provide space for kids, staff, volunteers, and community members to smile, laugh, and stay connected during busy summer days.
"People that live in the neighborhood see what we are doing, and they want to be a part of it… they knock on our door and send us emails, asking how they can help kids and families during this time," Audrey adds.
"It all goes back to being a community."