Planned giving is visionary thinking.  It means that, as a donor, you can help the food bank meet future needs that may not occur during your lifetime.  A planned gift can also save money spent on taxes, increase your spendable income, preserve your assets, allow you to continue to use your assets during your lifetime, and more importantly help make a difference in the lives of those struggling to get enough food to eat. With a simple provision in your will that can be of any size comfortable to you, you join a group of committed supporters who are helping to secure the financial future of the CAFB and ensure that all have access to good food today and brighter futures tomorrow.
TWO OF THE FOOD BANK'S VISIONARY DONORS, JAYNE AND WARREN LUX, RECENTLY SHARED WHY THEY PLANNED FOR THE FUTURE WITH THE FOOD BANK IN MIND.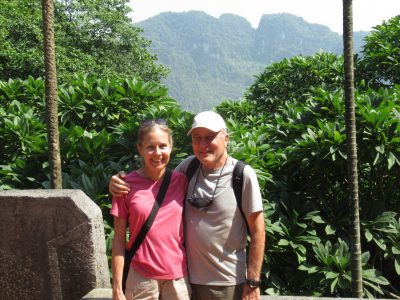 Although we both know what it feels like to be hungry, it's never because we don't have enough to eat. Like many others in our country, our experiences of hunger have been limited to occasions when circumstances have caused us to delay a meal, or even miss one entirely.
Yet, we have always been secure in knowing that food would soon be available, so no experience of our hunger has ever become a sour of pain or suffering in our lives.
But what is it like for people in circumstances when food is not so assuredly available?
And worse, what is it like for people when food is never reliably available at all?
When missing a meal is not just some random, sporadic even but instead is a regular and frequent occurrence and part of daily life?
In a country as rich as ours, we are saddened that conditions exist where questions like these even require an answer in the first place. But, thankfully, there are institutions across the country dedicated to mitigating these types of conditions that make such questions so morally relevant. The Capital Area Food Bank is one such institution and is a shining light in the effort to make our community and our society more decent and humane.
This is why we support it and why we have chosen to include it it in our estate plan. We hope you will join us.
To learn more about planned giving and explore the options that are right for you, visit plan.capitalareafoodbank.org.