Volunteers are part of the backbone that supports the food bank's work – packing boxes, sorting food, and staffing Community Markets and other distributions year-round. Since the start of the COVID-19 pandemic, these amazing and dedicated individuals have stepped up selflessly to ensure that their neighbors don't go hungry amidst rising rates of unemployment and food insecurity. We spoke with Jan Augustine, a long-time CAFB donor who began to volunteer with us at the beginning of the pandemic, to learn what motivates her to lend a helping hand for her neighbors in need.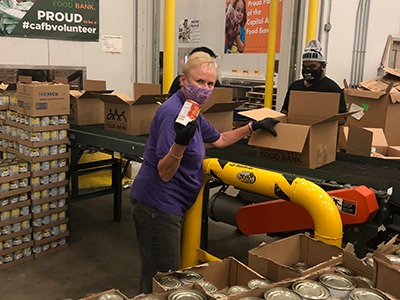 Q. How long have you lived in the DC area?
A. I was raised in the DC area, and I've lived here almost my whole life. I've moved around and lived all over the world including India and England, just to name a few. But I ended up back here.
Q. How long have you been volunteering with the Food Bank?
A. I started volunteering in June, so just around 4 months. However, I've been a donor for years. I used to volunteer at several other non-profits, including the Smithsonian at the Visitor Information Center. However, they all shut down when COVID-19 hit. I was looking for a new volunteer activity when I saw a call for volunteers in an email from the food bank.
Q. What drives you to volunteer with the food bank?
A. It is shameful that anyone in the US goes hungry. If I can be part of the solution, I'm happy to do so.
It is shameful that anyone in the US goes hungry. If I can be part of the solution, I'm happy to do so.
Q. What is your most memorable experience volunteering with the Food Bank?
A. I've watched the way this organization has grown and continued to learn the best ways to accomplish what you're trying to do. For example, we're now being more intentional with how we place the products in the boxes to make sure everything travels nicely and can fit. On one Saturday shift, I helped to pack 1,647 boxes! Normally, we pack 1,000. It felt great to accomplish our record for the most boxes packed in a 3-hour timeframe and to see how many people were going to be helped by our hard work.
Q. What would you say to someone who is interested in volunteering with us?
A. It is very physical work, and during the summer it is hot and sweaty – but it is critical work! It needs to be done and we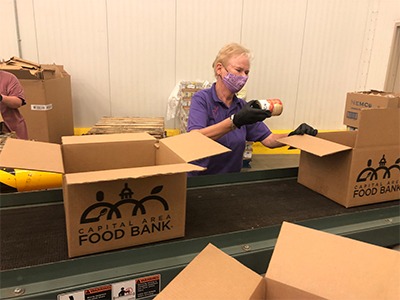 need people to do it.
Q. What are you most looking forward to in the coming months?
A. I am looking forward to going back to some sort of normalcy. I am also looking forward to a day when we don't have to pack food anymore, because the need is not there.
To become a CAFB volunteer and join thousands of others who are helping get good food to their neighbors during this difficult time and beyond, sign up at volunteer.capitalareafoodbank.org.