Twice weekly, the Capital Christian Fellowship (CCF) opens its doors to feed their Maryland community. In addition to the variety of services the church provides, the CCF partners with the food bank to stock their in-house food pantry with fresh produce and staple ingredients. The food bank spoke to Executive Pastor Akeia Rossiter about how the Fellowship adapted to the challenges of the pandemic, kept its doors open, and served more families than ever before.
"When everything changed, we knew we needed to keep the pantry open," said Akeia in a recent conversation with the food bank.
From March 2020 to March 2021, the CCF went from feeding 400 families to 5000 families. Most of their guests are families with young children and seniors who come to the Fellowship not only for food, but also for a sense of community.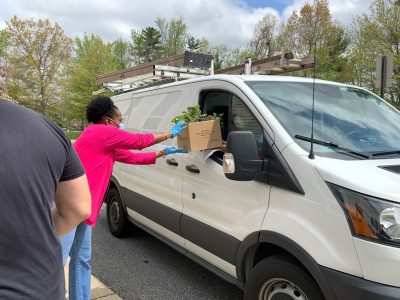 When the pandemic hit, Akeia's biggest question was if the pantry would have food to provide given shortages in grocery stores and distributions to supply chains.
Expressing gratitude for the continued supply of food from the food bank, Akeia says, "We would not be able to do what we do with out the Capital Area Food Bank. We will be open as long as food is provided."
Like many of the food bank's partners, the CCF adapted to the pandemic on-the-go and went through a few transition stages to figure out how exactly they could keep their pantry open. Before the pandemic, their food pantry was set up with a waiting area for guests and a "choice model" pantry that allows visitors to select from several items, similar to a grocery store.
They soon converted to a contactless drive through system, and at first, continued allowing guests to choose their food from a menu, but after lines went out to the street and wrapped around the block, they needed to streamline the process through pre-packed bags and boxes.
"We prioritize basics and staples – things we know that people from all cultures can utilize," says Akeia. With large West African, Nigerian, and South American communities in their area, the CCF stocks their pantry with culturally appropriate ingredients – like beans, rice, and nuts.
Akeia describes their growing community as even more diverse than before the pandemic. She sees strength in the community as families help each other out. Often, four our five households come together in one car to get their food or the week.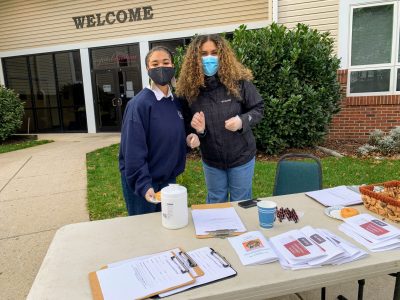 Despite the increase in need from their community, volunteer support also soared, growing from 6 volunteers per shift to 25 volunteers per shift at the food pantry. Often, people who use the pantry ask if they can return to volunteer to give back.
"Sometimes you're just doing what you know you're supposed to do, but you don't know the impact that its making," says Akeia about the past year. "So many people said the pantry is incredibly helpful, which means a lot."
"It's such a difficult time," Akeia says, but "through food…it does fill a gap to show people that they are loved, and that people are thinking about them."
The Capital Christian Fellowship is located in Lanham, Maryland. Their food pantry is open from 10am to 2pm on Wednesdays and from 10am to 12pm on Thursdays.