For many residents of DC's Ward 8, limited stores and numerous transportation hurdles make healthy and affordable groceries hard to access. Our Curbside Groceries truck has set out to help change that by providing a full market basket of goods year-round on a store that's mobile. DeJuan Mason, manager of the food bank's new Curbside Groceries initiative and a 5-year resident of Ward 8, recently took time to share details about how she and her team are bringing new grocery options to her community, and what she loves about the job.
Written by DeJuan Mason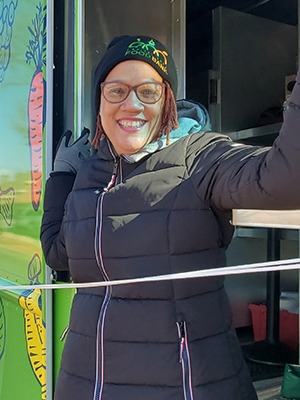 Ward 8 is a hidden gem. From the grassy knoll behind Our Lady of Perpetual Help that provides an almost-perfect citywide view to the skating plaza at Anacostia Park, the ward is scattered with beautiful spaces. The area community reflects both the self-determination of its founders – who built their own homes brick by brick – and the abundant creativity of its current inhabitants.
But Ward 8 is also home to some of the city's most economically and educationally disadvantaged citizens, many of whom face major challenges with food insecurity and food access.
In Ward 8, 30% of families live below the poverty level. The median income level for Black families in the ward is less than $34,000/year, and 17% of the population ages 16 and over is unemployed. Ward 8 also has only one major grocery retailer for the 67,000 people who live there, and for many of those individuals, a trip to the store is arduous. Almost 50% of Ward 8 residents report that they don't have a car, and in early 2020, the Metrobus system also eliminated or severely reduced many bus routes that serve the area. During the COVID-19 pandemic things have become even more challenging, with bus lines often delayed or canceled, and trains scheduled irregularly.
Because transportation is a barrier for so many residents, connecting people with the good food they need requires a new way of thinking about the grocery store.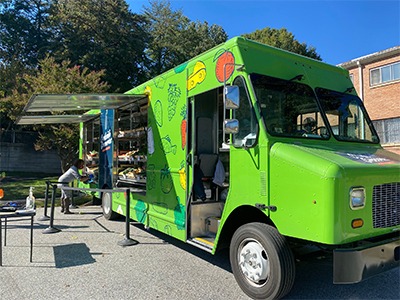 Enter Curbside Groceries!  
Curbside Groceries is a mobile grocery store that brings a full market basket of groceries to our neighbors in Ward 8. The truck carries items that include produce, diary, meat, grains, breads, healthy snacks, condiments, and baking goods, and operates year-round.
Curbside drives into the ward three days a week and sets up shop in the Fort Stanton, Washington Highlands, and Congress Heights communities. Our stops include schools and recreation centers, where kids and parents often buy fruit for snacks after class is done for the day.
Although I'm an introvert, the energy I get from being able to talk to new customers each week – and even running into former students of mine from my days as a teacher – is invigorating! I love to share the history of the truck and its purpose in the community with everyone I meet. It's especially rewarding to meet new customers and to watch them go from being curious about the truck to being almost as enthusiastic as I am about it.
Curbside Groceries' goal is to respond to Ward 8's need for improved accessibility and variety in food options, at prices that don't burden the budgets of our customers in need. We also hope that Curbside Groceries will showcase the demand for more fresh and affordable food options in the Ward, and encourage retailers and entrepreneurs to bring more innovative options and grocery formats into the area.
Ultimately, I believe we are all our brothers and sisters' keepers, and that Curbside Groceries is a crucial and necessary first step in working towards equitable access to food for our community. I wholeheartedly believe in Curbside's mission, and I'm proud to be part of the team that rolls through Ward 8 each week in a bright green truck.
If you want to see Curbside in action, come pay us a visit! You can learn more about Curbside Groceries and view the full schedule at curbsidegroceries.org, or stay connected by following us on Instagram @curbsidegroceries. See you soon!