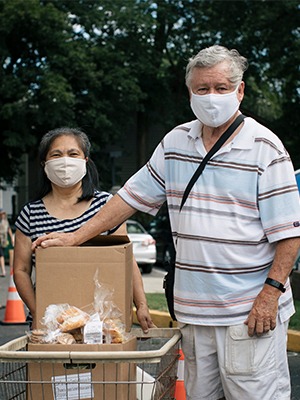 Gabriel and Constancia Merrill like to do most everything together. Up until March, they both worked for an organization that brought food to seniors in Washington, D.C. Constancia helped prepare the food, and Gabriel delivered it.
"It is a joy to help others," Constancia said.
When COVID-19 cases began to rise and people were told to shelter at home, they both lost their jobs on the same day. Gabriel applied for unemployment multiple times, but there were issues with the paperwork.
"We have zero in the bank. We have no resources other than this place," Gabriel said of a CAFB partner pantry  in Silver Spring they've been coming to since the end of March. "It's a blessing to come here. It's our grocery store."
Constancia is a great cook, he added. She makes Gabriel's favorite American foods as well as dishes from the Philippines, where she was born.
"It's a blessing to come here. It's our grocery store."
The couple had never needed food assistance before the pandemic. "God has blessed us through the years," he said. "We have a house over our heads and no medical problems."
While Gabriel shared that the pandemic has been "painful", he and Constancia continue to persevere day by day.
"It's been a hard experience, but we stick together."