Last year, the food bank distributed 52 million meals – more than any other time in our history – and demand hasn't slowed down. The unique challenges of this pandemic have also required that we not only distribute more food, but also that we provide it in new and different ways.
Enter the emergency food box. Since March of 2020, our wonderful volunteers have helped pack and distribute nearly 350,000 of these boxes, which play an important role as one of many, contactless ways we get food to neighbors in need during this challenging time. Here's an inside look at how these emergency food boxes come together – and how they get out our doors to those who need them.
What Goes Inside a Box?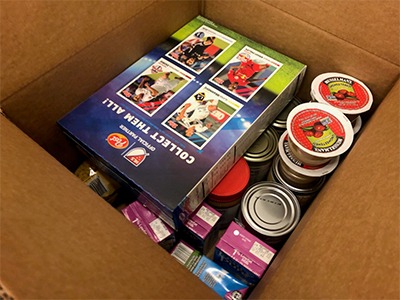 Each Emergency Food Box contains enough food to feed a family of 4 for up to 5 days.  Our team of in-house nutritionists works hard to guarantee all boxes packed each week contain food for healthy, nutritionally balanced meals, based on USA nutritional guidelines. Boxes weigh between 19 and 20 pounds. Since most of the food for these boxes is purchased during this time due to supply chain disruptions and a reduction in donated food from retailers, the average cost to create a box is $20.
A typical box might include:
Fruit: 5 cans, including peaches and pears, and 1 liter apple juice
Vegetables: 5 cans, including corn and peas
Protein: 6 cans tuna and 1 jar peanut butter
Dairy: 32 ounces 1% milk
Grains: 3 bags, including penne pasta, white rice, and multigrain cereal.
How Boxes Get Packed Up: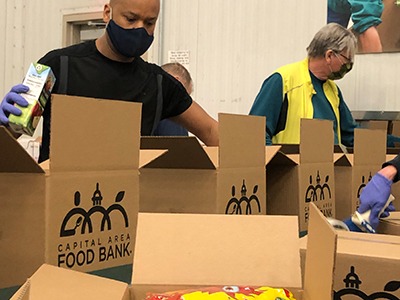 Teams of volunteers come into the food bank twice a day to help pack boxes around a continuously moving conveyor belt. To ensure that we could pack enough boxes to keep up with demand, our operations staff has boosted packing capacity, sorting food and preparing boxes seven days a week, including extended evening shifts. Our conveyor belt, which is normally used to sort food donations, has been temporarily repurposed and is now crucial to packing these boxes. Our team has perfected the science of the packing line – running non-stop, with efficient speed, and with six feet of space between volunteers for social distancing. Now, dedicated volunteers pack up to 14,000 boxes weekly!
Distributing Boxes to the Community: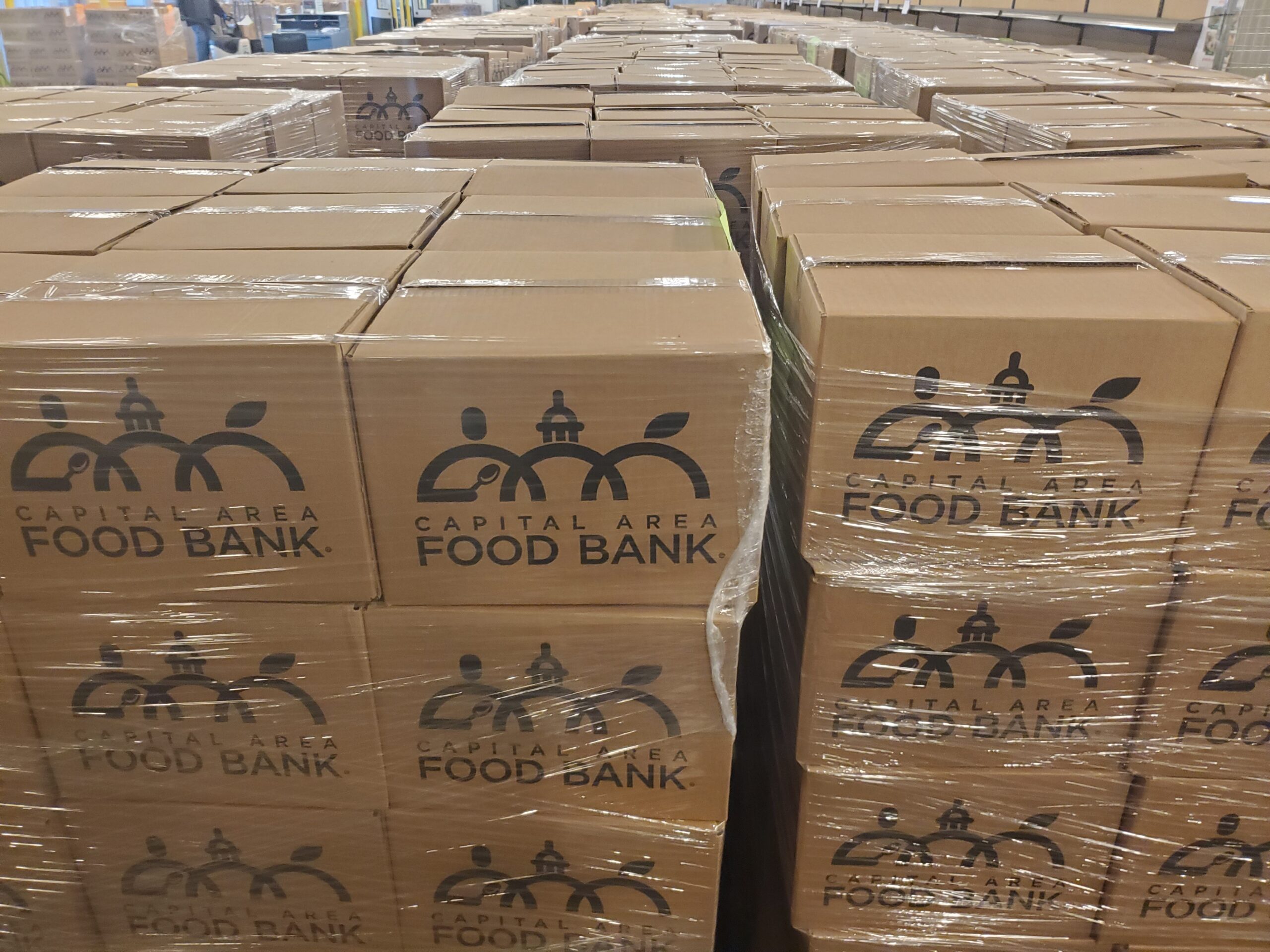 Each day, packed boxes are loaded onto our fleet of trucks and delivered to some of our hundreds of nonprofit partner organizations across the region in DC, Maryland, and Virginia. Previously, many of our partners had pantry style setups to make food available for their clients. Now, during the pandemic, the boxes enable families in to pick up food in safe, contactless distributions from both our longstanding partners, and from new partners we've added in the last year to fill in regional service gaps while some partners are temporarily closed.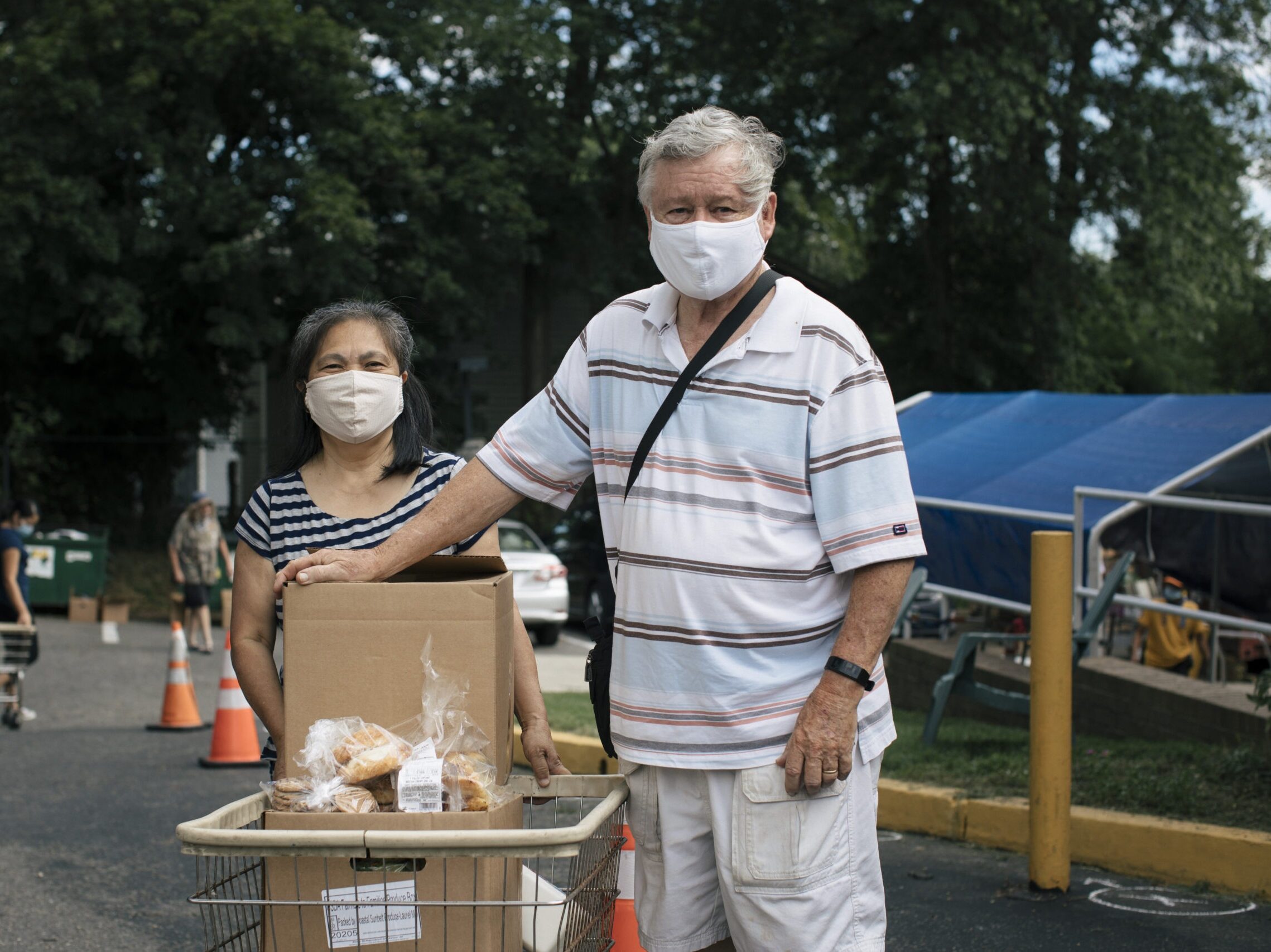 Finally, the food in these boxes arrives on family's tables, making a big difference in their lives. Gabriel and Constancia Merrill were long accustomed to helping others, but they now find themselves in need. Up until last March, Gabriel and Constancia Merrill had both worked for an organization that brought food to seniors in Washington, D.C. They had never needed food assistance before, but the pandemic caused them to lose their jobs due to curbed operations.  For the Merrills, and so many impacted by the pandemic, receiving emergency food boxes helps them to stretch their available resources and make ends meet each month.
"We have zero in the bank. We have no resources other than this place," Gabriel said of a CAFB partner he and Constancia have been coming to since the end of March. "It's a blessing to come here. It's our grocery store."
Providing food to our community wouldn't be possible without the dedication of the volunteers and donors who make sure that no box goes unpacked. We're so grateful for those who are helping us distribute more meals than ever before in our history, and we invite those who want to get involved to visit our website to volunteer and to donate.