As part of the food bank's Client Leadership Council, members hear from experienced advocates from across the region who have used their perspectives and experiences with food insecurity to raise their voices for change. In January, the Council kicked off 2020 with a special visit from seasoned advocate Amy Jo Hutchinson. Amy Jo has worked for four years with Our Future WV as an economic justice, anti-hunger, and northern regional organizer  —  a position only strengthened by her direct experience with the stigma and misconceptions that stem from needing food assistance.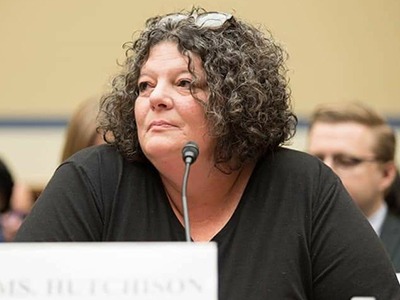 A resident of West Virginia, Amy Jo has been the only parent of her two teenage daughters for 11 years. Last February, she spoke in front of a House subcommittee on poverty, where she challenged members of Congress to take a hard look at the ways in which millions of people in the United States are being left behind.
"Poverty rolls off the back of parents and right onto the shoulders of our kids despite how hard we try," Amy Jo said at the time.
Amy Jo recently shared her story with the Client Leadership Council. It's one that resonated all too well with members who have also weathered the stigma of food insecurity, and at times been forced to make the tough choice between food and other important items.
"I have two jobs and a Bachelor's Degree and struggle to make ends meet," she told them. "The Federal Poverty Guidelines say that I'm not poor, but I cashed in a jar full of change the other day so my daughter could attend a music competition with her school band. I can't go grocery shopping without a calculator," she went on.
The goal of the Client Leadership Council is not only to empower individuals to serve as effective agents of change in their communities, but to demonstrate the importance of elevating the voices of those who have experienced food insecurity first-hand. Amy Jo reiterated for the group how crucial it is for them to have a seat at the table when it comes to matters of food access and policy: "There's so much people assume."
She spoke about the common misconceptions of those who haven't experienced food insecurity. For example, she noted, some believe that people who use food stamps "like to use the benefits on potato chips and pop."
"A little bag of oranges will cost you $7 but you can buy ten boxes of hamburger helper for $6," she points out. When families are working with a limited budget, it makes sense that they would choose the more filling, less expensive option—and food deserts mean that fresh fruits and vegetables aren't necessarily available anyway.
That's not the only misconception Amy Jo has run into. People who aren't from West Virginia, she provides as an example, think people in the state "live on the top of some mountain or on top of some holler."
"But there's food access problems no matter where you live," she says, echoing a sentiment shared by multiple councilmembers who live in areas with few retail grocery options.  "Our public transit system doesn't run at all on Sundays. You can only take on the bus what you can carry."
As someone who has used SNAP for both herself and her children and often relies on food pantries, Amy Jo points out that food assistance is crucial to connect families with higher-quality ingredients and more choice.
"Before, we'd gone to this off brand grocery store," she says. "When I received my food stamp card and got to go back to Kroger, I just remember standing there and I was so completely overwhelmed by the choices."
Amy Jo shares a belief held by many of the councilmembers: that economic justice is inextricable from healthcare and food justice—especially when it comes to kids' developing brains.
"I'm pushing back against the belief that 'eh, it's just food.'," she says. "Kids can't learn if their brains aren't connecting."
"We don't pay enough attention to how food is related to healthcare," she adds. "Especially with people living in poverty."
Her goal is "to paint a different picture of what we assume hunger looks like."
"I think it's our responsibility to frame this in a way that's not the same old stereotypical lingo and phrases," she says. "People are hungry."