Kick off 2021 with this at-a-glance guide for how to help people in your community each month of the year.
January
In the spirit of Martin Luther King Day, create your own "Day of Service" by grabbing a friend and signing up for a volunteer shift.
February
Sign up for our bi-monthly newsletter to receive stories and updates from the communities we serve. You'll learn how hunger is affecting your communities, and how you can help be part of the solution.
March
Volunteer at a Community Market to get a hands-on experience right in your community! Each month, our Community Marketplaces in D.C., Virginia, and Maryland provide thousands of emergency boxes and produce in high-density neighborhoods with high rates of food insecurity.
April
One of the best ways to help people during National Volunteer Month is to find and sign up for a shift to pack emergency boxes in the CAFB warehouse. Each box provides enough food to provide meals to a family of 4 for up to 5 days!
May
Follow us on Facebook, Twitter, and Instagram to stay up-to-date with exciting happenings at the food bank and ways to give back throughout the Summer.
June
Become a monthly donor to the food bank.  Your monthly gift can transform lives by making it possible for a child to focus in school, for a mom to make it through her night shift and pay her family's bills, and for a senior citizen to avoid life-threatening illnesses.
July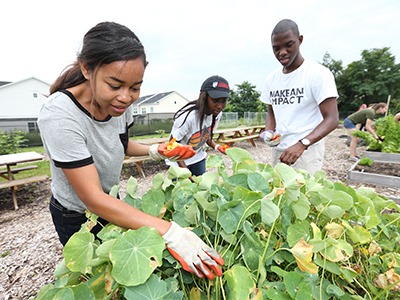 Volunteer in the CAFB's half-acre Urban Demonstration Garden. At the height of the growing season, garden volunteers are invited to get their hands dirty helping to maintain the garden, harvest seasonal crops, and prepare for the season ahead.
August
Invite your company, faith-based community, or other group to walk in the shoes of someone experiencing hunger by participating in our virtual Face Hunger Workshop™. This unique experience offers a glimpse into the daily realities and impossible choices of someone confronting food insecurity.
September
Take action for Hunger Action Month. Join us in learning about and spreading awareness of hunger in our country and local communities. Write a letter to your representative advocating for policies that help hungry neighbors, or spread the word to your social media followers on ways to help those struggling.
October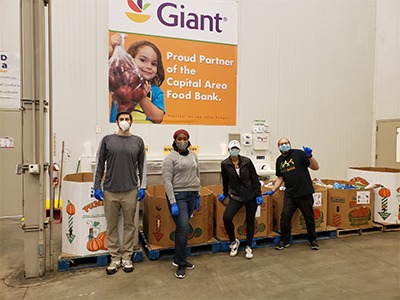 Bring your company, faith-based community, or other group to volunteer together. You'll make lasting memories, build team comradery, and ensure good food reaches the tables of your neighbors who need it!
November
Help the food bank prepare for the holidays by hosting a digital food drive. In just 5 easy steps, you can engage your community from far and wide to help provide meals for thousands of people in our region.
December
Give a one-of-a-kind holiday gift – the gift of meals for our neighbors. When you donate in honor of a friend or loved one during the holiday season, the food bank will send them a special holiday card with your custom message of giving.