Shauna Gray has taken care of people for most of her life—first as a home health aide, and then as a caretaker for family members. Now, she feels driven to keep her community safe and fed. She's getting started on that work as part of the CAFB's Client Leadership Council (CLC), a group of like-minded individuals taking part in a ten-month advocacy training program aimed at empowering them to serve as effective agents of change.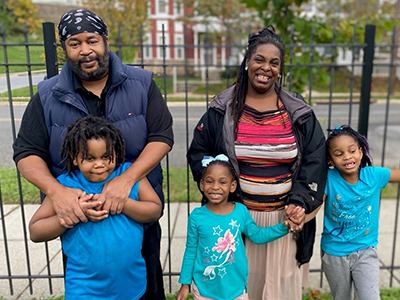 "It took a while for me to be able to tell my story," Shauna says. Because parts of her life have been painful, talking about them has sometimes been difficult.
As someone who's lived in Washington, D.C. for her whole life, Shauna says it's striking—and disheartening—to see how the COVID-19 pandemic has shaken the metro area. Shauna and her husband have three small children with special needs, and since the pandemic began it's been even more challenging to make sure everyone gets enough to eat. Formerly employed in the service industry as a server and a dishwasher, both Shauna and her husband lost their jobs when restaurants were forced to close.
"People who do things in the service field, they are taking such a hit, especially in the area we live in," Shauna says. Even without the added stress of the pandemic, she adds, the unpredictable wages often aren't enough. "We are a service city," she goes on, "and to not be able to do what you trained to do" is incredibly difficult.
Shauna and her husband are able to use SNAP benefits, but the bureaucracy involved makes everything seem more precarious, and the money isn't always enough for a family of five. Many times, she told Good Morning America in a recent interview, she and her husband might only eat once per day to make sure the children have enough.
"Thank goodness for the food bank. If it wasn't for the food bank, there would have been many times when I wouldn't have been fed," she says. "At the end of the day, to be able to sustain yourself, you really do need more."
Her children get food through CAFB partner Martha's Table, and Shauna and her husband use Bread for the City, another food bank partner.
She appreciates that unlike what she's seen trying to get government benefits, the pantries require fewer hurdles to get the food her family needs.
"It's not as hard to go through a pantry. They take care of you," she says.
Even so, she says, she's faced logistical hurdles in actually making it there. "It's a little hard for a mom like me," she says, speaking of the 90-minute trip she must take each way to pick up the food her family needs. "If you live an hour away, even on Metro—it's hard to be able to pick up the food," especially on a school day when she needs to consider her kids' schedules.
But, Shauna says, it's all worth it to help her kids. "I try to teach my children: Be the change you want to see in the world. They see mommy trying, they see it. They don't understand it yet, but I'm hoping they do when their lives transform."
"I try to teach my children: Be the change you want to see in the world…They don't understand it yet, but I'm hoping they do when their lives transform."
The work she and her councilmembers are doing as part of the CLC is crucial, she says, because in sharing their experiences, they can show those who have never experienced food insecurity how having access to nutritious food can affect someone's well-being. And, they can show the importance of including the input of those most affected by hardship at the table when it comes to making a difference.
"I sometimes sit in a room with people who have never experienced homelessness or hunger. They don't know how it feels," Shauna says. ""If you don't go to the people who it impacts, it doesn't work as well."
Using the skills she learns through her work with the Council, which she calls a "transformative" experience, Shauna hopes to one day start a nonprofit aimed at helping caregivers.
"Unless you hear from the people that are impacted, then you don't know how to change it or improve it in terms of how to make a better impact for them," she says. "I know how it feels to be a server. I know how it feels to have special needs children. I know how it feels to have someone disabled in your house. I'm dealing with a lot of stigma."
"I want to make it a little easier for people in my city, because I'm still going through it myself. At some point in time, you may have to be a caregiver," she says.
Ultimately, she hopes the experience of the pandemic makes people a bit more empathetic toward their neighbors and community members.
"I'm hoping that when the world does get back to some normalcy," she says, "then we'll be better to each other—because we've all gone through so much."