As a veteran who has experienced homelessness and food insecurity, James Littlejohn understands what it means to keep persevering in tough circumstances. He also knows how important it is to connect people with the resources they need. And as a member of the Capital Area Food Bank's 2020 Client Leadership Council – a cohort of like-minded individuals from across our service area taking part in a ten-month advocacy training program – his goal is to use his unique perspective to advocate for more funding to go to resources that serve our society's most vulnerable.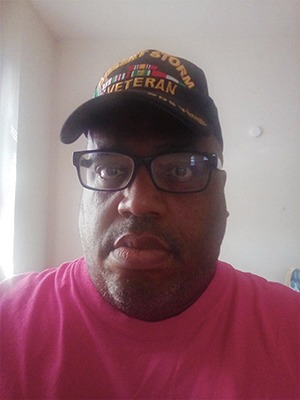 James' first few years in the service were a struggle — military life, with its structure and regulations, took some getting used to. Born in the District of Columbia, James had joined the Navy after high school and served for 4 years. Stationed in Hawaii during the Gulf War, James says, "I was proud to fight for my Country, and I would do it again. I learned a lot about myself, and a lot about other people."
When he returned, he says, he faced different challenges.
After the military, James became homeless multiple times. And often, James says, he struggled with not knowing where his next meal was coming from. "I was back and forth, back and forth – living in vacant apartments, eating out of trash cans," he says. "The last 25 years has been a rough road."
Eventually, someone connected James with local charities such as Mission of Love, a CAFB nonprofit partner, and American Rescue Workers – organizations that connected him with clothing and got him set up with food and nutrition assistance. And finally, with the help of the Veteran's Administration, he found a permanent place to stay.
His experiences, he says, made it clear to him how much people need food, housing, transportation and other critical services. Now in a stable home, James hopes to advocate for the needs of the homeless and his fellow veterans through his work with the Client Leadership Council. "I think it's a beautiful thing we're doing" at the Council, he adds.
"I think it's a beautiful thing we're doing."
As a veteran, James is eligible to receive some benefits through the Veterans Administration. But, he says, there's more the government could be doing to help those who have served their country.
"This is a growing problem in America. There are a lot of homeless people all across the country. They don't know where to turn to," he adds. "Especially the veterans, who fought for our country. They lose their homes, they lose their jobs, they lose everything."
While only a small percentage of those the food bank serves are homeless, James points out that homelessness and food insecurity often go hand-in-hand.
"There need to be more places where these people can go to get help," he says, and "more social services." One major action the government could take, he continues, is to increase funding for the SNAP program.
"An increase in [SNAP] funding would benefit the homeless," he says. Although he's gotten a small increase as a result of the COVID-19 pandemic, he notes that the amount "doesn't last."
Now 53, James lives in Maryland in group housing. He loves to read, especially science fiction: Douglas Adams and Brian Keene are two of his favorite authors. He's also in the process of applying for jobs — and although the COVID-19 crisis has made it harder to find work, he says he's learned that when one door closes, another opens.
"Homeless people give up too quickly. I wish I could help. If I had a home myself or apartment complex I would let them in. I'd tell them, 'Don't give up.'"
Over twenty percent of households served by the Capital Area Food Bank are home to a veteran of the US military or active service member.