Vanessa Pierre has lived in White Oak, a neighborhood in Silver Spring, Maryland, for four years. In that short time, she's made her mark advocating for access to healthy and affordable food — and the resources to grow it — in her community. She's among the new members of the CAFB's Client Leadership Council (CLC), a group of like-minded individuals from across the food bank's service area taking part in a ten-month advocacy training program aimed at empowering them to serve as effective agents of change in their communities.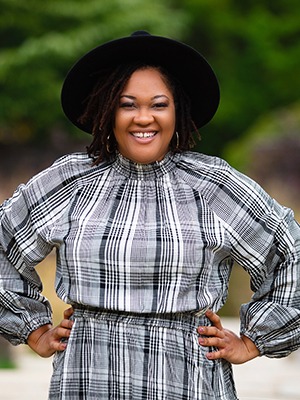 A paralegal by trade for over 12 years, Vanessa had begun running her own business by the time she and her three children — now 12, 10, and 5 — made the move to the D.C. area in 2016. Here, she delved deeply into her true passions: backyard gardening, homesteading, and advocacy around food insecurity.
Vanessa grew up seeing her grandparents in Jamaica grow the food they ate – what she calls "literal farm-to-table". These early experiences led her to try her own hand at gardening as she got older, and she developed a dedication to and passion for food growing, stemming mostly from a sense of pragmatism: with two of her children so close in age, "it was just cheaper to grow and make things than to buy them," she says. She liked the science of it, too: that she'd get a bag of beans from the grocery store and plant a few, showing her kids how one would yield 50 or more. "My kids eat vegetables because they grow vegetables," she says.
Recalling her own childhood in South Florida, Vanessa considers herself fortunate not to have experienced food insecurity at a young age despite her family's tight budget. She attributes this to her mother having worked long, hard hours at her job, often at the expense of spending time with the rest of the family. It wasn't until Vanessa got older and became a mother herself that she understood the sacrifices her mother had made. She found herself working 4 or 5 jobs at times to make ends meet and relied on SNAP (formerly known as food stamps) for a year when she was eligible.
Vanessa says her experience with SNAP made it clear for her that many working families in her area need more assistance. The program often doesn't provide enough support, she says — particularly when factoring in the lack of affordable grocery stores in the region.
Although she loves living in White Oak, Vanessa also says that simply getting around – to a store or otherwise – is a major issue for anyone without a car. Public transit is "the number-one concern in my community," she says. When the closest grocery stores are some of the most expensive in the area, she adds, "nutritious fruits and vegetables are no longer an option."
"We gotta take back our food, take back our health, take back our life — in that order."
She's also noticed that some of her neighbors are effectively cut off from culturally appropriate foods, noting her own difficulty finding many of the foods she was brought up with and used to cooking and eating as a Caribbean-American. "You can have everything in the store," she adds, "but if it's not something you're used to in your culture, you can still be food insecure."
In the spring, as the pandemic began to spread throughout the United States, Vanessa testified before the Montgomery County Council on behalf of the establishment of a new farmers market in White Oak. A farmers market, she says, would offer residents the opportunity to take advantage of SNAP benefit match programs.
"If you're not gonna give [people] a place to grow their own culturally appropriate food … then give them access to it by bringing farmers markets into the areas, letting them community garden, educating them," she says. "We gotta take back our food, take back our health, take back our life — in that order."
Vanessa has continued to serve on the Montgomery County Food Council since the beginning of the COVID-19 pandemic and has assisted her church with food distribution. She also started an Instagram and gardening YouTube channel, Homestead Hustle & Healing, through which she teaches people how to grow their own food even in limited spaces.
"You can grow anything anywhere," she says. "I have a watermelon on my trellis right now outside. We can do this under any circumstances! It's become cool to teach myself and be able to teach other people."
For Vanessa, the pandemic highlighted the ways many people are left behind. "It shined a huge light on all the inadequacies of our food system," she observes.
At the same time, she feels this is a great opportunity for people to invest in themselves and in their communities.
"Take this time to sow some seeds into your own personal development and you're gonna come out of this stronger and more resilient," she says. "If you weren't scrappy and you weren't humble, you sure are now."
Vanessa shares that her guiding philosophy is not to be intimidated by what could be perceived as obstacles. "Just start," she says. "Start where you are and with what you have."