World Food Day, held annually on October 16, is a day of collective global action focused on the promotion of worldwide awareness and action for those who suffer from hunger and for the need to ensure healthy diets for all. This year, the COVID-19 pandemic has put hunger and food insecurity directly into the spotlight – both around the globe and around the corner. To highlight this critical issue through the art of poetry and storytelling, the Capital Area Food Bank partnered with the UN Food and Agriculture Organization (FAO) Liaison Office for North America and Poetry X Hunger for the 3rd annual World Food Day poetry competition. As part of this year's events, the food bank also hosted Virginia-based poet Aaron R as its first Poet in Residence during Hunger Action Month. He has shared his reflections on his residency experiences below.
By Aaron R, Award-Winning Poet and Poet in Residence at the CAFB
Taking a first look behind the scenes.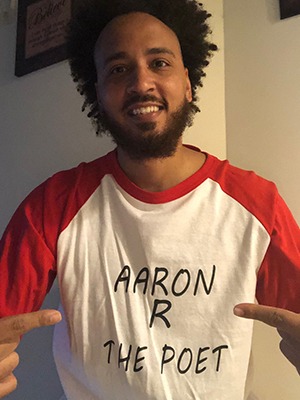 When I first visited the Capital Area Food Bank, I was surprised to see how much they are inclusive of all cultures. They had index cards that have different ways to make culturally relevant meals based on the ingredients that different people are given. It was amazing to see how friendly and dedicated people remain to making sure that food is distributed especially during these difficult times.
I was also fascinated at how HUGE the warehouse was. Everything ran efficiently and smoothly. Some people transported items with a forklift, others stored the food, packaged the food, some prepared the food boxes to be transferred to the distribution centers. I was amazed at how much food the Capital Area Food Bank distributes and how passionate their workers are about ending hunger. Despite all that they are giving, it's incredible that the DMV area is still struggling to feed people.
Witnessing the many faces of hunger.
I would later get a chance to visit a distribution center in Silver Spring, MD, St. Camillus Catholic Church. Arriving at St. Camillus, there was already a line from the front of the church that extended to the parking lot. I was told that the food distribution would start around 2:30 p.m. but when I arrived around 2:15 p.m., I was surprised to see how many people were in line. Once I was greeted by my contact at the church, Jean, I was informed that people had been in line since about 12 p.m.!
My experience was bittersweet, I was shocked at how much food St. Camillus had stored in their pantry and how much they are able to give families weekly. It was heartwarming to see how everything that the Capital Area Food Bank sets up comes to fruition when it's placed in its partners' hands. It was sad, though, to wonder what people would do without this type of help.
It was clear that hunger does not discriminate. There were multiple ethnicities present. There were some single parents, some with toddlers, some parents with elementary age children. Even some teenagers came. Meanwhile, volunteers helped people check in and carry food to their cars. They were very friendly and helpful. Some people seemed to be relieved to know that they had found a way to get a meal. Other people seemed happy to know that someone cared about them enough to talk to them and smile at them. Watching their interaction with the volunteers and seeing how the food is given to families was truly special to witness.
Putting thoughts into words.
As I drove home, there were still people walking to get in line. I was told that it's always like this – and that it's even more so like this because of the pandemic. I couldn't help but think that some people don't have food and rely on Capital Area Food Bank to provide it just to eat. I wondered if the rest of society knew this that maybe they would contribute a little bit more.
These are thoughts that ran through my mind as I wrote "My Name is Hunger." The poetry video I created is a combination of some of my experiences and some of the experiences that the world is facing. Something as simple as food can't be taken for granted. I'm grateful for my experience, and I hope that this poem inspires you to do a little to help.
Aaron R is an award winning poet from Hampton, VA currently residing in Arlington, VA. Aaron R is the author of Poetically Correct Volume 1. He also edits, directs, and produces his own poem videos. For more,  visit aaronRpoems.com.