To amplify the voices of those it serves, the Capital Area Food Bank is convening a Client Leadership Council (CLC). The CLC brings together people with an array of perspectives and experiences from across the region, and seeks to empower members through a ten-month advocacy training program. Each year up to 24 individuals who live in the food bank's service area will receive professional training through the CLC, enabling them to advocate on behalf of themselves and their communities, and serve as effective agents of change. We spoke with Odessa Davis, one of the CLC's newest members, to learn what inspires her to raise her voice for change.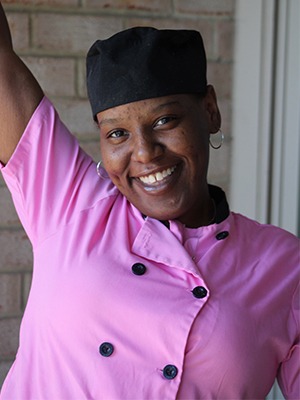 Over the past four years, Odessa Davis has been busier than ever. Between completing school at Montgomery College and raising her 10 year-old son, Odessa had worked up to four jobs at a time to make ends meet, but all of her hard work was worth it to stay on track with her financial goals, which include paying off her car and moving out on her own.
Before the pandemic hit, Odessa was working primarily during the school year as a paraeducator for children with special needs. During the summer, she usually works at a camp through a local county recreation department teaching cooking classes, exercise courses, and more. And through her side business specializing in soul food, she pursues her passion in culinary arts, which she studied in Miami before returning to Maryland to raise her son.
Over the years, Odessa has witnessed how hard it could be for her and others in her community to get the food they need, even when working multiple jobs. "That's what got me into advocacy in the first place," she says. And her background in culinary arts made her even more interested in advocating about food issues. In 2019, she testified at a Montgomery County budget hearing on behalf of those like herself, who may be gainfully employed but without a steady and guaranteed paycheck.
"I'll always find a way to eat," she adds. "But other people who don't have the support system I do, they're struggling."
"I know a lot of people in the school system that work multiple jobs, especially supporting staff like me," Odessa said. As a paraeducator, she provides instructional and emotional support to special needs students to assist the teacher. Though the roles and responsibilities of paraeducators are critical, Odessa says it is not always easy for those who do this work to get the help they need. "People don't realize that, in the summer, we don't get paid at all, and in the winter we only get paid for three holidays rather than the school's full holiday break," she adds. "When I apply for benefits like SNAP and they look at my pay stub, they think I make too much. But that might be my first check in three weeks."
When the impacts of the COVID pandemic closed camps for the summer, affecting Odessa's plans for work, she found herself at the edge of a common effect known as the "benefits cliff" or "the cliff effect". The cliff effect refers to the sudden and often unexpected decrease in public benefits that can occur with a small increase in earnings. When income increases, families sometimes find that they make too much to qualify for economic supports—even though the need is still there.
"I'll always find a way to eat. But other people who don't have the support system I do, they're struggling."
Luckily, since Odessa's son was part of the free and reduced lunch program at this school, her family was still able to receive support from the Pandemic EBT program, which provided money for her son to eat through the summer and prevented the pandemic's impacts from derailing Odessa's financial plans. "When that card came in, I was able to make my payments on time and that was great," she added. "We made it stretch, along with the money I had saved."
As a food enthusiast, educator, and single mother to a growing boy, Odessa knows that having access to nutritious food is crucial to the health of her family and community in both the short- and long-term. "It's very important because, as African Americans, we have increased risk of high blood pressure, high cholesterol, and other issues," she pointed out. "To reduce the risk you have to eat healthy, and it's kind of hard when you can't afford it. So you have to go with the cheapest stuff, and the cheapest stuff is not always the best."
Now that school is back in session and she's been able to return to work, Odessa is looking forward to taking part in the CLC to continue her advocacy work and grow her strengths in advocating for those like her who might "fall through the cracks".
 "With the pandemic, a lot of people aren't working," she adds. "So I like to help as best I can."
The food bank's 2020 CLC class kicks off on October 6th. The food bank will attentively listen to the collective recommendations of CLC members like Odessa to modify, revise, or create programming and policy priorities that will directly benefit and improve how the food bank understands and serves our region's families, communities, and interests.