Like so many people this past Spring, Tess Weinreich had her junior year of high school turned upside down when the impacts of the COVID-19 pandemic caused classes to move online and extracurricular activities to be cancelled indefinitely. But rather than let these circumstances get her down, the rising senior rallies her community to help support her neighbors in need.
Tess was used to spending her days volunteering through the school's service-learning outreach program, working on the school newspaper, and staying active through volleyball and track. As a sprinter, she had just completed a promising winter track season and was looking forward to welcoming the spring season's warm days and sunny meets with friends.
When everything ground to a halt, Tess was upset but kept her focus, continuing to run every day with a friend.  As the effects of the pandemic began to affect her neighbors in much harsher ways, she thought of walkathons and other fundraisers she had heard of or participated in previously.
"I realized I had an opportunity to contribute to something bigger than myself."
She got to work rallying her community to support her idea: she pledged to run 200 miles and, in exchange, her friends and family would help her raise $10,000 for the Capital Area Food Bank to provide meals to those in need. It was her first time spearheading a fundraiser like this, but she was inspired by her past experiences volunteering with her school at the food bank and with food bank partners such as Food and Friends and Martha's Table. During her time volunteering at the food bank, she was able to tour the warehouse, participate in Face Hunger workshops, and pack food for distribution. "I've been able to do it a few times now and each time it's eye opening," she added of her experience.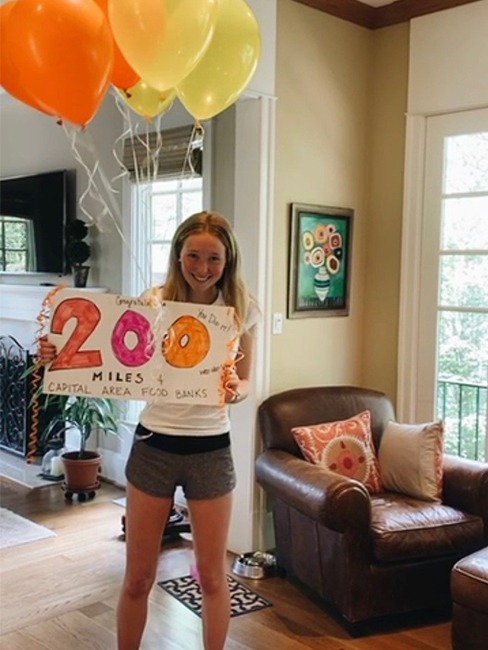 To hit her goal, Tess would run 3 and a half miles on weekdays – often squeezing the runs in between Zoom calls for school – and run longer distances on the weekends. It was hard work, but her community of supporters was there each step of the way. "I couldn't have done it without friends and everyone who donated," she added. "There would be friends who couldn't necessarily donate, but who would help by motivating me to run even when I didn't want to."
Tess hit her 200-mile and $10,000 fundraising goal in just 9 weeks – what would have been the length of her spring track season. Two family friends, impressed with and inspired by her commitment, were able to match the money she raised to bring her total contribution to $30,000!
Her community expressed pride in the teen's efforts to give back. "Tess's personal initiative is inspiring," added ACE Everett, Director of K-12 Service Learning at The Potomac School. "She's channeled her talent and interest in running track to support growing community needs during the pandemic. We're so proud of her effort and grateful that she's providing such an amazing donation to one of our school's long standing partners."
Now, Tess is looking forward to enjoying her upcoming senior year and to attending college next fall, where she hopes to continue being involved in service to her community.
"It was nice to see how my idea snowballed," she said. "Not everyone is in a position where their community can support this kind of fundraiser. I consider myself so lucky."