As many of us explore the first phrases of re-opening and move forward in a new world, the food bank is  laying the groundwork to meet the needs of our neighbors – both those we were serving previously and those who are newly food insecure in the wake of the pandemic.
Together with our supporters and and partners – new and old – we are continuing to adapt and ramping up to provide the good food our community members need. Read on to see how.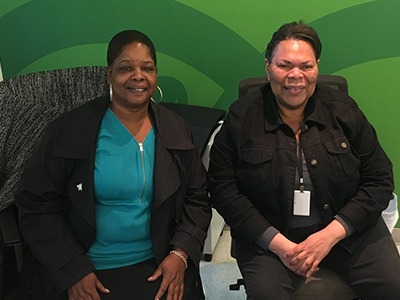 Connecting neighbors to the resources they need most
When our neighbors need food assistance for themselves or a loved one, the Hunger Lifeline is often the first number they call. Manned by a small number of CAFB staff and volunteers, the Hunger Lifeline connects individuals to local pantries and other organizations that can assist with emergency food help. Since COVID-19 began to fundamentally shift the world around us, the number of calls coming through this line have more than tripled – and show no signs of slowing down.
Expanding partnerships to meet growing demand
Unemployment has continued to rise across our region: more than 424,000 unemployment claims have been filed since mid-March. This brings with it the risk of increased poverty and food insecurity, and the food bank is responding with coordinated innovation and creativity to meet growing demand. In addition to distributing food to the 50% of our partner network that is currently open, the food bank is now distributing food with the help of new partners, such as local governments, to address need in communities that are underserved during the pandemic. We will continue to expand the number of new partnerships over the coming year to strengthen and grow our distribution network.
Packing up to 2,000 boxes per day
To accommodate additional partnerships and distributions, the food bank is bringing in a record number of truckloads of food to meet existing and new needs. The extra step of boxing this food requires the hard work and dedication of our volunteers. Sometimes packing up to 2,000 boxes per day, thousands of CAFB volunteers have worked together to pack just under 50,000 emergency boxes so far – each containing enough food to provide a family of four with the food they need for up to 5 days. If you want to get involved, view the schedule and sign up for a shift at volunteer.capitalareafoodbank.org.
Feeding children now, and through the tough summer months
At the beginning of the pandemic, the food bank began operating 9 Children's Meal Sites in DC and Prince George's County and served approximately 3,000 meals in its first full week. The food bank has now partnered with 17 sites, including additional sites in Northern Virginia, to serve more than 8,500 meals per week. As summer approaches and the formal school year draws to a close, the CAFB is planning to expand to more sites to ensure children in our communities have access to the food they need to grow and thrive.
Addressing the problem, locally and nation-wide
Food systems experts report that food banks are stretched to their limits in every city across the United States. CAFB CEO Radha Muthiah, alongside leaders from other charities, nonprofits, and local governments, spoke with the Washington Post and NPR about the challenges of supplying more food to a region that is suddenly hungrier than ever before.