When our neighbors need food assistance for themselves or a loved one, the Capital Area Food Bank's Hunger Lifeline is often the first number they call. Manned by a small number of CAFB staff and volunteers, the Hunger Lifeline connects individuals to local pantries and other organizations that can assist with emergency food help. Since COVID-19 began to fundamentally shift the world around us, the phones have been ringing almost non-stop. We spoke to Denise Yates, one of the CAFB's main Hunger Lifeline operators, to get an #InsideLook at how things have changed.
Denise has been helping to staff the food bank's Hunger Lifeline since December 2019. The food bank needed an extra ear on the phone line during the holidays, and she connected to the opportunity through the National Caucus & Center on Black Aging. She was happy to find herself in the role where she could help assist those who were struggling, but she had no idea at that time just how crucial her role would be.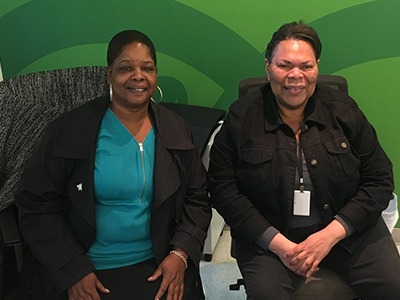 Now, calls have more than tripled since the pandemic began. They especially pick up towards the end of the month, when paychecks have been spent or SNAP benefits have been exhausted. Denise reports that more seniors are finding themselves unable to leave home, so they call the food bank in search of partners that can deliver food directly to them. Many are unable to cook for themselves and require pre-prepared food that can be tailored to their health concerns. More individuals are also reaching out from Spanish-speaking communities, having trouble connecting to the resources they need.
But no matter who calls, they are connected through the Hunger Lifeline to CAFB partners such as Food for All and Martha's Table, who can accommodate the caller's specific needs. "Most of the time when they hang the phone up, they're in a better place than when they called," Denise adds.
"I tell them, 'Baby, I got your back. I'm not going to let you go hungry. Things will get better.'"
Layoffs, school cancellations, and other disruptions have led many to reach out to the Hunger Lifeline who have never had to ask for assistance before. They are unsure where to turn, and in many cases embarrassed to find themselves in need of help. But Denise works hard to ensure that those she speaks to feel no shame in getting the food they need. "I tell them, don't ever feel bad or be too proud to call and say I need help. The worst thing to do is to not ask for help."
Sometimes the calls are hard. Denise received one recently from a woman who had lost her job at a hotel and said she didn't know how to answer her two children when they asked if they would eat that night. Fortunately, she was able to help her find assistance.
Most often, callers give Denise their address and she uses the food bank's interactive partner map to find a partner or school open within a couple miles of where they live. In some cases, when no partner is available, she goes the extra mile to contact a neighborhood commissioner or other local official to let them know someone is in need. "My job is to make sure they get fed," she says.
The food bank anticipates that increased food insecurity and need for assistance will persist for at least the next year, as our communities and the economy adjust to a new normal. Being on the front lines of a crisis with no clear end can be exhausting, but Denise doesn't let it get her down. "I'm learning new things as I go, and it feels good at the end of the day," she says with a smile in her voice. "I helped somebody, they feel better about themselves, and their stomach's not growling."