Volunteers have always been part of the backbone that supports the food bank's work – packing boxes, sorting food, and staffing Community Markets and other distributions year-round. However, this #VolunteerAppreciationWeek is a special one as our amazing and dedicated volunteers have stepped up selflessly to ensure that their neighbors don't go hungry during the current pandemic. Since the beginning of COVID-19 disruptions, more than 1,500 volunteers have stepped through the doors of the food bank to pack emergency boxes for thousands of families across the region who are struggling as a result of this crisis.
Take an #InsideLook at three of our volunteers who are lending a helping hand:
"It's so crucial to make sure that we care for each other. This is what it means to be American. We help each other, we do what we can, and we step up to the plate to do our part."
Crystal Chau usually splits her time between where she lives in New York City and spending time with her partner in DC. After she decided to spend this time here in the region, she began looking for ways to help. After finding opportunities at the CAFB, she's already signed up for  several shifts packing emergency boxes. This is Crystal's first experience with volunteering, but it definitely won't be her last.
"This is my first experience with volunteering, but it's changed my mindset," she added. "It's inspiring. You go in and everyone is trying to make a difference. It's showed me that we don't appreciate enough the people on the front lines, the essential workers like the grocery store workers. I hope that all the empathy and compassion that people are having now continues."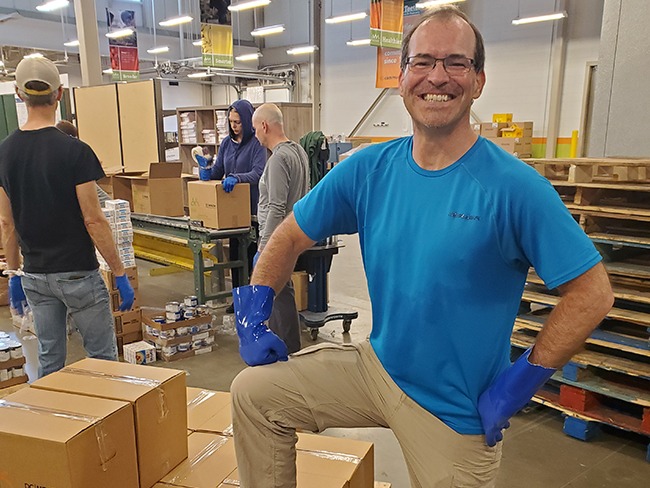 "Having a direct hand in getting food to people in need is hugely important, and it is gratifying to have a touch in that process. Because I'm local, I wanted to have a local area impact."
Alexander Lofft and his wife have been CAFB donors for more than a decade. When COVID-19 disruptions began and his business in commercial real estate slowed down, he wanted to do something in addition to their financial contribution. So far, he has signed up for several shifts making boxes for families and seniors, as well as sorting food. Alexander is proud to say that he's now become a "manual pallet jack expert" and has enjoyed seeing first-hand how the CAFB supplies food for so many smaller organizations.
"I have seen the food bank grow over time; it's been impressive to watch," he added. "I have found the experience behind the scenes personally rewarding, eye opening, and gratifying.  It makes want to support more now than ever."
"I know that this is a very difficult and unknown time for many. I want to be able to help as many people as possible who may not have the opportunity to continue to work, who may have fallen on hard times, or who may just need the resources of the food bank."
Courtney Thornton has lived in the area since 2013, and she is no stranger to volunteering. She's volunteered with the CAFB in the past, and has also volunteered with the Maryland Food Bank and CAFB partner Martha's Table. She was inspired to continue volunteering at this time, knowing that many people were experiencing job disruptions and would need additional help and resources to provide for themselves and their families. When the pandemic finally passes, she's looking forward to spending time with friends and family far and wide – but she'll also continue to lend her time to help her neighbors in need.
"I will definitely continue to volunteer with the food bank," she added. "I was volunteering before, but the mission is so critical and I believe the impact is great."
Check back for more in this ongoing series.
To join these amazing volunteers and the many others like them who are helping get good food to their neighbors during this difficult time and beyond, sign up at volunteer.capitalareafoodbank.org.