With many of our neighbors more vulnerable than ever during this pandemic, our community has stepped up in big ways to help. Here are just a few of the amazing ways the local community has come together to assist those struggling:
DC-area music artists host online concerts to help feed their neighbors.
With many of our neighbors more vulnerable than ever during this pandemic, DC-area favorites RDGLDGRN wasted no time in organizing an online benefit show to raise funds for those affected in their community.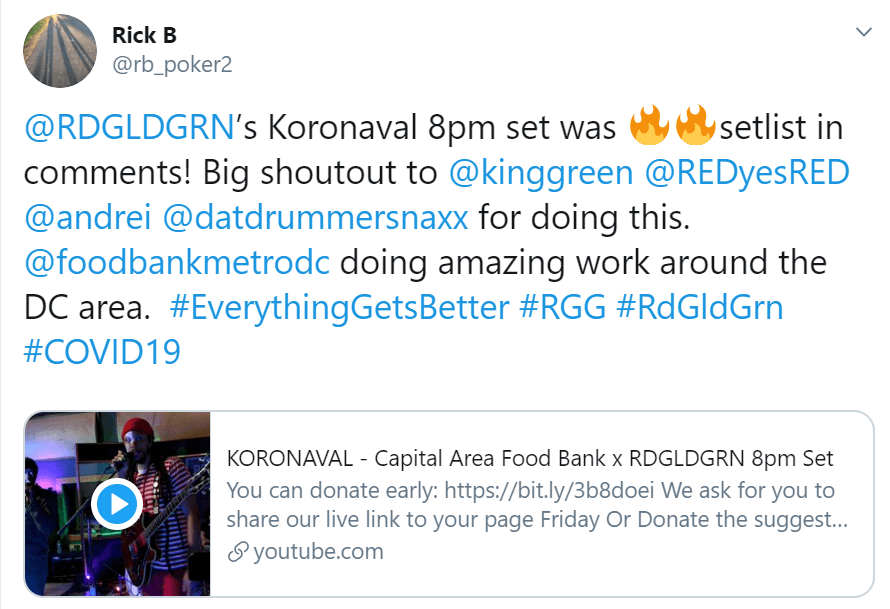 Other local music artists also found creative ways to keep fans entertained and support the food bank at the same time. From designating their full cut of donations from an online 'Music Sing-In', to giving a portion of Bandcamp music proceeds to our COVID-19 response efforts, the outpouring of support from this community and their dedicated fans will make help ensure that no one in our community goes hungry during the current pandemic
Sports players – and broadcasters – step in to help too.
Sports may be postponed due to COVID-19, but local fan favorites used this opportunity to help support their neighbors in need. Along with their wives, Eireann and Brandi, Washington Nationals' pitcher Sean Doolittle and Washington Capitals' goaltender Braden Holtby each donated $10,000 and raised more than $15,700 so far – which will provide almost 90,000 meals!
But they weren't alone – DC's Sports Broadcasters have also banded together to help feed the region. For a donation of $25 or more, John Walton and more than a dozen other local sports broadcasters are available to record video messages on Cameo. The proceeds benefit Capital Area Food Bank and our partners at D.C. Central Kitchen and Martha's Table. Fans can also make donations of any amount to the cause by texting DCSPORTS to 44321!
Volunteers lend a helping hand – at a safe distance.
When the food bank urgently needed volunteers to help it mobilize to feed families affected by COVID-19 disruptions, many reached out to offer a helping hand. Students at local universities who found activities and classes cancelled were also quick to roll up their sleeves and get involved, from the American University Eagles to Georgetown University medical students.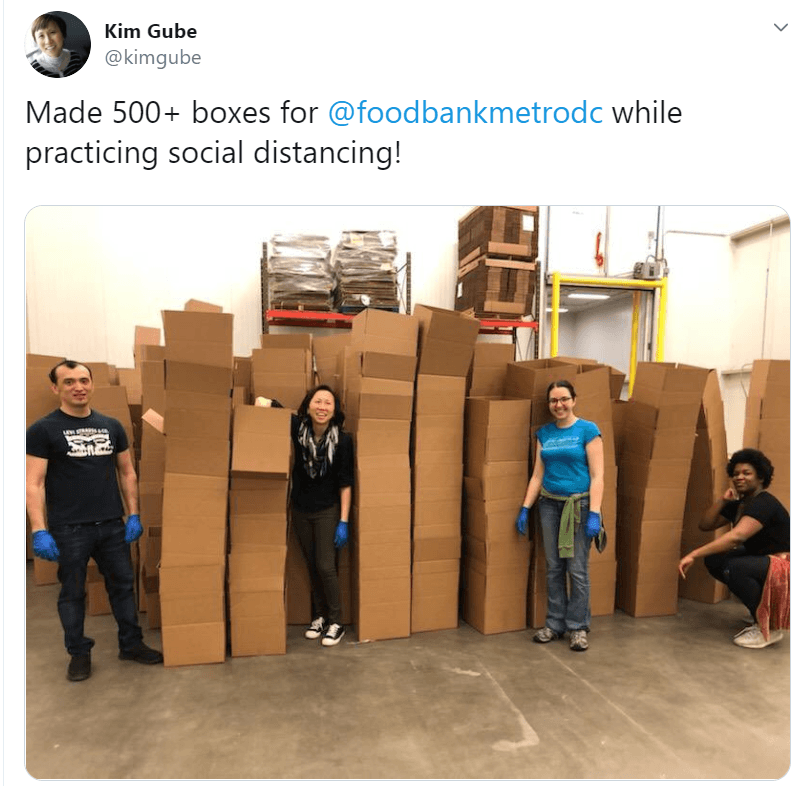 Since March 15, more than 700 volunteers have helped pack and distribute thousands of boxes of emergency food. Because of their dedication, hundreds of children, families, and seniors will have access to the good food they need, now and in the months to come.
A friendly Twitter teaser provides over 87,000 meals!
Within just days of COVID-19 causing disruptions in the DC area, writers Charlotte Clymer and Amee Vanderpool called on their Twitter followers to band together to raise $30,000 for the CAFB! Encouraged by Charlotte's promise to reveal which popular movie caused her to fall asleep in the theater, the Twitter community exceeded the original goal to raise $35,000!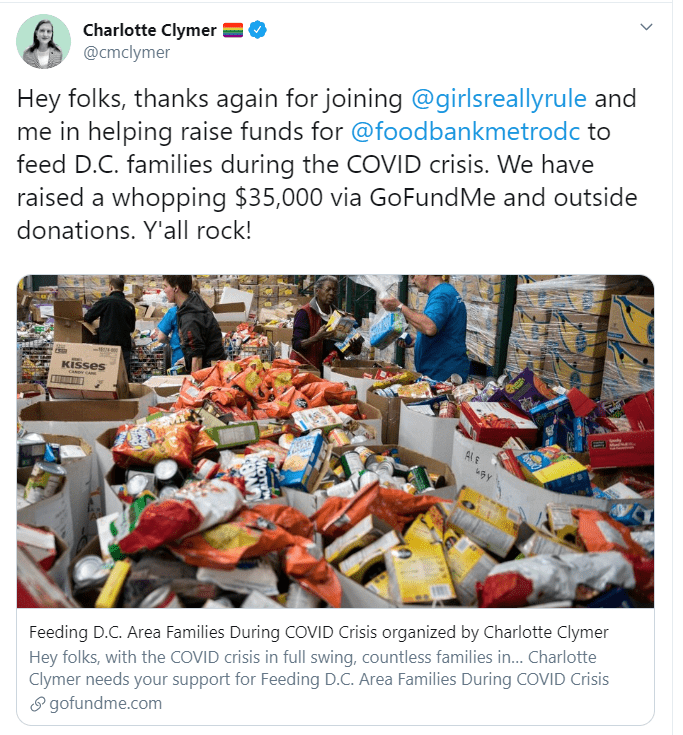 The community gets creative.
Some are making the best of spending more time inside by thinking of creative fundraisers for the food bank and its partners. In exchange for donations to the CAFB, Facebook user Bill Murray agreed to let his 9 year old daughter try her hand at cutting hair – and she did a great job!
Local artists used their creative talents to spread awareness as well. Cookie artist and Instagram user @Meghan_Bakes even created a special CAFB cookie to show her support!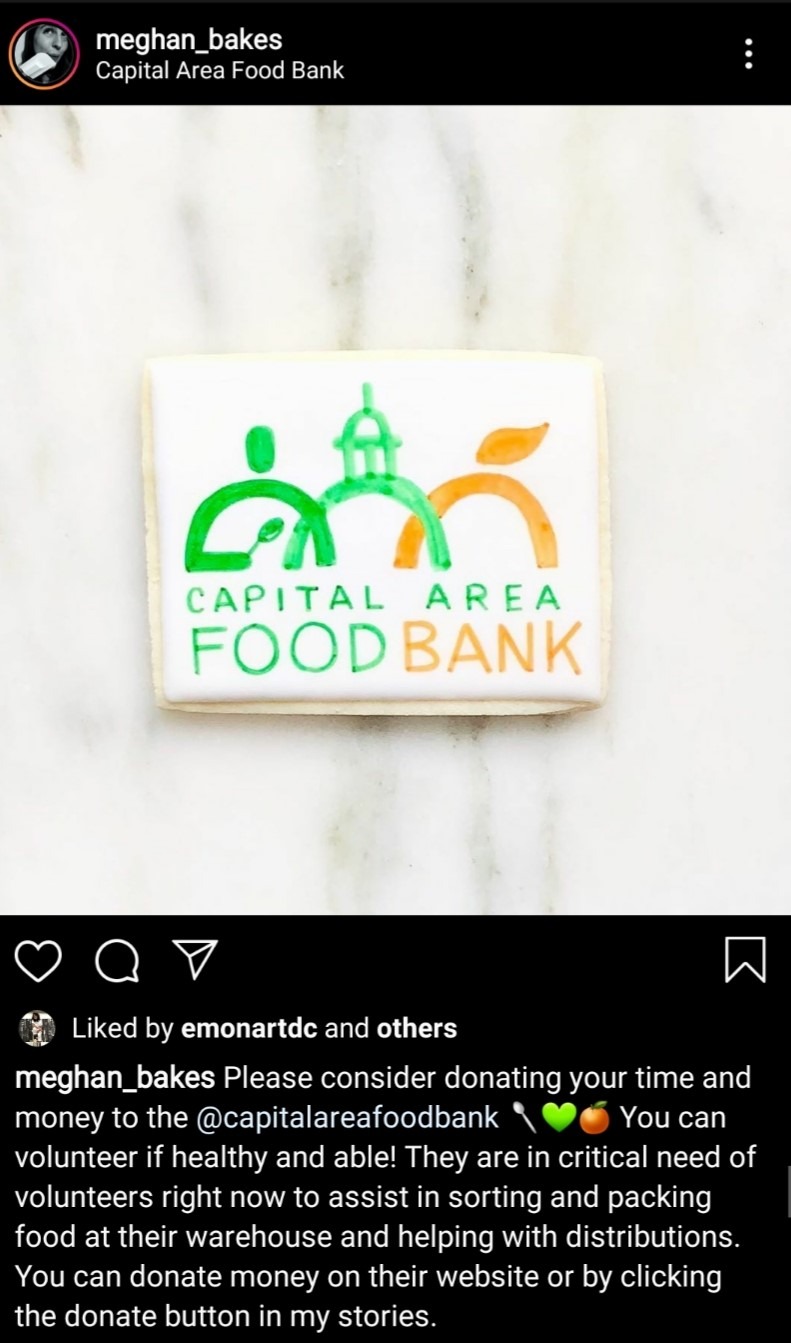 These times may be uncertain, but our amazing community of helpers and supporters has made it clear: we are in this together.