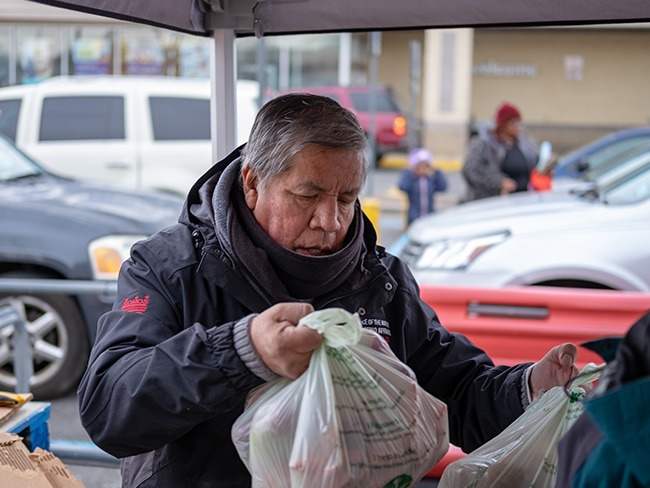 Coming together as a full staff to reflect on our accomplishments over the last twelve months, which we did recently at our year-end gathering, is invariably one of the highlights of this season and of my job. This year was no exception. As we walked though each goal set and achieved, and the sometimes-surprising twists and challenges on the path there, the sense of pride was evident throughout the room.
The team knows the same thing that I do: 2019 was a remarkable year in multiple regards. Not the least of these was that it started with an entirely unprecedented government shutdown. January stretched the food bank in new ways as we mobilized ourselves and our partners to support the thousands of federal workers and contractors that were suddenly in need of emergency assistance – most for the first time in their lives.
That 35-day period held many lessons. Among them: that far more of our neighbors are one paycheck away from hardship than we could have possibly imagined; that a social safety net is critically important for those who fall on difficult times; and that our team and community can solve big challenges when we come together to support our neighbors.
The lessons of the shutdown also reinforced the thinking underlying the new five-year strategic plan that we rolled out later that winter. To build a stronger community, we must assist with meeting people's immediate needs while also working to strengthen their longer-term financial stability. Food has the power to help do both.
In the immediate term, our strategic plan seeks to help us get more of the right nutritious food – including food that is appropriate for age and culture – to people who need it today, and to do so faster and smarter than ever before.  And in the longer term, we are now also working to address hunger's root causes by partnering with other organizations, pairing food with additional services that lead to better financial and health outcomes.
Firmly at the center of all our work are the needs and voices of those we serve.
This year, for the first time, we conducted a large-scale survey of our clients, collecting information from over 2,000 people and analyzing it for insights on how we can help meet their needs more effectively. It is from this place – one that is client centered, and data driven – that we are continuing to build our services and pilots.
We have set our strategic plan fully into motion, and throughout the spring, summer, and fall, we have developed several pilot programs to begin exploring what food and service pairings – "Food Plus", as we currently call it – are most effective. For instance, we are working with multiple workforce development centers to deliver food to students who come for skills training, with the intention of boosting enrollment and retention rates. And we are preparing to launch multiple partnerships with health care providers to begin pairing food with health services for patients that are also dealing with food insecurity. And we have started multiple initiatives that will create access for people who want to purchase food but aren't close to affordable retail options, including Curbside Groceries, our new grocery store on wheels, and partnerships with ride-sharing companies offering trips to the grocery store.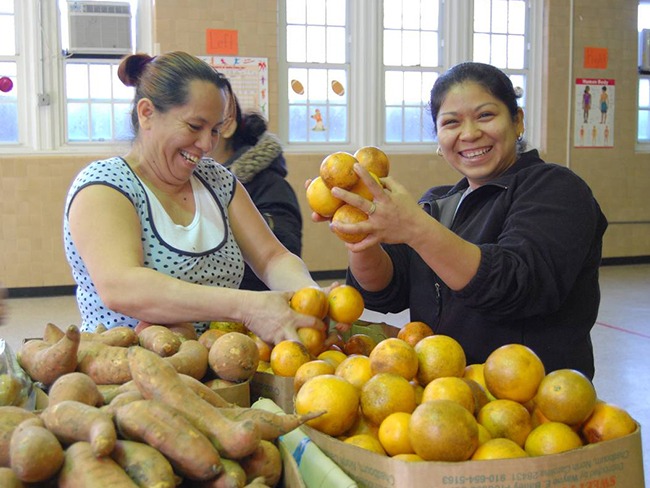 Certainly, we did not accomplish any of this alone. The incredibly generous investments of our financial and food donors – some of whom have supported us for years, and some of whom are new supporters of our strategy – make everything we do possible. The same is true for the over 20,000 volunteers who come through our doors each year to donate their time, and for the state and county officials who enable many important parts of our work. The accomplishments of the year belong to a "team" that extends well beyond our walls.
2019 has truly been remarkable. But something I appreciate most about the food bank and our community of supporters is that even as we reflect on what we've achieved, we refuse to stand still. And with 2020 approaching, we are running full speed towards what will be a seminal year.
On Martin Luther King, Jr.'s birthday this coming January, we will turn 40. And with the full momentum of our strategic plan moving us forward, we are poised to build on each of those 40 years to make a greater impact than ever before. There will be challenges and hurdles – of that I am certain. But with the strength of our team, our partners, and our community, we are as well positioned as we have ever been to help our neighbors build the brighter futures they want and deserve.  That's an accomplishment I'm already looking forward to reflecting on next year, and in the many years to come.