Providing healthy food to those who need it is an essential part of the food bank's work, but it's not the whole story. Pairing that food with education is also important so that people have the ingredients and knowledge to make nutritious, budget-friendly meals.
Creating and distributing those recipes, each of which feeds a family of four for $7 or less, is where the food bank's Nutrition Education team comes in. Along with professional chefs, these team members develop CAFB recipes that are taste-tested by food bank staff and partners and then made available as educational resources at all of our program and partner sites, including schools, after-school centers, and community centers. Katherine Donnelly, CAFB's nutrition education coordinator, says the real test is whether the kids like them!
"Parents tend to assume their child is not going to like something," Katherine says. But all that can change with a taste of the right recipe. She occasionally attends Family Markets (free, school-based markets for families) to conduct cooking demonstrations and recipe samplings, and recalls a recent visit where she made sautéed cabbage with noodles. It was a hit. "One girl loved the cabbage so much, she pulled up a chair to sit for a few minutes, helping herself to multiple samples!"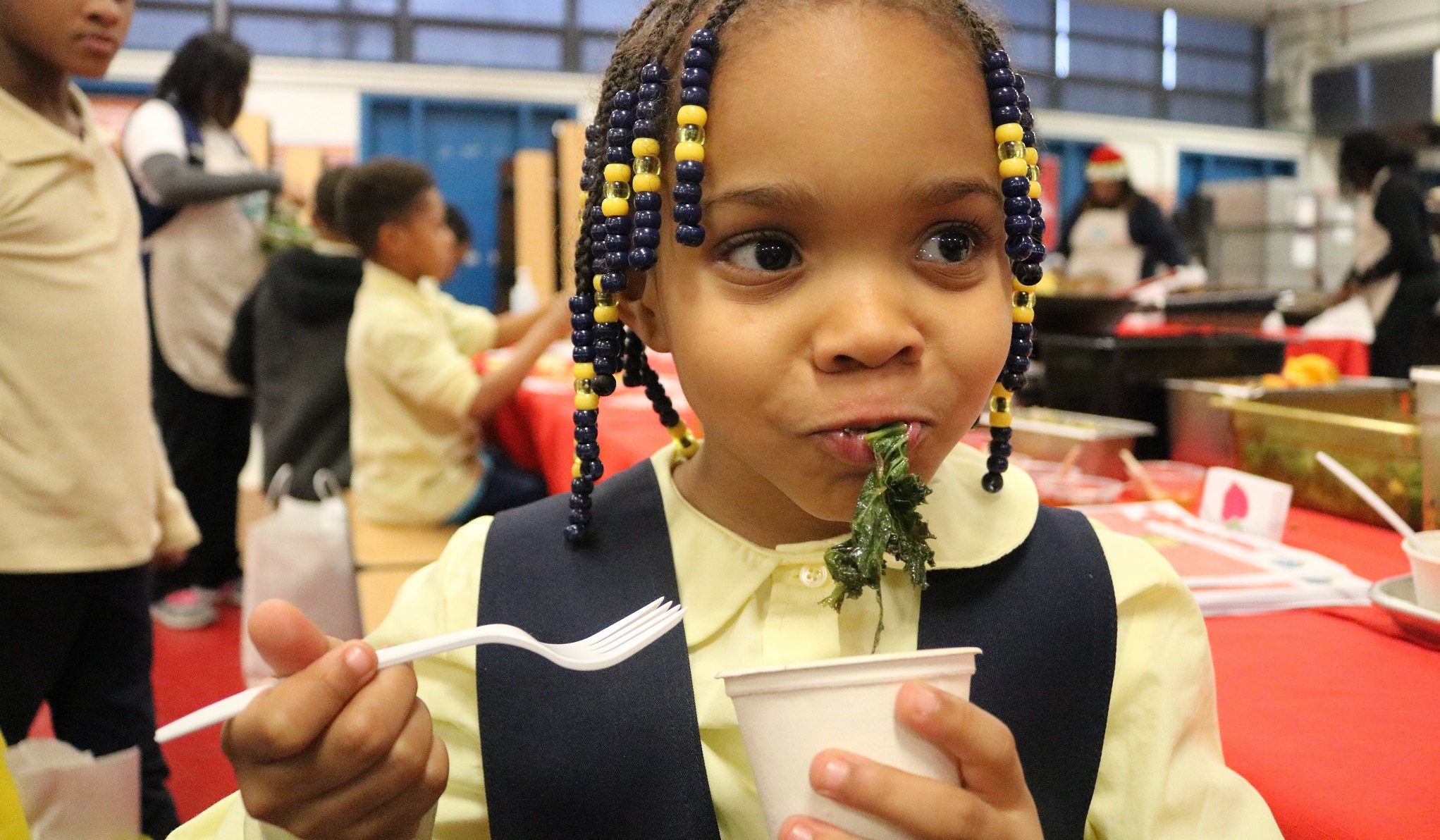 Families often mention that these demonstrations have helped change the way they prepare food, Katherine shares. "They say things like 'I would never have put those ingredients together!' and, 'I can't wait to make this for my kids tomorrow.'"
In response to the prevalence of diet-related health conditions such as obesity and type 2 diabetes in low-income communities, the nutrition team has also developed wellness standards for recipe cards. The bilingual cards, both in English and in Spanish, use the types of foods commonly distributed by the food bank, and give basic instructions on how to prepare the ingredients for maximizing flavor and nutrition.
The cards have flown off the shelves since their introduction. In the last nine months alone, the CAFB has provided nearly 25,000 recipe cards directly into the community – each one an opportunity for someone to try exploring a new, healthy meal.
Interested in trying out one of these recipes (which include everything from BBQ turkey mini burgers to spicy eggplant) for yourself? Take a peek at our recipe list and choose from among dozens of nutritious and delicious options!