As the primary caretaker for a household with members that go from ages 7 to over 80, Pam is a great aunt in every sense of the word.
Having several generations under her roof wasn't something she'd planned for. Pam, a DC native in her mid-60s, had recently gone into semi-retirement after working at a major utility company for two decades. Accumulated stress injuries to her back and hands precluded her from continuing to work full time, so she took on a part-time job doing office administration work at a temp agency. With the part-time job and benefits she had accrued from her time at the utility company, Pam was set for retirement.
Then her father, a World War II veteran, needed caring for, and she moved him into her house. It was an adjustment, but nothing compared to the change that would happen shortly thereafter. Her niece, while working to her overcome substance abuse issues, asked if her three high-spirited children could come to live with Pam. Suddenly, the house was filled with two boys and one girl, ages 7, 9, and 12. Whether they were worrying about math tests, upcoming sports games, or the gossip going around their middle school classrooms, they were almost always talking or running around the house.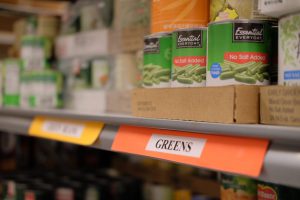 While Pam could get used to the high-octane lives of pre-teens, she wasn't so sure about the financials of all it. Suddenly she had three sets of school supplies to secure, four additional wardrobes to supply (three of them for growing kids), and most pressingly, four additional plates to fill at the table. With her injuries, she wouldn't be able to return to full-time work. But she knew the part-time job and retirement benefits likely wouldn't be enough to cover the expenses for this new household of hers all the time.
Pam asked around to see what kind of support other families in the area had found for times like these, and she learned about the Capital Area Food Bank's free Family Market program, which provides families with fresh fruits, vegetables and non-perishable, healthy groceries each month in their children's schools. Pam signed up for the market close to the home, and the following month, brought home food that helped her to fill in a week's worth of meals for her household of five – a major support for the household budget.
"I think it's wonderful," Pam said of the Family Market. "This truly is a blessing."
With more healthy food added into the family's diet, Pam is seeing a boost in the kids' energy levels. And without as much financial burden on her, Pam can focus more of her time on ensuring the kids have the resources they need for success.
Food has also become an important part of their family time; every evening, the family sits down to dinner to discuss their days. And while getting food on the table for a holiday like Thanksgiving might have been a daunting thought before learning about the market, Pam is now looking forward to it, knowing that she'll have enough to fill the family's holiday plates.
"We'll have apple cinnamon sweet potatoes, beans, rice, string beans and corn," she said. And she's particularly excited about cranberry sauce. "I just can't get enough of it. I'd eat I straight out of the jar!"
Family time is always better with food. With a little lift from the Family Markets, Pam can ensure that her father is well taken care of, that the kids are healthy and set up for success, and that the family can celebrate food the way they want to. "Great" aunt indeed.
Thousands of families in our region rely on the food bank's family markets to help their food budget stretch further each month. Join the movement to support more families.