Running a marathon is an accomplishment. Running hundreds of them while volunteering and raising awareness about hunger is in a category all its own. Jess Kurti is doing just that.
Each year, Jess – a native of Orlando, FL – spends a hefty portion of her free time working on a passion project she's dubbed "The Beasts of Burden Challenge." As part of it, she's made a commitment to donate her time to volunteering at each of the 200+ food banks across the country, while also running as many marathons as possible. She began the project in 2014 and has been all across the US ever since. This past month, she volunteered at the Capital Area Food Bank.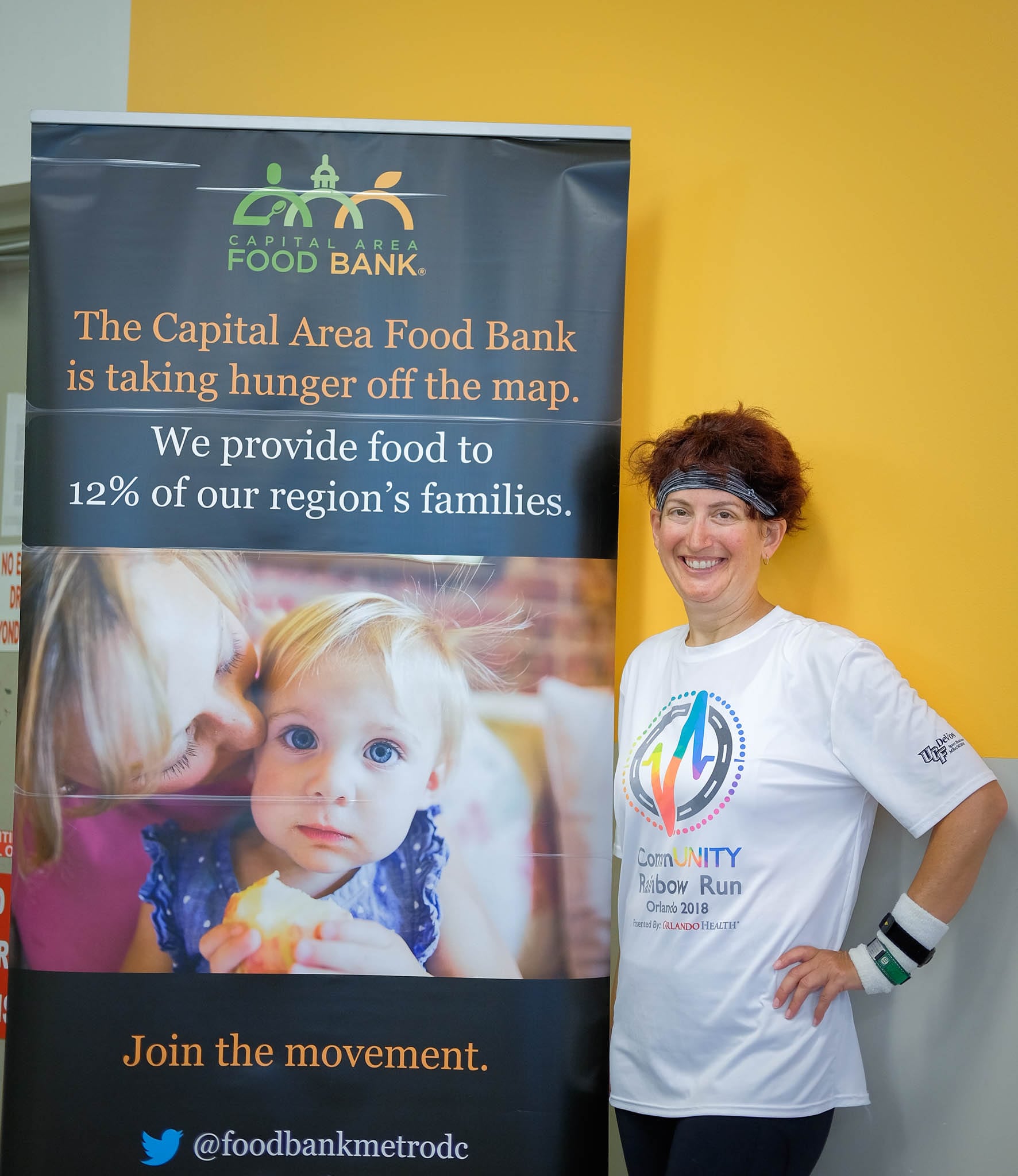 When asked about why she wanted to undertake this challenge, Jess said, "I wanted to raise awareness about . . . food banks. I really wanted to get the public engaged locally to end hunger—to get involved in their community." She went on to explain that she wanted to inspire people to connect with those that they might not have previously interacted with.
She also hopes to educate people about issues of food insecurity in the United States, and shares stories from her volunteer experiences and marathon runs on social media. Jess believes that many in country still don't know how much of an issue hunger is in America. They also might not know exactly what the term "food insecurity" means. She wants to highlight that many people in need aren't homeless – that they work, but still struggle to stay afloat between the many bills and challenges that come with raising a family.
"We have so much food in this country, so people might not know that hunger exists," Jess says. "And if they do know, they might think it's too large of a problem for them to tackle. They don't realize how easy it is to help people if they knew more about the issue and how they could sign up at a local food bank to volunteer or donate. It's easy to get involved locally and make a difference."
But why run the marathons, too? "Because I really believe in a whole-health approach to ending hunger," Jess explains. "Feeding people is obviously always a good thing. But it's not the only part of the solution. Exercise is also needed for mental and physical health, whether you're a child, adult or senior."
Jess believes that food is closely tied with health and athletic performance. And to her, people are their best selves ready to conquer the challenges of the world when they are physically and mentally fit. Through the Beasts of Burden Challenge, she's taking action to help her peers understand food insecurity as a whole-health issue, and to inspire others to help their communities become stronger and healthier.