The Capital Area Food Bank works with many incredible corporate and foundation partners. These supporters are diverse and represent an array of sectors and issues, but they're unified by one thing: passion for making a positive impact in our community.
This quarter, we're shining a light on those that have gone "above and beyond" in all sorts of ways that will benefit the community of people that we serve together. Read on to learn more about our most recent Corporate and Foundation Champions!
Sponsor Spotlight

Each of the supporters who joined us for the 15th Annual Blue Jeans Ball made the evening a success by helping to raise the funds for more than 1 million meals for our neighbors in need. Giant Food, as the presenting sponsor, enabled the evening's impact to reach new heights by both making a significant investment in the evening's success, and reaching out to its network to bring in a new and incredible group of supporters. MGM National Harbor hosted the Blue Jeans Ball's VIP Reception, which featured signature appetizers prepared by MGM's executive chef, Jason Johnson and specialty drinks from their cocktail lounge, Blossom.
Foundation Spotlight

The Giant Family Foundation showed its continued support of the food bank's childhood feeding programs through a generous donation will provide over 800,000 meals to children in the Washington Metro area. The grant will support a variety of programs providing healthy, high-quality food to children in need.
Additionally, the Target Foundation has renewed its commitment to getting good food into the hands of children and families. Target presented the food bank with a gift that will provide over 30,000 meals, ensuring that more kids and families will have access to the fruits, vegetables, and other foods they need to thrive.
Campaign Spotlight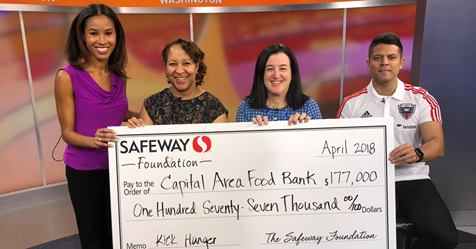 The Safeway Foundation recently partnered with ABC 7 and DC United for the Kick Hunger Challenge. Throughout the month-long campaign, Safeway gave customers the option to add a donation to the food bank to their total at checkout. Customers responded in a big way, and in total, the campaign raised the funds for 442,500 meals!


Seven local Jersey Mike's Subs locations chose to dedicate their March "Month of Giving" to the Capital Area Food Bank. Not only were customers given the opportunity to donate to the food bank throughout the month, but the campaign culminated with Jersey Mike's "Day of Giving", where 100% of the day's sales at these locations were donated. Through Jersey Mike's Month of Giving, they raised the funds to provide over 50,000 meals for those in need in our region.
Volunteer Spotlight

Special thanks to the employees of Twenty Tables, who volunteered to lend a helping hand at our 15th annual Blue Jeans Ball. They ensured that things ran smoothly (no small feat at an event that large) and provided logistical support for the 38 participating restaurants.
2U Inc. employees joined the food bank at our DC location this quarter to volunteer in the distribution center and participate in our Face Hunger simulation. At 200 strong, 2U employee team sorted and packed enough food for tens of thousands of meals in just one day!